Feds prep $500M program for transportation tech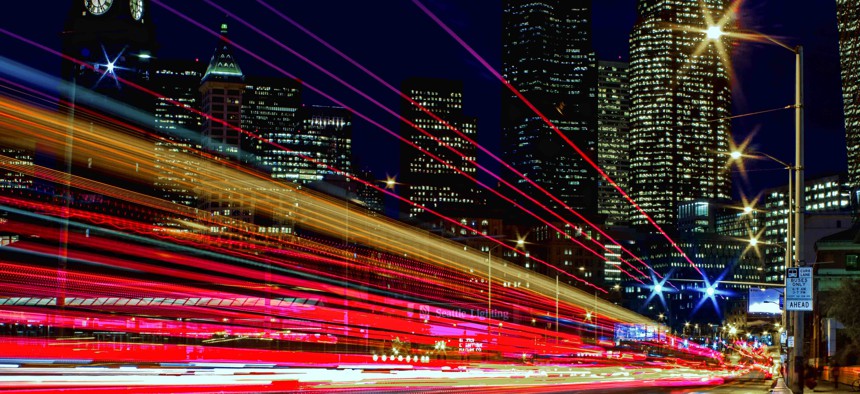 States and localities are among those eligible for the grants, which are aimed at funding projects focused on innovations like autonomous vehicles and roadside sensors.
The process to award $500 million in federal grants that states and local governments can use to pay for cutting-edge transportation projects is slated to get underway later this month.
Funding for the competitive program, dubbed Strengthening Mobility and Revolutionizing Transportation, or SMART, was included in the $1.2 trillion infrastructure law President Biden signed last year. The law calls for $100 million annually for five years for the grant initiative. States, localities and tribes are among those eligible to apply for the money, as are a handful of other entities like transit agencies, toll authorities and metropolitan planning organizations. 
The goal is to fund projects that show how technology like autonomous vehicles, roadside sensors and aerial drones can be incorporated into transportation systems to tackle problems like traffic congestion, crashes and lacking options for people to commute to jobs.
"We are incredibly focused on targeting problems that the community is clearly trying to solve, where we know that there is just going to be a ton of energy, either at the transportation department or a transit agency, or a local government. Where we're sure that those kinds of investments also will lead to really transformative change," said Ben Levine, a senior advisor for research and technology at the U.S. Department of Transportation.
"I think the grand vision for this kind of a program is that we can seed ideas that then are cultivated or demonstrated locally and then can become sort of new methods that are taken on across the country," he added. Levine made his remarks during a panel discussion at Smart City Expo USA, a conference that took place in Miami Beach this week and focused on how governments can use technology to improve social equity and address other pressing issues.
The Transportation Department, which is overseeing the SMART program, says it will issue a notice of funding opportunity for the grant initiative this month, an initial step in the application process for the funding. Levine reiterated that timeline.
He also explained how the grant funding will be released in two stages. The first will be a planning and prototyping phase, with awardees receiving about $2 million each. From that group, the department will choose a final selection of grantees for individual awards of around $15 million that can be used to carry out projects. 
There are opportunities under the program for regional partnerships. And Levine noted that the department would encourage collaboration between eligible governments and companies, academic institutions and community organizations. 
The law also stipulates that no more than 40% of the grants can go to projects that "primarily benefit" communities with at least 400,000 people, and that no more than 30% can go to projects that primarily benefit either rural areas, or medium-sized jurisdictions that are not rural but have fewer than 400,000 residents.
The program has echoes of the Smart City Challenge, a competition that the Obama administration launched in late 2015 to award one city a grant of up to $40 million to adopt innovative transportation technology. Columbus, Ohio prevailed in that grant contest.
"I think we recognize that that model did a lot…in terms of bringing sort of, like, the political energy around a set of problems," Levine said of the Smart City Challenge. "I think we are really focused on institutionalizing that type of activity across the country."