GSA's Central Procurement Hub Will Keep the 'Beta' A Little Longer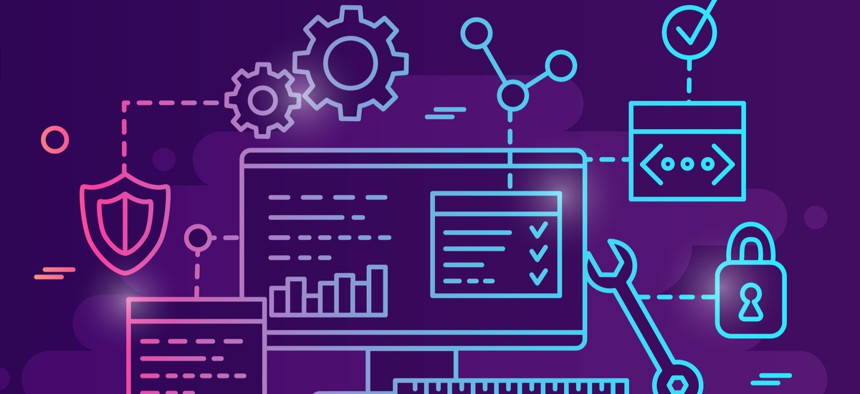 Users will see a new beta.SAM.gov come April but the final transition is still to come.
Users will get a preview in April of the new SAM.gov—a central, one-stop website for all of the General Services Administration's acquisition tools—but will have to wait a bit longer to access the full capabilities of the current SAM.gov.
Since 2017, GSA's Integrated Award Environment has been operating two websites with the SAM moniker: the original SAM.gov, where companies and organizations register before vying for federal contracts and grants, and beta.SAM.gov, soon to be the central procurement website. Beta.SAM will ultimately consolidate 10 acquisition tools, and already includes Contract Opportunities—formerly Federal Business Opportunities, better known as FedBizOpps or FBO—and the reporting functions of the Federal Procurement Data System, or FPDS, which now reside on the Data Bank page.
The next major transition will be moving functionality from the current SAM.gov to beta.SAM, shuttering the former and dropping the "beta" from the latter. GSA officials had planned to finalize the transition before the end of April but have since revised that timeline.
The "look and feel" of the new SAM.gov will go live April 26, as previously planned, but the full migration has been postponed to May 24 and the "beta" prefix will remain on the new site until that time, GSA officials said in a post on Interact, the agency's industry outreach site.
Users will still get to see the new setup for the site before the end of April but the capabilities housed at the current SAM.gov won't be migrated until May.
The April 26 transition will give "current beta.SAM.gov users a head start and a chance to get used to the new design before SAM.gov functionality migrates over," GSA officials wrote.
"After May 24, SAM.gov users will see a home page that enables them to perform tasks currently found at beta.SAM.gov such as searching for contract opportunities, finding wage determinations, and more, as well as the things they can do at SAM.gov today—all under a single sign-on," the post states, citing GSA's decision to use Login.gov to manage sign-on for the new site.
GSA officials will be holding an information session on a to-be-determined date in May ahead of the final transition, as well as an additional webinar "especially for those who will extensively search contract opportunities in the new design."