How NARA's Preserving More Than 20 Terabytes of Trump Social Media Data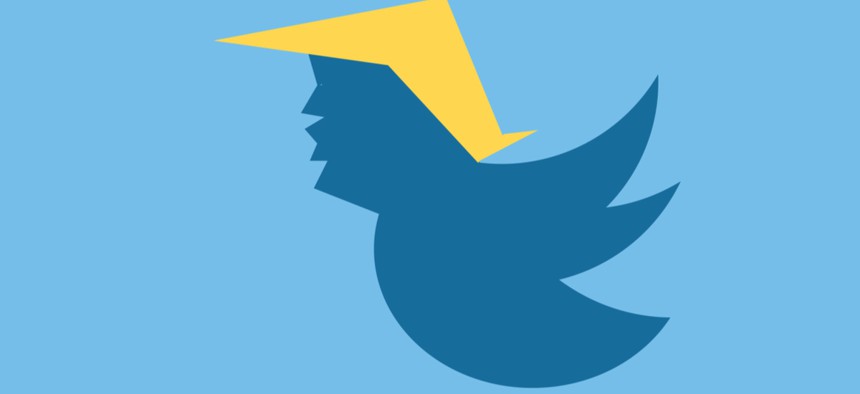 Those are among 500 terabytes of records from the former president that the agency's curating.
America's federal records-keeper is in the midst of a hefty, ongoing effort to preserve many terabytes of digital and social media records from former President Donald Trump, who was suspended from using multiple online platforms in his final days in office.
To do so, the National Archives and Records Administration is leveraging a technology-based solution called ArchiveSocial.
"NARA has begun the task of working with ArchiveSocial to export the records from their platform and ingest them into NARA's Electronic Records Archive for preservation," a statement National Archives Public and Media Communications shared with Nextgov this week said. "We will also prepare exports from ArchiveSocial for public access, and they will be posted on trumplibrary.gov as they are made available."
The agency manages that new, presidential library website, which officially went live Wednesday—the same day President Joe Biden was sworn in and assumed control of all official White House social media accounts. The online landing point is meant to streamline information on those digital profiles and websites, and provide details regarding how to more broadly access Trump administration records. 
But for now, the transition of all those electronically-made materials is still underway, with a little technical help from that platform, ArchiveSocial, which bills itself as a "cloud-based archiving and analytics technology." According to the site of the business behind it, thousands of organizations, including the Justice Department and New York City, turn to the software solution for preservation purposes.
"The White House contracted with ArchiveSocial for the management of presidential social media records as well as the transfer of the records to NARA," the agency's statement said, noting that the platform was used to "capture presidential records from Facebook, YouTube, Flickr, Instagram, and Twitter." The mechanism pulls in a variety of information, depending on the platform. 
"We will be preparing exports from the tool for public access," the statement said. 
These moves don't mark the first time ArchiveSocial was involved in this sort of federal archiving collaboration. In 2017, the company produced what it deems "the first archive of presidential social media in history" for former President Barack Obama's outgoing administration. Social networking exploded as a trend during his terms, and the U.S. leader was an early adopter. According to a case study ArchiveSocial published after-the-fact, it had "processed more than 10 million social media records and transferred more than 450 exports comprising over four terabytes of data—all in less than eight weeks."
The Trump administration generated more than 20 terabytes of social media data, NARA's statement confirmed. Those are just one of dozens of types of Trump-centered presidential electronic records the agency is currently collecting and curating. 
"The work on these records has to be prioritized with other records, including email, documents, and other data," the statement said. "We are working diligently to preserve more than 500 terabytes of Trump records and cannot provide an estimated date of completion for 20 terabytes of social media records." 
During his last days in office, several major social media platforms opted to institute temporary and then some, more permanent bans on Trump's official accounts for violating terms of agreement. The actions came in response to posts the then-president made, which the tech giants argued incited further violence as his supporters attempted an aggressive takeover of the United States Capitol. 
Regarding how the agency is approaching archiving those last-minute suspensions, NARA's statement pointed to plans to make exports from the accounts available for public access, even as they will not be available on the native platforms for users to browse.
"We believe providing access to this information from an authoritative source is crucial to our mission—to preserve and provide public access to the records of our federal government and to document the modern presidency," it said.