DISA to Take Over Implementation of the Pentagon's Cloud Programs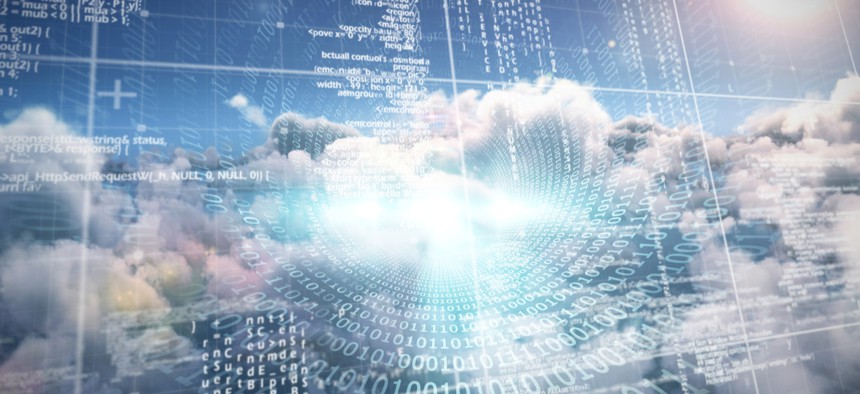 Control of the Defense Department's enterprise cloud programs office will completely transition to the Defense Information Systems Agency by the end of the month, according to Pentagon officials. 
DISA will subsume DOD's Cloud Computing Program Office, home of the Defense Enterprise Office Solution and the Joint Enterprise Defense Infrastructure cloud projects, by Jan. 31. Currently, the Office of the Chief Information Officer runs implementation for DOD cloud programs. 
Vice Adm. Nancy Norton, DISA's director and commander of the Joint Force Headquarters DOD Information Network, announced the transition Jan. 7 at an AFCEA NOVA virtual event. Pentagon spokesperson Russell Goemaere clarified to Nextgov in an email DOD always intended to move the office to DISA "at the appropriate time."
"Given CCPO's mission of leading groundbreaking cloud transformation, DOD CIO wanted to oversee standing up the office consistent with mission intent and JEDI Cloud," Goemaere said. "Over the last two years, CCPO has grown from infancy to a mature operations and program office, which is the reason the decision to transition CCPO to DISA now was made." 
CCPO will be established as its own "DISA Center," Goemaere said. This will allow CCPO to integrate with and participate in DISA's governance bodies, enabling the office to provide combat support on the cloud front to the department, he added. 
DISA's cloud work during the pandemic enabled DOD's pivot to mass telework. Together with CCPO and other DOD components, DISA deployed the commercial virtual remote, or CVR, environment, which allows for collaboration via Microsoft Teams, in a few short weeks as the need for work from home became apparent. 
DISA's cloud-based internet isolation program, known as CBII, which eliminates web-based threats from internet downloads by moving the browsing process from a user's desktop to the cloud, also proved useful during the pandemic. For example, Norton said in November CBII supported the Defense Health Agency's telehealth programs.
The CCPO transition comes as DISA is accepting submissions for its Defense Enclave Services contract, which opened for proposals after a slight delay in December. Bids for the $11 billion contract to consolidate network services for DOD's "fourth estate" agencies under a common architecture are due February 8. 
"As a critical part of DISA, CCPO will be better positioned to work hand-in-hand with other DISA entities in order to achieve cloud transformation and adoption, at scale, to support the warfighter," Goemaere said.