Trump Signs Omnibus Spending and COVID Relief Deal, Averting Shutdown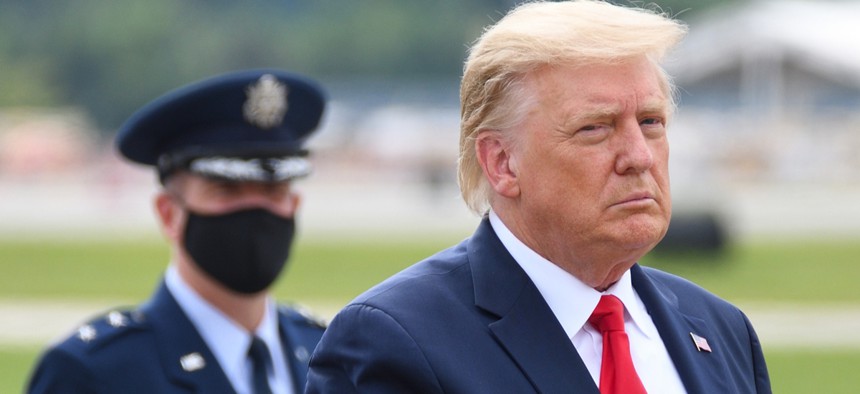 President Trump on Sunday night signed into law the $1.4 trillion fiscal 2021 appropriations and $900 billion COVID-19 relief deal Congress approved last week, days after criticizing the measure and signaling he might not sign it. 
Lawmakers had reached the deal on Dec. 20 after months of on and off negotiations and approved it the next day. However in a video on December 22, Trump blasted the package, saying the stimulus payments were not large enough and the COVID-19 deal had funding for too many unrelated things. This sparked fears that there could be a government shutdown next week amid the coronavirus pandemic and presidential transition because the continuing resolution funding government while the spending and relief deal was sent to Trump's desk was set to run out Monday. 
But on Sunday night, Trump tweeted, "Good news on Covid Relief Bill. Information to follow!" This followed multiple news outlets reporting he signed the deal while at Mar-a-Lago, Florida. 
"I will sign the omnibus and covid package with a strong message that makes clear to Congress that wasteful items need to be removed," Trump said in a statement released on Monday night after the news broke. "I will send back to Congress a redlined version, item by item, accompanied by the formal rescission request to Congress insisting that those funds be removed from the bill."
He continued: "I am signing this bill to restore unemployment benefits, stop evictions, provide rental assistance, add money for [the paycheck protection program], return our airline workers back to work, add substantially more money for vaccine distribution, and much more." He noted that the House will vote on Monday to increase stimulus payments from $600 to $2,000. "Additionally, Congress has promised that Section 230, which so unfairly benefits Big Tech at the expense of the American people, will be reviewed and either be terminated or substantially reformed," he said. 
The Section 230 issue was one of the reasons he vetoed the 2021 National Defense Authorization Act last week, which Congress is expected to override on Monday. Trump also added that "voter fraud must be fixed," as he continues to deny that Joe Biden won the 2020 presidential election. 
The 2021 spending bill will give civilian federal workers a 1% across-the-board pay increase and will allow them to defer repaying payroll taxes through the end of next year, as opposed to April. Almost all federal agencies will see a funding increase in fiscal 2021 and there are various provisions in the COVID deal that will impact federal employees, as Government Executive previously reported. 
Among many other things, it also extended Section 3610 from the $2.2 trillion CARES Act, which allows federal agencies to use their funds to give contractors sick or paid leave during the pandemic if they are not able to access their worksites or telework, until March 31, 2021. Although the Trump administration in guidance issued on March 20 advised agencies to "maximize telework" for contractors, that is not possible for many contractor jobs, including some involving sensitive or classified work. 
"Much more money is coming," said Trump. "I will never give up my fight for the American people!"
Eric Katz and Erich Wagner contributed to this report.