Pentagon Acquisition Chief Hints Section 889 Supply Chain Waiver May Be Extended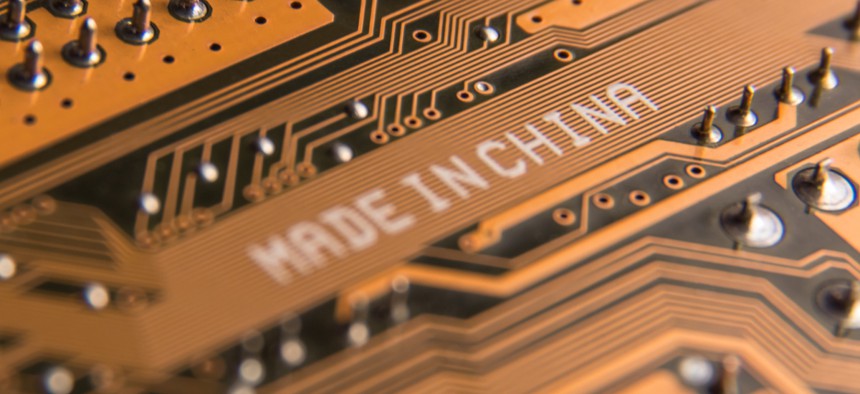 The Defense Department's Undersecretary for Acquisition and Sustainment Ellen Lord spoke briefly about Section 889 Part B implementation Wednesday.
The Pentagon and the Office of the Director of National Intelligence are discussing extending a waiver that gives the defense industrial base more time to ensure certain noncritical weapons systems comply with a new rule aimed at excising Chinese telecommunications equipment from the supply chain, according to the Defense Department's acquisition chief. 
Undersecretary for Acquisition and Sustainment Ellen Lord talked briefly about implementation of Section 889 Part B, a provision of the 2019 National Defense Authorization Act, during a Defense News Conference Wednesday. Her remarks come a day ahead of a feedback webinar the General Services Administration will host to solicit questions, comments and concerns from stakeholders about Section 889 implementation. 
"So what we did is we got a waiver from ODNI for noncritical weapons systems," Lord said. "We continue to discuss an extension beyond September of that with them." 
Part B of Section 889 officially went into effect August 13, about a month after the final version of the rule was released in July. The rule prohibits federal agencies from contracting with entities that use equipment from certain covered companies including Huawei and ZTE. In effect, Part B requires contractors to search through their supply chains to determine and disclose to the government whether they use any of the covered equipment or services. 
ODNI granted the Defense Department—though Section 889 applies to the entire federal government—a waiver extending the compliance deadline for commodities deemed low-risk until September 30. 
At a press conference August 20, Lord told reporters the purpose of the waiver is to avoid interruptions to end-of-year fiscal activities, but that it is not meant to evolve into a wholesale slowdown of Section 889 implementation. 
During the Wednesday webcast, Lord added DOD will seek future waivers on a case-by-case basis, an option which was outlined in the original language of the rule. She said DOD will review waiver requests, but noted the overall the response to implementation from the defense industrial base has been encouraging. 
"We are very, very pleased at how we see industry stepping up to really get these systems out of their supply chains," Lord said. "So it will be by exception that we will do waivers and we are looking to really have a clean path through everything."
Lord emphasized DOD is supportive of the rule, despite the challenges it presents for industry, because reliance on Chinese technology in telecommunications systems has "proven to be a problem in terms of exfiltration of data."