The Thorniest Subject at NASA Right Now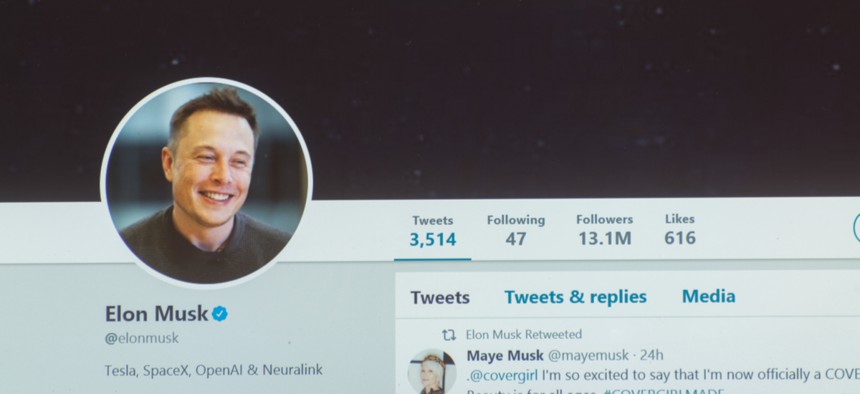 The space agency is carefully following pandemic measures. Elon Musk thinks they're overblown. But both are going to the moon together.
Like many employers around the country, NASA has kept most of its workforce home during the coronavirus pandemic. But the agency is still pressing ahead on future missions, including Artemis, the effort to return Americans to the moon for the first time since the Apollo program ended, and it held a press conference yesterday to announce the companies that had been chosen to design the systems that would land the astronauts on the lunar surface.
One of those companies, SpaceX, seems especially notable in this particular moment—not for its impressive history of rocket launches and landings, but for its chief executive officer's recent behavior. For weeks now, Elon Musk has been railing against social-distancing measures that public-health officials believe are necessary to stem the transmission of the coronavirus. His stance seems diametrically opposed to the careful response of the agency that just awarded his company one of the first spacecraft contracts of its kind since the 1960s.
On Thursday's press call, I asked Jim Bridenstine, the NASA administrator, how his approach to COVID-19 will affect his work with SpaceX in the moon effort. "I would need to see specifically what was said," Bridenstine replied, referring to Musk's online posts. "We at NASA, we've taken the coronavirus pandemic very seriously."
I offered to share the tweets, which some observers have said show that Musk isn't taking the pandemic response seriously, with Bridenstine.
Then, another voice on the line cut in.
"I think this is a different subject," a man said. "Wrong press conference. Let's move on."
It was, by every indication, Musk. NASA, which ran the call, wouldn't confirm and told me to contact SpaceX. SpaceX did not respond.
NASA hadn't told reporters beforehand that Musk would be participating in the press conference. A few minutes after the interruption, Bridenstine formally introduced the SpaceX founder, and Musk made a few remarks about the moon mission, thanking NASA for its support.
Musk's apparent interjection suggests that he might not think what he's tweeting about the coronavirus is relevant to the work SpaceX is doing for NASA. But when he chimed in during the press conference, he seemed to be trying to control the narrative the way he does on Twitter, pushing NASA out of the frame. The moment foreshadows a dynamic that will shape the future of American spaceflight. NASA is still leading the way in space exploration, but it is mostly doing so in capsules and rockets bearing the logos of commercial companies, some of which are led by innovators who don't have to be careful about what they say.
As the billionaire head of Tesla and a slew of other companies, Musk isn't a typical NASA contractor, and he is well known for his freewheeling social-media persona, which has, on more than one occasion, gotten him sued. This has sometimes created a bit of public-relations awkwardness for the space agency. Even so, the moon mission is not the first partnership between NASA and SpaceX—they have worked together for years. SpaceX has been using its workhorse Falcon 9 rocket to launch supplies to the International Space Station for nearly a decade.
At the end of this month, the company is scheduled to fly more precious cargo: two NASA astronauts who used to fly on the space shuttles before that program ended in 2011. In the meantime, SpaceX, driven by its founder's own vision for space exploration, has worked on solo efforts such as Starship, the project that NASA has picked for its Artemis program. Musk wants to use the spaceship-and-rocket combo to carry passengers to Mars, but he says it could easily land on the moon too.
The upcoming astronaut launch is a joint effort, the final push of a long marathon punctuated by budget shortfalls, schedule delays, and a capsule-destroying explosion. But since the pandemic swept across the United States, the parties involved haven't been on the same page about the biggest news event on the planet. And although Bridenstine says he's confident the launch will go forward as scheduled, he did admit that coronavirus-related factors could delay the mission, and said the agency had already begun to prepare for that possibility.
On March 6, as NASA conducted a "telework day" to test whether many of its employees could work from home indefinitely in case the coronavirus outbreak in the U.S. worsened, Musk tweeted, "The coronavirus panic is dumb."
Almost two months later, the outbreak is far worse, and Americans have been confronted with nightmarish stories—if they're not living them—about overwhelmed hospitals and health-care workers, patients dying in ambulances on their way to the emergency room, and families saying goodbye to loved ones over FaceTime.
NASA officials, for their part, have made an effort to publicize the precautions the agency is taking to protect its workers, particularly on missions that have been deemed essential. The workers preparing for this month's astronaut launch, for example, wear personal protective equipment, try to stay six feet apart from their colleagues, and work in rotating shifts. SpaceX's chief operating officer, Gwynne Shotwell, said today that the astronauts scheduled to fly next month are permitted to be around only a limited number of personnel, and she urged the public not to travel to Cape Canaveral for the launch and to watch it online from home instead—in contrast with Musk's attitudes toward stay-at-home measures.
Musk has acknowledged the dangers of the coronavirus, to be sure, and in mid-March told SpaceX employees in a company-wide email that if they feel sick, "it's always better to stay home and take care of yourself," BuzzFeed reported. But he downplayed the public response to the virus in the same note, adding that employees have a higher risk of being killed in a car crash than dying from COVID-19—a flawed comparison that assumes we know how many people are going to die in the pandemic.
On Twitter and elsewhere, Musk has promoted a dubious paper on the benefits of the experimental drug chloroquine, has called stay-at-home orders "fascist," and has compared the coronavirus to the common cold—a dangerous misperception. These days, Musk sounds less like Tony Stark and more like Donald Trump (the president made the same analogy to car crashes). "FREE AMERICA NOW," Musk tweeted this week. Like the president, some governors, and a small proportion of Americans, Musk has bemoaned that widespread shutdowns are doing more harm than good—that they aren't saving enough lives to justify the economic cratering—and that businesses should get up and running as soon as possible to get the economy back on track.
This is the kind of reasoning that public-health officials say could only exacerbate the situation. Open storefronts fly in the face of warnings to avoid close physical contact, one of the primary ways to protect against the virus. If businesses reopen in places where the virus has already appeared—and at this point, that's every state in America—more people will die.
What does Musk's opinion about pandemic measures have to do with his NASA work? After all, SpaceX builds rockets, not medical equipment. (Well, usually; Musk said last month that SpaceX employees are "working on ventilators," and that the company had shipped some to hospitals in California, where SpaceX is based, but it's unclear whether the facilities actually received the equipment.)
But Elon Musk is not some guy protesting the government's pandemic measures by waving signs and shouting at medical workers. He is the head of a company that just got one of the most important space-exploration contracts in decades from the world's top space agency. His engineering vision will deliver American astronauts to the lunar surface in an expensive, taxpayer-funded mission—and, hopefully, bring them home safe.
If the CEOs of the other companies that received the lunar-technology contracts, Blue Origin and Dynetics, were behaving as Musk is, surely they would be subject to the same questions and concerns. Blue Origin has already faced some backlash for its apparent attitude toward worker safety in the pandemic; employees have recently felt pressured by senior managers to work on rocket development through the crisis, according to reporting by The Verge's Loren Grush. Blue Origin's founder, Jeff Bezos—who is currently facing employee boycotts at another company he founded, Amazon, over working conditions during the worsening outbreak—has remained silent on social media since February, and in interviews, he doesn't appear to share Musk's particular distaste for the circumstances.
Musk is also, on a smaller scale, someone's boss. Starship operations don't seem to have slowed down since the pandemic; according to people who live in the area, there appear to be even more workers on-site at SpaceX's facility in South Texas now as the company tests its latest prototype. Will Musk take the same precautions to protect his employees as NASA has to protect its own?
If anything, Musk's recent missives felt especially tone-deaf after Bridenstine, during yesterday's NASA press conference, revealed the toll that the virus has taken on his workforce. "We've had a number of our people infected by it, and in fact we've lost lives because of it at the agency," he said.
Musk's interruption seemed to catch many on the line by surprise, including the NASA administrator. Bridenstine has had no problem admonishing Musk in the past, usually in stern but lukewarm tones. "That was not helpful, and that did not inspire confidence," Bridenstine told me in 2018, after Musk smoked weed on Joe Rogan's popular podcast, an appearance that prompted NASA, in part, to review SpaceX's workplace culture. "I don't think that's helpful," he said again, last year, after Musk made fun of the Space Launch System, NASA's long-delayed effort to build its own rocket to reach the moon.
On these occasions and others, NASA has managed to wrest the narrative back. "We've had a number of conversations," Bridenstine said after the pot incident. "I will tell you, he is as committed to safety as anybody, and he understands that that was not appropriate behavior, and you won't be seeing that again." Last fall, when Musk said that SpaceX's system for transporting astronauts could be ready to fly in just a few months, Bridenstine said Musk wasn't being realistic.
This time, there was no such reprimand. After a brief silence following Musk's remark, Bridenstine said only, "Alright, we'll move on."
It is difficult to imagine the head of another NASA contractor, particularly one of the older, more staid companies such as Boeing, Lockheed Martin, or Northrop Grumman, bursting in like this as the administrator addresses questions from the media. It is a troubling episode when you consider the nature of the arrangement between NASA and SpaceX on some of its current projects. In NASA's effort to launch its astronauts from American soil—and not on Russian rockets, as currently happens—the agency has handed over the reins on design and development in unprecedented ways. NASA officials dictate the safety requirements that SpaceX and Boeing, the other company involved in this program, must meet, but the firms are in charge of nearly everything else, from the propulsion systems to the sleek interior design and touch-screen controls. The astronauts assigned to SpaceX missions even train at the company's headquarters, rather than at Johnson Space Center in Houston.
Musk might occasionally be a thorn in NASA's side, but the reality, at least right now, is that without SpaceX, the United States probably can't leave Earth, let alone get to the moon. Even so, the buck stops with NASA, not its contractors. The agency has always had to answer for its contractors' actions, including their mistakes, whether those involve a flawed mirror on the Hubble Space Telescope or a deadly shuttle disaster. So, too, will it have to account for any missteps that could arise as a result of the pandemic era. In the next decades of American spaceflight, with partners like Musk, that task might become trickier to navigate.
NASA held more press conferences today, this time about the upcoming astronaut launch, but Musk didn't chime in. Shotwell, who is often seen as a calming counterpart evening out Musk's more erratic tendencies, participated. As Shotwell spoke about the mission, describing how SpaceX was founded nearly two decades ago to fly people to other worlds, Musk was on another Twitter tirade. "Now give people back their FREEDOM," he said.