Space Agency Launches 'NASA at Home' to Engage Those in Coronavirus Confinement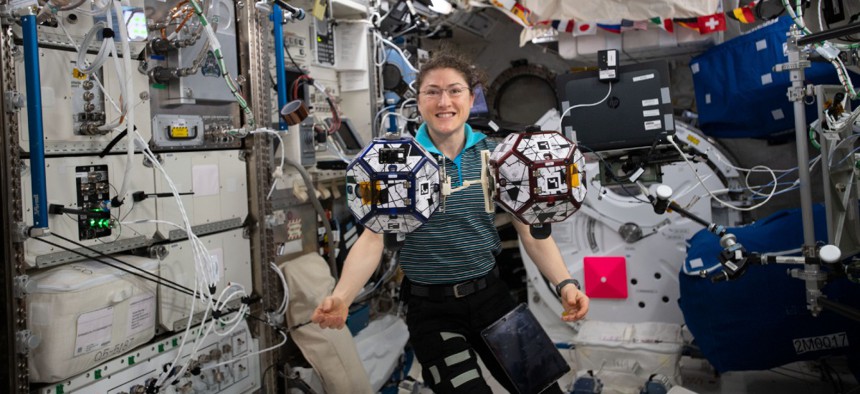 Resources include do-it-yourself activities, live virtual chats with astronauts and officials, formal lesson plans, an augmented reality app and more.
NASA recently launched a new "internet and social media special" that's compiled of heaps of activities, research opportunities and media for people of many ages to binge while they're stuck indoors to help slow the spread of COVID-19. 
It's been weeks in-the-making, but the space agency on Monday formally introduced the new repository—NASA at Home—and outlined all the goods it encompasses. 
"Kind of our overarching goal for NASA when we talk about what we do is to 'go where people are,' and right now people are at home," NASA Spokesperson Allard Beutel told Nextgov Monday. "So we want to make it as easy as possible for people to get information there."
Beutel explained that the resource compilation that led to the eventual launch of the fully-loaded NASA at Home web special came together organically over the last several weeks, as people across the nation were beginning to shelter in place. "NASA is not a very huge organization in terms of the federal budget," Beutel noted. "But we're lucky to have a lot of materials, a lot of very cool and unique things, just by the nature of what we do—our discoveries and research and exploration. So we started pulling that together in different groups and we started to coordinate that." 
There's now mandatory telework across the agency except for mission-critical work, such as people who are physically building the next Mars rover that's getting ready for a launch this summer. But Beutel said NASA officials from its Office of STEM Engagement, Science Mission Directorate and beyond began compiling resources for kids and adults to access from home weeks ago—and that soon ballooned into something much larger. Over time, agency officials started using the hashtag #NASAatHome across social media sites to spread that information to the broader community, and they eventually launched the full site of assets Friday.
"It's a combination of things that have already existed, along with new material," Beutel said.
The NASA at Home offerings are spread across six categories: virtual tours and augmented reality, videos, e-books, podcasts, for kids and families and be a scientist. 
The latter offers a range of opportunities for people to participate in some of the agency's real, ongoing projects. "If you're interested in being a citizen scientist, there's actual NASA research that you can do from your home, wherever you are, that can contribute to these efforts," Beutel said. People can, for example, personally search for brown dwarfs, planets and other new objects at the edges of the solar system. They can also help hunt for undiscovered worlds and support climate research. And for those with telescopes, there's also an opportunity to actively participate in NASA's Juno Mission.  
The space agency's effort also includes a range of virtual tours of NASA research facilities and sites, as well as guided and 3D tours of the International Space Station. People with at-home capabilities to access virtual and augmented reality experiences also have opportunities to do so, including via an AR app that can put them "in the pilot's seat of a NASA aircraft."
For families and students in kindergarten and up, NASA offers a variety of projects and resources, such as formal at-home lesson plans, do-it-yourself activities, and other educational materials. Through NASA Television, the agency is also running NASA at Home-themed programming every weekday and other around-the-clock programming from across the universe to help keep people entertained. 
The special will also feature ongoing opportunities to interact and hear from agency experts—some of which will be on social media. For example, record-breaking astronaut Christina Koch reads children's books on weekday afternoons via Instagram live, as part of educational and STEM activity for students. Koch recently returned to Earth after spending 328 days in space—the longest single spaceflight by a woman. 
"She wanted to do this on her own," Beutel said. "She's like, you know, 'I'd love to read some children's books, and be able to do that on a regular basis.'"
Koch's offer is not necessarily a new concept, as astronauts will often read to children live from the International Space Station. But Beutel said through some of the other fresh offerings, officials from across NASA's many fields will participate in live virtual chats and interact directly with people in their homes. 
"The idea is ... knowing that we're obviously going to be in this situation for a while, we wanted to coordinate this in such a way that you're at home, and you have a reason to come back day after day for something new," he said. "We're trying to be as engaging as possible."