DHS Makes a Master List of Knowns and Unknowns of COVID-19 Outbreak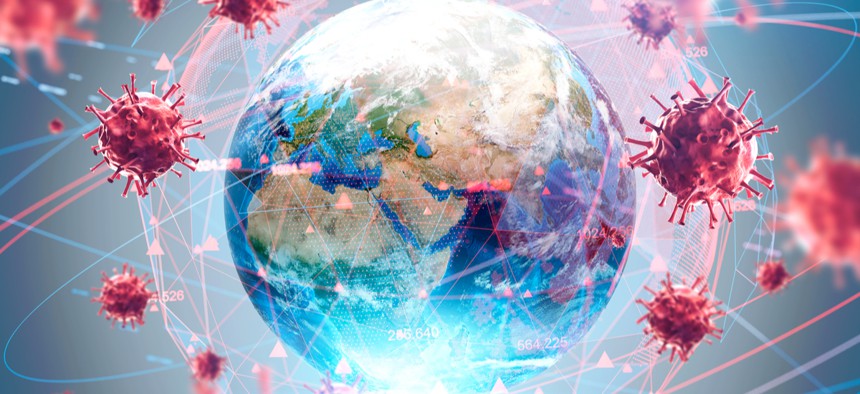 The agency developed the master question list as a reference for government decision-makers.
The Homeland Security Department recently launched and continues to update a new, living document that agency officials can use as a reference tool to inform the choices they must make in response to the COVID-19 crisis. 
Upon recognizing that there's a range of knowledge gaps about the novel coronavirus itself that directly impact DHS' policies and operations—and America's entire medical emergency response community-at-large—the department created and released a Master Question List, or MQL. According to the latest version published March 26, the document "quickly summarizes what is known, what additional information is needed, and who may be working to address" fundamental questions about COVID-19. It'll be updated "as needed when new information becomes available." 
"The MQL is primarily intended to quickly present the current state of available information on operationally-relevant questions to government decision-makers to support structured and scientifically guided discussions without burdening them with the need to review scientific reports, as well as to prevent duplication of efforts by highlighting and coordinating research efforts," Lloyd Hough, lead of DHS' Science and Technology Directorate's Hazard Awareness and Characterization Technology Center, told Nextgov Wednesday. "Given the breadth of the response to COVID-19, many stakeholders have different priorities—so hopefully the MQL allows each stakeholder to quickly find the relevant information they need for their mission."
The department recently implemented the HAC-TC and the Probabilistic Analysis of National Threats, Hazards and Risks, or PANTHR, Program. Together, they help track the coronavirus' outbreak and spread, coordinate research and interagency efforts as it escalates, and provide response resources like the MQL. 
While the 19-page document doesn't provide operational guidance, Hough said it "allows users to quickly find information that is needed to inform operations, which is why every piece of information is referenced." The citations enable users to go back to the information's primary source to inform their decisions. The document itself is broken up into columns that pose a variety of coronavirus-focused questions like, "How does it spread from one host to another?" and "What personal protective equipment is effective, and who should be using it?" 
Below the guiding questions are rows where information is listed in relation to the topics. The rows include, "what do we know?" which outlines the proven information out there, "what do we need to know?" which addresses knowledge gaps on the proposed topics, and "who is doing experiments/has capabilities in this area?" which lists many public, private, academic and international entities and individuals involved in the work.
Hough said the information source is already producing new insights.
"A significant gap that was identified through the MQL was that we did not know this virus' stability in the environment and how it could be transmitted on surfaces," Hough said. 
He explained that shipments from China were a concern during the start of the outbreak, but now that there is a significant number of cases in the U.S. and elsewhere, there's also growing concern with contamination of other surfaces, such as those in medical facilities. 
"As a result, [the DHS S&T Directorate] initiated laboratory studies to determine how long the virus survives on different surfaces in different conditions—temperature, humidity, and sunlight. These studies are underway and results will be made available to the scientific, medical, and response communities as results are obtained," Hough said. "An ideal outcome is that the data will inform the broader community on how long contaminated surfaces pose a hazard and will influence procedures for decontamination and personal protective equipment."
Though the COVID-19 MQL is publicly available online, the original MQL format was first generated as an internal effort by department officials during the response to the 2014 Ebola virus outbreak. Back then, the information was meant to help guide discussions about how to leverage the S&T Directorate's technical resources to support outbreak response, Hough said. In the process, the first Ebola virus MQL was shared with the agency's partners and other stakeholders, who deemed it a "succinct and valuable summary of the literature supporting technical questions regarding response operations."
"Given the value of the Ebola virus MQL, [the directorate] developed additional MQLs for a variety of biological agents, including the Middle East Respiratory Syndrome (MERS) Coronavirus, which was used as a starting point for the SARS-CoV-2 (COVID-19) MQL," Hough said. Hough added that the current "SARS-CoV-2 MQL was initiated on Jan. 23, in response to the increased spread of COVID-19."
The first confirmed case of novel coronavirus infection in the U.S. was reported on Jan. 20. 
All the data behind the information presented in the MQL comes from publicly available sources including reports and "articles found in scientific and technical journals, selected sources on the internet, and various media reports that have been assembled and evaluated by experts to ensure that information is valid," Hough said. He added that a core team of between four and five subject matter experts "contribute to the continued technical revision of the MQL" by reviewing new insights and leveraging input from stakeholders. On top of that, a larger team of roughly 20 people "contribute to the process of updating the MQL and getting it posted publicly every week." 
Prior to being posted online, the MQL was distributed by email and given to various interagency and international partners, but Homeland Security does not have comprehensive metrics on how widely it was previously shared. 
Between its rollout on March 18 and March 24, Hough said the current MQL page "has been viewed approximately 5,738 times."
"The best case [scenario] is that stakeholders find the information contained in the MQL useful to guide discussions and decisions regarding COVID-19 response, research, and development," Hough said.