GSA Wants Industry Insights on Offering Human-Centered Design Services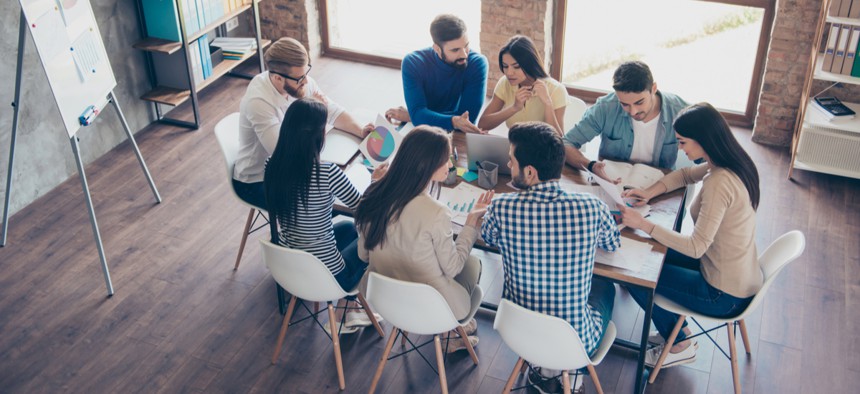 Responses to the new request for information will impact future procurement actions, the agency said.
The General Services Administration is working to boost the adoption of customer-first capabilities across the federal government. 
In a request for information published Monday, the agency prompted industry stakeholders to weigh in on their potential to provide human-centered design and customer experience services to federal agencies through its various procurement offerings.   
"The intent of this research is not to market any one specific company but to demonstrate to government agencies how to purchase HCD services utilizing the various contracts GSA manages and to demonstrate existing capabilities and past performance under these contracts," agency officials said in the publication.
As American consumers become increasingly accustomed to customer-friendly services they receive from commercial entities, the government is feeling the pressure to step up and agencies are taking note. Officials from the Agriculture Department, for example, have been vocal about applying their "farmer-first" approach to the design of new products, and Veterans Affairs recently created a human-centered design analysis of significant moments for thousands of veterans across their distinct healthcare journeys. Late last year, GSA also released a "Customer Experience Playbook" that streamlines a variety of insights from federal CX and HCD experts to assist agencies as they strive to adopt more modern, customer-focused approaches. 
According to the agency, responses to the new RFI will likely be used in broader items that GSA is creating to support agencies in ordering customer-focused items and services against the GSA Schedule, government-wide acquisition contracts, and Multiple Award Schedule. 
"The agency is seeking input for a forthcoming report, which will inform a federal buying guide as well as future procurement actions," GSA officials said in a statement.
In the RFI, respondents are asked to detail whether they have provided any government entities with HCD services in the last 36 months, and which GSA contract they used to offer those services. The agency also asks respondents to offer details around their capabilities across various CX domains including measurement, governance, customer research and service design. 
GSA also asks respondents to offer up to three examples of human-centered design projects that thoroughly demonstrate their capabilities and address six specific questions: 
How did your organization partner with the client to frame a customer-centered challenge? 
How did your organization work with stakeholders to investigate the challenge? 
How did your organization work together to design a solution? 
How did you implement and/or iterate on the solution?
Did the client organization address the problem frame? 
How has the work impacted CX overall? Share any benchmarks for success and measurement. 
GSA will accept responses until Nov. 18.