Experts Say Federal Data Strategy Needs Leaders and Funding to Succeed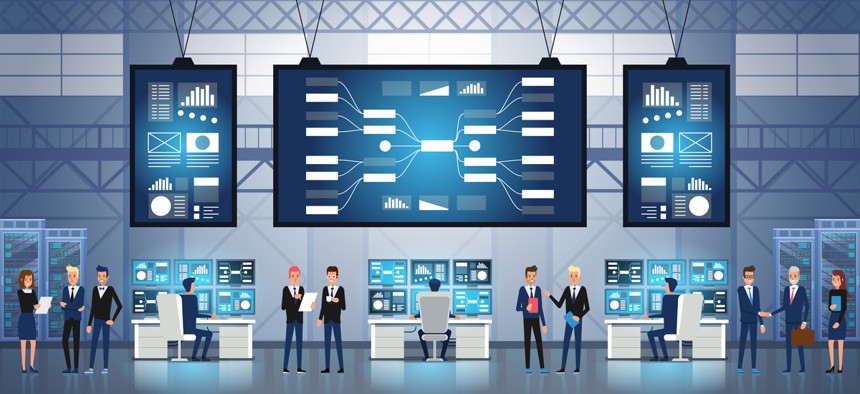 Stakeholders are pleased the government is poised to take action on the federal data strategy but had some management advice for the Office of Management and Budget.
Stakeholders from industry and academia gathered Monday at the Commerce Department to offer their expertise and advice on the administration's governmentwide data policy, including what's missing and which priorities are out of order.
Last month, the Office of Management and Budget, in conjunction with a cross-agency team, released a draft set of 16 mandates for agencies to accomplish during the first year of the Federal Data Strategy.
All who spoke Monday noted the importance of the federal government having a comprehensive data strategy and lauded the administration's Year 1 Action Plan. The government collects petabytes of data each day that, if put to use, could help agencies better meet their missions, improve society as a whole and create entire economies.
Kelvin Droegemeier, director of the White House Office of Science and Technology Policy and a research meteorologist, pointed to the National Weather Service as a perfect example: a federal agency that distributes critical information openly, leading to better services for American citizens and boosting the economy.
The importance of NWS data was evident to the soggy D.C. crowd in attendance Monday, whose phones regularly chirped in unison throughout the morning as flood warnings were issued for the region.
That data was not always publicly available as it is today, he noted.
"It was illegal—it was against policy—to bring those data out and make them available. So, we worked with the private sector, we demonstrated capabilities to send these very voluminous data over the internet in real time, which was kind of a crazy idea back in 1999," he said. "Turns out it was an incredibly reliable infrastructure and we changed the whole Department of Commerce's thinking about this. … We liberated data. We liberated them to empower the private sector to create and innovate."
Charles Rothwell, former director of the National Center for Health Statistics at the Health and Human Services Department and former co-chair of the agency's data council, said OMB needs to be more actively taking the lead on these action items.
Specifically, he pointed to action items one and 12, which create data councils at OMB and at each agency, respectively.
"This is essential, long overdue—it should start immediately," he said, but noted the timelines have agencies establishing their councils within a month of the action plan being finalized, while OMB will take three months.
"To me, the timing is backwards," he said. "The OMB council should serve as a model for the department governing bodies."
Rothwell cited his own time leading such a council and the pitfalls they encountered.
"We needed better representation from the CTO, from the CIO, from the chief data officer and from state officials to have really been effective," he said. "Do not let other departments make the same mistake as we did. Either use the makeup of the OMB data council as a guide or issue very specific OMB guidance to departments on representation on the data governing bodies."
Vishal Kapur, a partner in Deloitte's artificial intelligence and financial regulatory practice, suggested adding a new action—either as its own or within another—covering data quality at the enterprise level.
"I think that's integral to success in this field and we did not see a specific call-out to data quality," he said, suggesting the creation of an Enterprise Data Quality Posture. "Just knowing what data quality is—what the state of affairs is—and monitoring data quality over time can have a tremendous impact on data quality at the source, creating a culture of data."
In the end, doing the work will likely come down to having the proper resources, according to Mike Anderson, chief federal strategist at software company Informatica.
"The thing that's glaring to me is the lack of funding," he said, noting six of the proposed actions do have some funding attached. "None of the other actions are presently funded. I think that's going to be a big challenge to overcome."
Outside of Congressional appropriations, Anderson floated the idea of using the Technology Modernization Fund to support some of these efforts, though he noted that fund is currently short on money and seeking more appropriations.
Anderson cited his own past experience trying to push a data compliance effort at the Pentagon.
"Even though it was policy across the Department of Defense, we had trouble getting folks to comply with that until we tied funding to that," he said.
Despite all the competing priorities, the experts were optimistic that progress can be made within the first year, on all fronts. Above all else, action needs to occur, Rothwell said.
"It's about time—damned time—we got aggressive on this. We should have been doing this before," he said. "It can be done. It can be done in a coordinated and a secure manner. Let's get on with it."