How Some Contractors Successfully Weathered the Shutdown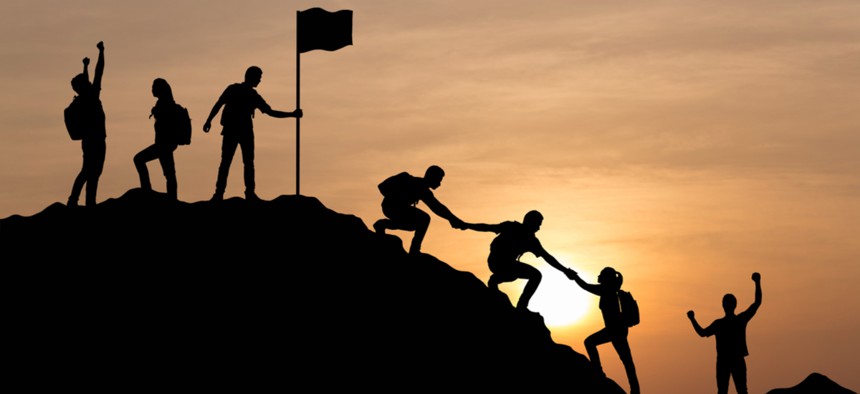 The 35-day government shutdown cost thousands of small- and mid-size businesses nationwide that supply services or technology to the federal government $2.3 billion in revenue and forced tens of thousands of layoffs.
As once-furloughed federal employees and contractors begin the slow business of reopening government, the cold reality is that another shutdown looms if a spending deal is not reached before Feb. 15.
It's a time of "uncertainty" for contractors, according to David Berteau, who represents hundreds of companies as head of the Professional Services Council, and some contractors "may be in a holding pattern" while they wait and see whether the government shuts down again. In the interim, Berteau is advising contractors to proactively seek backed government invoices for money owed, sniff out new solicitations and bid on as many opportunities as they can.
Yet amid all the doom, gloom, and wall-to-wall news coverage, the longest government shutdown in history brought about pockets of optimism, innovation and strategy and teachable moments the contracting community that could serve thousands of businesses and 1 million-plus individual government contractors moving forward through future shutdowns or trying times.
Nextgov spoke with two small government contractors about their strategies for handling the shutdown and lessons learned.
To Keep Employees as Long as Possible, Keep Them Engaged
Evans Incorporated, a small Falls Church-based business with about 70 employees, is precisely the kind of contractor that could have been devastated by the shutdown. About 90 percent of company's revenue comes from the Federal Aviation Administration—one of the unfunded agencies—and by the final week of the shutdown, about 90 percent of Evans Incorporated's contracts with FAA were under a stop-work order.
"Our overarching goal was to minimize impact to employees for as long as possible," Bob Etris, a partner at Evans Incorporated, told Nextgov.
Two days after the shutdown began, the FAA issued the first of many stop-work orders to Evans Incorporated. The company immediately reassigned an employee who otherwise would have been furloughed to be a "bench manager," charged with updating the company's strategic plan and improvement goals for the year.
While the company had enough cash on hand to make payroll and pay benefits for a short period of time, its leadership knew the only way to stay afloat for long was to keep employees productive and engaged.
"Every employee was allocated training and overhead to support shared growth, condensing a year's worth of work into a few weeks," Etris said. "Theoretically, this would buy us time and not furlough employees, and we'd still get productive work from employees who were motivated and engaged. We ensured people on stop-work orders had someone, either a project manager or equivalent of a supervisor, working on a team doing 2 or 3 things. We ensured the same kind of project approach to ourselves as we do for our customers."
Employees focused more time on internal research and development efforts, resulting in two distinct innovations. One, he said, is called the "Restart Manifesto," a graphic designed to help managers acclimate to post-shutdown employee needs. The other was a spreadsheet designed to systematically assess the holistic shutdown impacts to the projects Evans Incorporated oversees.
Etris said the company also hosted 9 a.m. "bench calls" for anyone on stop-work orders for guidance on what to do or what to work on. It also remained transparent about the situation. Twice per week, the company send out companywide communications from leadership that "laid out plans as best we knew them" for the coming weeks. The company also hosted "all hands on deck" meetings and Q&A sessions weekly. As the shutdown went on, Evans Incorporated asked some employees to take PTO for 1 or 2 days, but Etris said the company could have continued a little while longer without furloughing employees had the shutdown remained.
While the shutdown curtailed Evans Incorporated's revenue for over a month, Etris said the company avoided laying off employees by focusing on them.
"We're committed to them, they're committed to us," Etris said. "We were fortunate. Airplanes still need to fly, the government will eventually reopen, so let's do good stuff while we can."
Executives Get Creative
Executives at McLean, Va.-based HumanTouch found a unique way to ensure its employees remained whole through the shutdown: dipping into their own pockets.
The IT consulting firm, which specializes in cybersecurity, cloud and IT modernization, has about 200 employees and does $35 million in annual business. Chief Executive Officer Moe Jafari said the shutdown directly affected about 10 percent of his staff. In early January, the company's management team decided to take the unique step of sacrificing some of their salary to retain employees working on contracts that had been stopped.
Jafari signed off on the plan, and went a step further, forgoing his salary for the duration of the shutdown and adding it to the pool.
"My management team came up with the strategy that all senior managers, executives and above would basically give up one day a week of their time, and by doing that, would help fund a pool we'd be able to utilize for our folks who would have been laid off," Jafari told Nextgov.
The pool kept employees affected by the shutdown paid and their health insurance covered. Meanwhile, the company looked for ways to move furloughed contractors to active projects or contracts, although Jafari said it's "not as easy as it should be," given various agencies require sign-offs or clearances that are impossible during a shutdown.
While the decision by executives at HumanTouch's to forgo portions of their salaries "showed how big a heart a lot of our folks have," Jafari said it also shows strategic planning, vision and the knowledge of the nuances of capitalism.
Laying off employees in a region with less than 4 percent unemployment virtually guarantees they'll be job hunting within hours, and that talent—replete with potentially years of internal knowledge—could be snagged up equally fast. Jafari said he thinks the shutdown will impact talent recruitment in federal and contracting ranks for years to come because nobody joins a firm or agency because they like uncertainty.
"They join because they want positive experiences that come from what a positive environment has to offer," Jafari said. "I'm pretty proud of the fact that I have great people working with me and we've tried to create that kind of environment."