How the Shutdown Could Hurt Government's IT Recruitment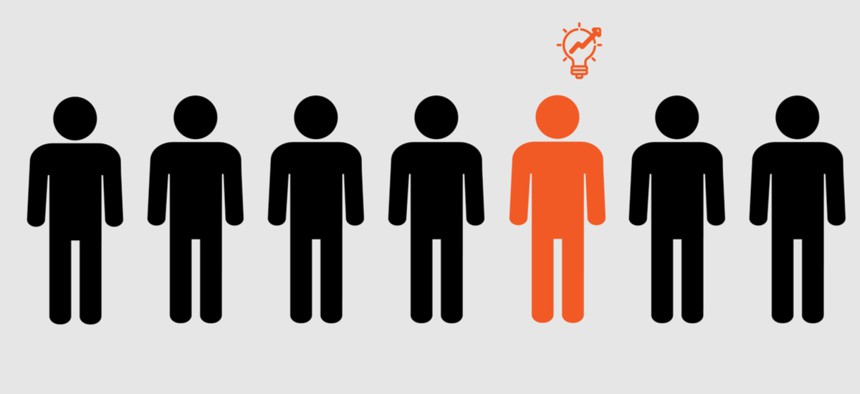 The current shutdown is expected to exacerbate the brain drain facing the government as the IT workforce grows older and agencies struggle to bring on the next generation of tech talent, according to federal tech experts.
Agencies are shuttered right in the middle of recruitment season for the next batch of computer science and engineering graduates, which means they can't attend job fairs and campus events to scoop up the best and brightest. And as demand for private sector techies grows and a sizable chunk of the government's tech workforce nears retirement, the shutdown could also push many current feds to seek greener pastures.
The impact would likely be greatest among the most high-skilled employees and potential new hires, who have a plethora of job opportunities outside government, said Dave Mihelcic, the former chief technology officer at the Defense Information Systems Agency. As the shutdown strips away many of the perks that attract people to civil service, private sector jobs will look more enticing for the most talented technologists.
"It's difficult to anticipate a career at a place that you see going through these kinds of machinations," Mihelcic, who currently serves as federal chief technology and strategy officer for Juniper Networks, told Nextgov. "If this shutdown goes for much longer, you could see some of those best, most employable [people] fleeing."
The Homeland Security Department has historically led civilian agencies in attracting young tech employees, and in an October interview, Chief Human Capital Officer Angela Bailey attributed the agency's success to its ability to sell the mission, partly through in-person events like hiring fairs.
But with funds cut off, the agency can't host or attend any of those events. The office that oversees hiring efforts—the Homeland Security Management Directorate—also furloughed nearly 90 percent of employees during the shutdown, which means it's unlikely the agency is even processing applications.
The shutdown comes during "prime hiring season" for recent and soon-to-be graduates, Mihelcic said, so affected agencies won't get a chance to pitch themselves to top candidates.
But beyond agencies' absence from recruitment events, the more lasting damage could come from the shutdown's effect on the image of government, Mihelcic said. Federal jobs typically offer a level of job security that's hard to find in the private sector, but as some 800,000 employees go weeks without pay, that notion is being flipped on its head, he said.
As a result, recent grads and technologists that might otherwise consider careers in government won't see the same incentives that attracted civil servants in the past.
"There just will be a more negative perception of the stability and security and viability of a career in the federal government coming out of this shutdown," even for agencies that remained open, he said.
Mihelcic weathered numerous shutdowns during his three decades in civil service, but he said each one resulted in a "palpable" drop in employee morale. While he himself was never inclined to leave government due to shutdowns, he said many of his colleagues were.
Employees currently furloughed or working without pay could start to see their jobs in less positive light as paychecks stop and federal leaders politicize the workforce, Mihelcic said. As the shutdown stretches into its fifth week, some tech workers could begin pursuing higher paying jobs in industry, or retiring altogether.
And if people wanted to leave, they'd have lots of places to go.
There's a severe shortage of tech and cyber talent in the U.S. job market, so many firms would pay top dollar for the highly trained specialists coming out of agencies like Homeland Security. Margot Conrad, director of federal workforce programs at the Partnership for Public Service, said those positions could become more enticing if feds don't feel like their current work is being appreciated by the American people or government leaders.
The 2013 government shutdown had no appreciable impact on the number of people entering or leaving government, according to data from the Office of Personnel Management. But there's evidence it could be different this time around.
For one, the 2013 shutdown lasted only 16 days, while the most recent funding lapse has continued past the 27-day mark with no end in sight. Today's federal tech workforce is also older than it was in 2013, meaning more people have the option to retire if the shutdown drags on.
That said, Conrad and Mihelcic both agreed the shutdown could result more in problems of employee quality than quantity. There will always be a pool of people looking to work for government, but the current situation could deter the most talented people from either joining civil service or staying on for the long haul.
"If you're a highly qualified person in the tech field or the cyber field, you've got a lot of employers out there that are looking to scoop you up," Conrad told Nextgov. "Government has to really work to compete for that talent."
Conrad has long pushed agencies to do a better job marketing their missions as a way to attract young tech talent, and once they reopen their doors, she said they need to double down on those efforts.
"I do think agencies are really going to be hurting now in terms of recruiting the next generation of talent that [they] desperately need," she said. "Now more than ever they're really going to need to focus ... on building these strategic recruitment plans. Otherwise it's going to be really difficult for them to rebound from this setback."