$600 Million Satellite Imagery Contract Shifts from One Intel Agency to Another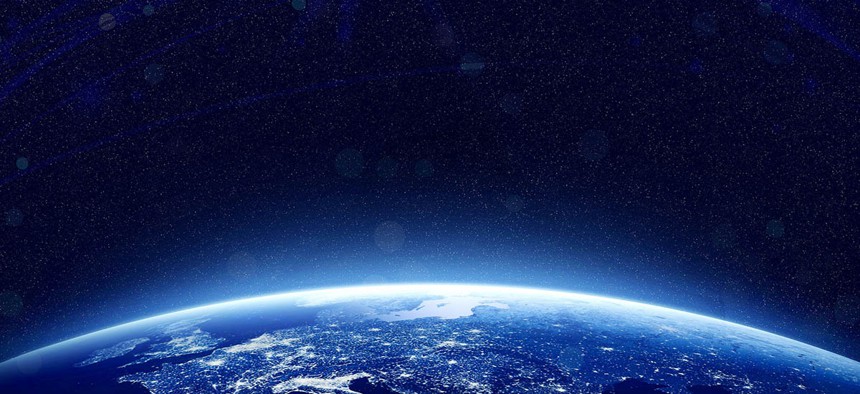 Management of the EnhancedView commercial satellite imagery contract shifted from the National Geospatial-Intelligence Agency to the National Reconnaissance Office.
Defense intelligence agencies are shifting responsibility for buying commercial satellite data, transferring a $600 million satellite imagery contract from the National Geospatial-Intelligence Agency to the National Reconnaissance Office.
NGA awarded a contract Aug. 29 to DigitalGlobe to manage the EnhancedView Follow-On, which gives civilian and defense agencies access to the company's satellite constellation and image archive. The contract is worth $300 million for the base year, with a $300 million one-year add-on option, according to a release.
DigitalGlobe was awarded the original contract in 2010, worth up to $3.5 billion over 10 years. The follow-on award means the company will continue the work it has been doing with NGA, just under new management. On Wednesday, NGA transferred the contract to NRO.
"For the past eight years, DigitalGlobe—via EnhancedView—has steadily grown its contributions to NGA's GEOINT service," NGA Director Robert Cardillo said in the release. "Further, as the GEOINT functional manager, I especially value how this transition enables our broader enterprise to leverage data analytics and the broad spectrum of emerging commercial GEOINT services."
The shift will enable NRO to manage current and future commercial imagery acquisitions while NGA focuses on emerging technologies like machine learning and advanced data analytics, an NGA spokeswoman told Nextgov.
"This transfer is an example of both agencies adapting to today's intelligence environment," they said. "Both NGA and NRO are dedicated to maintaining the quantity, quality and timeliness of images we receive through the DigitalGlobe contract."
NRO Director Betty Sapp agreed, stressing the importance of including private-sector data in intelligence efforts.
"Commercial imagery is an increasingly important part of satisfying both existing and emerging security and intelligence challenges," she said. "The award of the EVFO is an important first step in the NRO's strategy of embracing commercial imagery as a key element of our current overhead architecture and a critical and integral element of our future overhead architecture."