Space as a Service: NASA and SpaceX Find a New Way of Putting People Into Orbit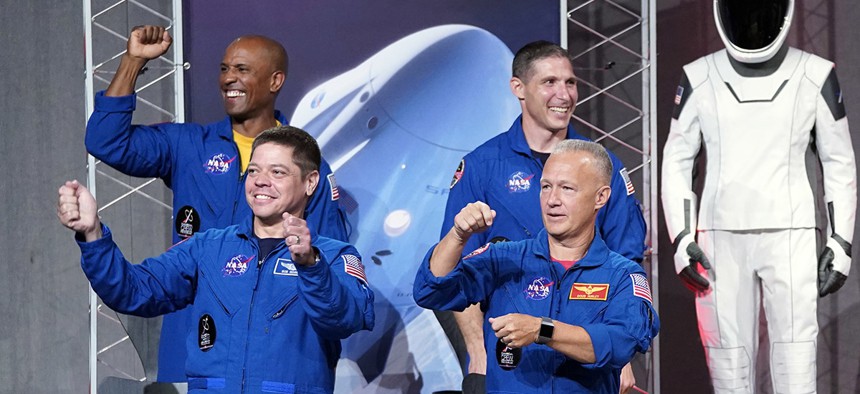 As soon as next year, SpaceX's Crew Dragon spacecraft will whip around the earth at 17,500 miles per hour, ferrying two NASA astronauts to the International Space Station.
Those astronauts will have little piloting to do; the spacecraft is mostly automated, as its predecessor was on cargo runs going back to 2010. Indeed, when the Crew Dragon takes flight, its emergency control pad may contain just six physical buttons. Each one initiates automated crisis procedures, a sudden return to earth or retreat from the ISS among them. If something goes wrong and the astronauts must take control, it won't be by joystick; the pilot will point his gloved fingers at a touchscreen to manually control the vehicle.
In the 1960s, the original Mercury 7 astronauts famously demanded that NASA add a window and more controls to their space capsule to make it more flyable. Today's astronauts are playing as big a role in designing the next generation of spacecraft, but the model is different: SpaceX and Boeing are building spacecraft to effectively replace the Space Shuttle, but NASA is buying a transportation service, not a vehicle. The balance of power has shifted. The Crew Dragon astronauts wanted more controls than the ultra-simple configuration presented by SpaceX, but the company's engineers won out.
So far, these controls have only been used in simulations. But the four astronauts chosen by NASA to ride in SpaceX's vehicle—all experienced military aviators—are now training for the real thing, which could come as soon as April 2019. Therein lies the paradox: The most highly trained pilots and engineers in the world are needed to break in a vehicle that is designed to fly through space without human input at all.
NASA meets Silicon Valley
This new model of spaceflight is intended to put private companies to work replicating NASA achievements, such as flying humans to low-earth orbit, cheaply and efficiently, so that the space agency can set its sights on deep space exploration. SpaceX, in turn, can learn from the world's premiere space agency, and tap into its public funding to achieve the broader aspirations propounded by founder Elon Musk, which extend to colonizing Mars.
"Human spaceflight was the reason that SpaceX was founded in the first place," says Benji Reed, the SpaceX executive in charge of crew missions. "Every time we sit down…we always ask ourselves, would you fly on this, and more, would you put your family on this vehicle?"
The big question is whether companies operating can achieve the same reliability on a fixed budget as with traditional contracts that pay the full cost of a program plus a guaranteed profit. Both companies have talked about stripping the bells and whistles from the spacecraft, especially compared to the ultra-complex Space Shuttle. SpaceX also brings its own verve: Its spacesuit met all the requirements for being lighter and easier to work in than previous models, and in astronaut Doug Hurley's words, is "pretty neat looking, too, which was not a requirement, but we certainly appreciate it."
During a tour of SpaceX's factory in Hawthorne, California, by the Crew Dragon astronauts on Aug. 13, SpaceX president Gwynne Shotwell said the company would not launch "until we are ready to fly these folks safely." She touched on a plan known as "load 'n' go," to fuel the rocket when the astronauts are already strapped in on top. It had been criticized by some NASA safety advisers, but now meets their standards and those of the space agency.
"We were glad that we could provide the data to NASA as well as the safety advisory panel…to demonstrate to them that this was the right way to go," Shotwell said, noting numerous safety features on the spacecraft, including that it is designed for an emergency escape from the rocket, even on the launch pad, if something goes wrong.
SpaceX is still working through other NASA safety requirements, like demonstrating a new engine pressurization system, that will need to be closed before crewed flight. Astronaut Bob Behnken, who will fly alongisde Hurley in the first Crew Dragon demonstration mission, compared his work with SpaceX to his time in the US Air Force, when he was a flight engineer helping develop the F-22 fighter aircraft. Both cases require significant partnership between government and private companies.
"You need a process in place that you can hang your hat on, that ensures the risks are appropriately assessed and that the folks that are going to be riding on the rocket, in our case, have the opportunity to voice concerns and have those addressed," Behnken said. "We have a good process in place at NASA to do that."
Training days
For now, the astronauts are focused on simulated missions in two different trainers, a low-fi version that is essentially a control board and a pair of seats, and a life-size module for high-fidelity training in their new space suits. The astronauts and their trainers will spend hundreds of hours understanding every aspect of the launch—down to tracking the sounds made by the rocket during uncrewed test flights—mainly so that they'll know if something is going wrong during Crew Dragon's maiden journey.
Astronauts traditionally seek a strong bond with the people who build their vehicles, even creating an award called the Silver Snoopy to recognize those who go above and beyond to keep them safe outside the atmosphere. Although SpaceX employees were barred from speaking to the press, they did turn out on Aug. 13 to meet the astronauts who are now their most important customers (In addition to Hurley and Behnken, Mike Hopkins and Victor Glover, who will fly in the first operational mission, were in attendance.) SpaceX founder Elon Musk, now facing a Securities and Exchange Commission investigation at his electric car company Tesla, was conspicuously absent.
Ironically, it was an astronaut who voiced a fear that must be on the mind of everyone in the program. They were asked as a group what they about their mission made them fearful, and (naturally) didn't say riding a rocket into space.
"You don't want to make a mistake," Hopkins responded. "When you look around here, you see all of the thousands of people here, they're depending on us, and the last thing you want to do is let them down."
The feeling at SpaceX is mutual.