U.S. Coast Guard Is Putting Cubesats Over the Arctic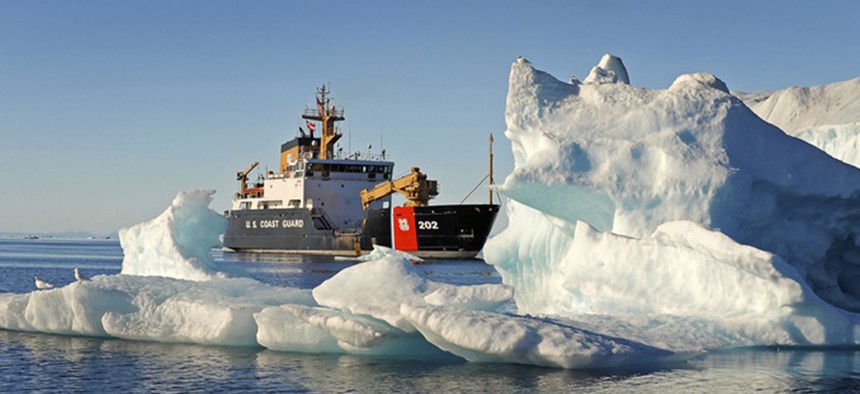 As the icecap melts and activity rises in the high latitudes, the commandant says his force needs better situational awareness.
Add the Coast Guard to the growing list of U.S. military organizations turning to small cube satellites to meet their ever-growing demand for intelligence and communications.
The service is buying two 10-centimeter cubesats and their accompanying ground stations to "improve our persistent coverage for search and rescue for distress beacons," the commandant Adm. Paul Zukunft said Tuesday. The satellites, scheduled to be launched later this year, will only be proof-of-concept and won't be relied upon for actual operations, Coast Guard spokesperson Lt. Jr. Grade Emma Lutton said.
But the pilot program, called Polar Scout, will help the service think through how it could use the technology in the future.
Right now in the high latitudes, the Coast Guard's communications reach just over the horizon, Zukunft told an audience at the Center for Strategic and International Studies. Expanding those capabilities will only become more critical as the Arctic melts and activity in the region increases.
"As we look at sea ice retreat, and sea levels rise, some of the models predict we could have upwards of two meters by the end of this century," he said. "That means there's all the more reason we need to have good domain awareness of what is happening in the high latitudes, what is happening in the Arctic."
Networks of small satellites could be the answer.  With America's high-end ISR capabilities tied up monitoring the wars in the Middle East and southwest Asia, lower-priority regions have had to get creative. U.S. Southern Command has worked with Planet Labs— a startup that maintains a constellation of over 175 microsatellites that image the Earth each day — to track unscheduled military exercises and monitor drug cartels. (Full disclosure: Defense One occasionally uses Planet's imagery.)
And they're not the only ones turning to smaller and smaller satellites. Globally, the demand has skyrocketed. The number of small spacecraft launched — those weighing less than 150 kilograms —  more than doubled from 2016 to 2017, according to data from the Space Foundation. A full 61 percent of those launched last year weighed less than 10 kilograms.