NASA Finally Gets a New Leader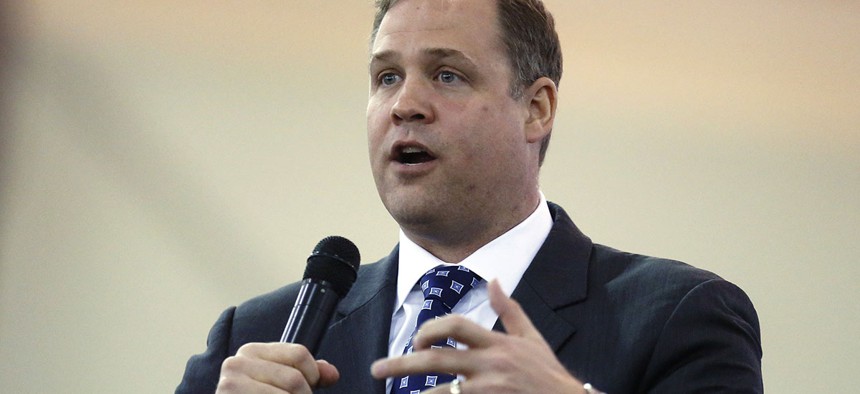 Nearly 15 months after President Trump was sworn in, the space agency has a permanent administrator.
After an unprecedented wait, the nation's space agency has a Trump-picked, Senate-approved, permanent leader at last.
Lawmakers voted 50–49 on Thursday to approve the nomination of Jim Bridenstine, a Republican congressman from Oklahoma, for nasa administrator, following months of debate over his qualifications and growing uncertainty over leadership at the agency.
The vote was split along party lines, and for a few tense moments it seemed like maybe one Republican senator, Jeff Flake of Arizona, would join Democrats in their opposition. Tammy Duckworth, the Democrat from Illinois, who has been away from the Hill after having a baby earlier this month, came to the Senate floor to cast her vote in case Flake didn't flip, with her daughter in tow.
The confirmation comes 15 months after Charles Bolden, the administrator under former President Barack Obama, stepped down as the new administration was sworn in. This was the longest nasa has been without a permanent chief—who is nominated by the president and must be approved by Congress—in the transition between two administrations. Previously, the largest gap was six months, between the George W. Bush and Obama administrations.
Nasa has been steered by an acting administrator, Robert Lightfoot, since Bolden left the office. Last month, Lightfoot announced he would leave the job at the end of April.
But most of the country's space policy and priorities under Trump have emerged from the National Space Council, a high-level advisory body chaired by Vice President Mike Pence. The National Space Council previously existed in one form or another, with varying amounts of effectiveness, since nasa was first established in 1958. The current administration resurrected it soon after Trump took office.
In his new role, Bridenstine will likely be taking cues from the council and its members, which also include the secretaries of several departments—including State, Defense, and Commerce—and the heads of national-security offices.
Bridenstine takes the helm during an exciting but tumultuous time at nasa. The agency is launching several new missions this year. A new exoplanet-hunting spacecraft just launched into space on Wednesday. A spacecraft will leave for Mars next month, and another to the sun in the summer. But nasa is also facing project delays and reports of poor management by its contractors. This year's scheduled test flights of crewed and uncrewed missions by SpaceX and Boeing, an effort paid for by nasa, may get pushed back. The agency's next space telescope, the James Webb, is facing cost and schedule overruns.
Bridenstine was elected to the House of Representatives in 2012 to represent Oklahoma's first district, and serves on the Committee on Science, Space, and Technology and the Armed Services Committee. Before Congress, Bridenstine served as the executive director of the Tulsa Air and Space Museum, flew combat missions in Iraq and Afghanistan as a Navy pilot, and studied business and economics in college.
Unlike his colleagues from states like Florida, Alabama, and Maryland, the homes of major nasa facilities, Bridenstine has few space interests to defend in Oklahoma. But he has shown an outsize interest in the space industry, and in April 2016 introduced a bill called the American Space Renaissance Act, which included various reforms to the U.S. space program. "Friends, this is our Sputnik moment," Bridenstine said then. "America must forever be the preeminent spacefaring nation." Later, he said space issues mattered to him because "my constituents get killed in tornadoes."
Bridenstine's road to the top job at nasa has been bumpy. The White House first nominated him in September 2017. Two confirmation hearings by Senate committees followed, both contentious. Senate Democrats and some Republicans criticized the selection of a candidate with no professional science experience. The previous administrator, Bolden, was an astronaut, they pointed out.
Democrats questioned Bridenstine over several controversial statements he'd made in the past. Bridenstine has called the Supreme Court decision to legalize same-sex marriage a "disappointment," and described an executive order from Obama that told public schools to let transgender students use bathrooms of their choice as "lawless federal bullying." In 2013, Bridenstine said rising global temperatures were a product of solar activity and ocean cycles, and not human activity. The congressman walked back some of this view during his hearings for the nasa job, saying he believes people have contributed to climate change, but stopped short of saying they were the main driver.
The Senate didn't consider Bridenstine's nomination for months because it appeared that Republicans didn't have enough votes to pass it. With a slim majority in the chamber, Republicans couldn't afford to lose more than one vote to Democrats. John McCain of Arizona is still home in Arizona receiving treatment for cancer, and Marco Rubio of Florida, the site of important nasaassets, had expressed concern over Bridenstine's background as a politician, and not a space professional.
In January, Bridenstine brought Bill Nye, "the Science Guy," as his guest to the State of the Union, a decision that proved controversial in the scientific community. Some considered Nye's acceptance of the invitation as a betrayal, while others saw it as a chance for the popular figure to impart some wisdom on a climate-change skeptic.
The drama reached a crescendo this week, when Senate leadership, apparently confident they had the votes, moved forward with the nomination. Rubio had changed his mind, and Duckworth wasn't on the Hill. On Wednesday, senators gathered in the chamber for a procedural vote that would open the door for a final vote. Lawmakers voted along party lines, but then Flake surprised everyone by voting no, threatening to torpedo Bridenstine's future. After holding up the process for an hour, Flake flipped, cryptically telling reporters he "just needed to have some extra discussions, some extra time" with his colleagues about other policy issues.
Asked why he had a change of heart on Bridentstine, Rubio said in a statement, "While I wish the president would have nominated a space professional to run nasa, the unexpected April 30 retirement of the acting administrator would leave nasa, an agency whose mission is vital to Florida, with a gaping leadership void unless we confirm a new administrator."
Bridenstine now joins the ranks of other Trump appointees whose credentials have been criticized as inadequate or irrelevant for the jobs they're taking on. He may soon join another, more specific club: Trump appointees swirling in controversy over ethical misconduct. On Wednesday, The Daily Beast reported that Bridenstine allegedly used the resources of the Tulsa Air and Space Museum to benefit a company he co-owned, citing a review of public records by the Project on Government Oversight, a nonpartisan, Washington-based watchdog group. "Evidence of Bridenstine's self-dealing dates back to December 2008, when the Museum, under his leadership, put its own cash reserves on the line to bring the struggling Rocket Racing League—a company set up to race rocket-powered aircraft before live audiences—to an air show in Tulsa in 2010," the publication reports. A Bridenstine spokesperson denied the allegations on Thursday.
The debate over Bridenstine's credentials is particularly interesting because it illustrates how much nasa has changed since its inception in 1958. During the first projects to send humans to space, the first Americans called up for the job were pilots with many hours' worth of combat flying experience. Back then, astronauts were considered soldiers setting off to conquer an unknown frontier, and they needed to be able to maneuver capsules not unlike military cockpits.
That changed in the 1980s, when the Space Shuttle program started carrying larger groups of astronauts to space. The extra room meant that not everyone onboard had to have military experience. Today, nasa's astronaut classes are pretty evenly split between astronauts with military backgrounds and astronauts who are civilians—scientists, doctors, engineers, and others.
Sixty years ago, it may not have mattered that Bridenstine had no science experience. His time as a fighter pilot would only have bolstered his nomination to a leadership role. But in the last decades, nasa has moved beyond the military-esque culture of human spaceflight and delved into scientific exploration of the Earth, the solar system, and the far reaches of the universe. As the profile of the agency and its astronauts has changed, the profile of who should lead them all has, too.