Despite Amazon Ire, Trump Not Involved in Pentagon Cloud Contract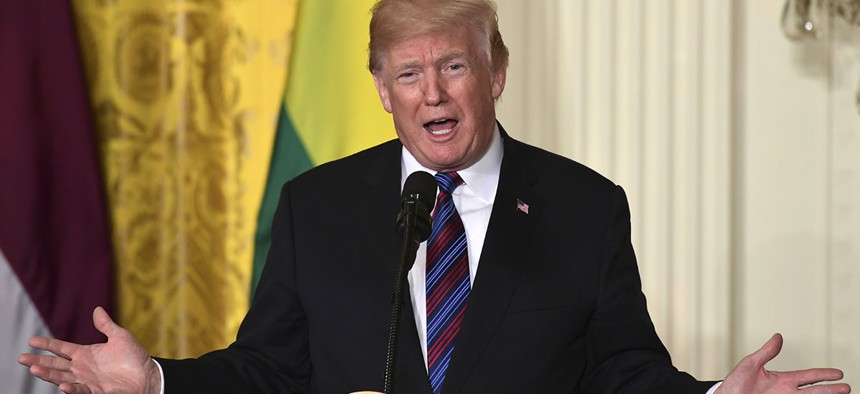 The Pentagon plans to continue as planned with its cloud acquisition.
President Donald Trump is not involving himself in a lucrative Pentagon purchase—possibly worth up to $10 billion—that tech behemoth Amazon is considered the frontrunner to win.
When awarded, the Pentagon's Joint Enterprise Defense Infrastructure contract will allow all defense and military agencies to host, store, analyze and process sensitive and classified data in the winner's cloud.
Despite his recent tweets and remarks chiding Amazon, White House Press Secretary Sarah Sanders told reporters April 4 that "President [Trump] is not involved in the process," adding that the "[Defense Department] runs a competitive bidding process."
Rival companies criticized the Defense Department last month when it announced the groundbreaking cloud contract would go to only one vendor, and at least one company, Oracle, personally appealed to President Trump during a Tuesday meeting.
At the moment, Amazon Web Services, Amazon's most lucrative business unit, is the only commercial cloud company with the requisite certifications to host classified data. As reported by Nextgov in March, at least one Defense customer is able to make use Amazon Web Services' Secret Region, the same cloud environment developed for the CIA and intelligence community.
Experts estimate the JEDI contract's value could approach $10 billion over the next decade, and its potential import is difficult to understate. Beyond hosting all kinds of military and defense data, Brig. Gen. David Krumm, deputy director for requirements for the Joint Chiefs of Staff, told an audience in March the end product would  "a global fabric" available to all warfighters in almost any environment.
The Pentagon does not appear to have plan to adjust its procurement even as it's risen to national discourse.
"The Department of Defense is conducting a full and open competition to acquire a cloud services solution through the Joint Enterprise Defense Infrastructure Cloud initiative that will better enable the execution of the global mission, meet joint requirements, and enhance the lethality, readiness, and effectiveness of our fighting force," Pentagon spokesperson Patrick Evans told Nextgov. "This is not a sole source contract. No companies have been pre-selected. We have no favorites. We want the best solution for the department."
The Pentagon plans to release a second draft request for proposal for the contract next week, and could issue a final solicitation for bids as early as next month.