Industry Weighs In on Pentagon's Cloud Adoption Plan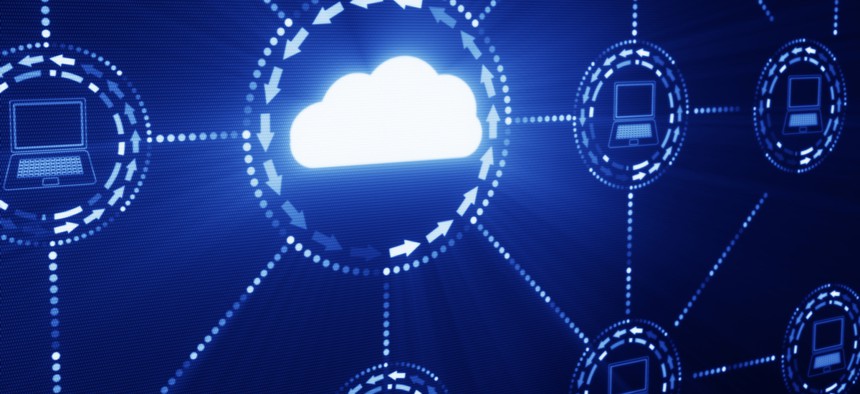 Apparently spurred by a summer visit to tech hubs in Seattle and Palo Alto, the Defense Department's top brass has the Pentagon pushing faster than ever for cloud computing services offered by the likes of Amazon Web Services, Microsoft, IBM, CSRA and a cadre of other providers.
The West Coast trip prompted the creation of the Defense Department Cloud Executive Steering Committee to speed up cloud adoption, and the group promptly released a request for information for how the Pentagon might "acquire a modern enterprise cloud services solution" to support unclassified, secret and top secret information.
Defense will take responses, which were due Nov. 17, into consideration as it determines next steps in its cloud journey, but some in industry are already weighing in.
The Professional Services Council, which counts cloud service providers among the 400 companies it represents, detailed Tuesday several recommendations it made to mitigate common fiscal, policy and regulatory barriers often faced when the Pentagon attempts to by commercial technologies.
Among them, PSC calls on Defense to "avoid vendor lock-in," to "define requirements in terms of results and outcomes, not technical mandates," and to "make an early risk assessment." PSC also argues for as much competition as possible and suggests Defense ought to consider contract recommendations from "more than just cloud service providers."
PSC also calls for the department to "consider a more agile security requirements framework" for cloud-based solutions, and for the military and its components to "allow reciprocity for cloud security authorizations." In practice, that could mean one military customer agreeing to use a cloud service under requirements it met for another defense customer.
PSC also asked Defense not to "arbitrarily limit the number of contract awards." The RFI suggested a single cloud contract might be made in 2018, but PSC argues that might not make sense given the department's makeup.
"DOD is heterogeneous and comprises organizations that vary greatly in terms of size and specific mission needs," the recommendations state. "DOD should at least consider a multi-cloud contract should RFP responses indicate an advantage to doing so."
Generally, however, PSC praised Defense's recent embrace of cloud computing.
"The Professional Services Council strongly supports Secretary [James] Mattis' goals of accelerating the adoption of innovative technologies and leveraging commercial capabilities to improve our military's warfighting capabilities while saving personnel resources and funding that could be redirected to our warfighters," said PSC's Executive Vice President Alan Chvotkin in a letter addressed to Deputy Defense Secretary Patrick Shanahan.
"DOD today has a tremendous opportunity to access innovation and the best ideas that the private sector has to offer," Chvotkin said. "However, the government faces procurement policy and regulatory barriers to acquiring commercial cloud-based or 'as-a-service' offerings."