Lawmakers Demand Action on VA Overhaul Without Laying Out Clear Path Forward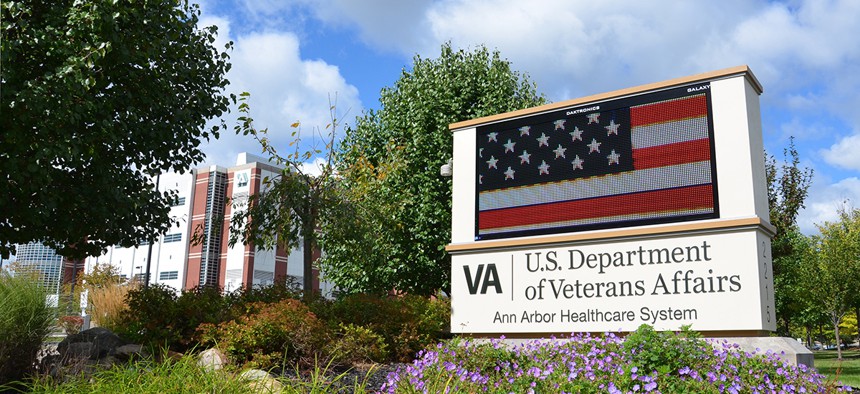 Lawmakers vowed to take action based on a report recommending an overhaul of the way the Veterans Affairs Department delivers health care, despite expressing deep concerns with some of the proposals and acknowledging some of the changes would take years to implement.
Several members of the House Veterans' Affairs Committee said at a hearing Wednesday some of the proposals included in the report were political landmines, noting enacting its proposals would require bold and risky decisions. Leaders of the Commission on Care, created by a 2014 VA reform law to provide suggestions for improving the Veterans Health Administration, issued its more-than-one-year-in-the-making recommendations in July.
"It is incumbent on all of us not to let the work of this commission fall by the wayside like so many others have," said Rep. Jeff Miller, R-Fla., the outgoing committee chairman. "This is not going to be one that will sit on the shelf and collect dust."
Miller immediately expressed skepticism about a major proposal from the commission, however, saying the suggested 11-member board of directors to oversee VHA would be "unaccountable" and "unconstitutional." The concerns echoed those voiced by President Obama and VA Secretary Bob McDonald last week, who said the board—even if allowed—would make it harder for the department to implement transformational change.
Many lawmakers, especially Democrats, made it clear they were not ready to go along with proposals to give all veterans—regardless of where they lived or how long they had to wait for VA care—access to private sector services. The commission proposed a new VHA Care system, made up of government-owned, VA and Defense Department facilities, as well as "VHA-credentialed community providers."
Those partners would be "fully credentialed with appropriate education, training and experience, provide veteran access that meets VHA standards, demonstrate high-quality clinical and utilization outcomes, demonstrate military cultural competency, and have capability for interoperable data exchange," the commission said.
"I don't believe completely remaking VA is the right balance," said Rep. Mark Takano, D-Calif., the committee's ranking member. He likened the recommendation to charter schools, arguing the new program would "funnel" resources away from VA facilities and toward private providers.
Obama also rejected that suggestion, expressing support for a "high-preforming, integrated health care system that encompasses both VA and private care," but favoring his administration's own plan over the commission's. All told, Obama accepted 15 of the 18 recommendations, but objected to some of the commission's core reform ideas. The president instructed VA to implement the tweaks it could unilaterally accept, while promising to work with the department to submit legislation to Congress enact the proposals that required new laws.
Another controversial commission suggestion that would demand congressional action involved a process to shutter VA facilities modeled after the Defense Department's Base Realignment and Closure procedure. Miller noted "obviously" other panelists would not address the issue because of the political vulnerabilities attached to lawmakers allowing a facility to close in their own districts, but said he could ask about it because of his pending retirement.
"You can ask for a BRAC and you won't be here again," Miller said.
Nancy Schlichting, the commission's chairwoman, said—while acknowledging the political difficulties—lawmakers needed to adopt a "different mindset" than they have today.
"Closing hospitals is a very hard thing to do," said Schlichting, who heads the Henry Ford Health System in Michigan. "I've closed three. I don't wish it upon anyone."
Asked to point out a recommendation VA could implement quickly and without controversy, representatives from the commission suggested changes to the department's culture and personnel system.
The commission called for a new performance management system that could benchmark VHA leaders to the private sector and create performance measures that reward top performers. The panel suggested Congress empower VA with more direct hiring authority and temporary rotations to allow more health experts to cycle through the department.
The final report included a proposal to shift all 300,000 VHA employees away from Title Five and onto Title 38 to provide the department with more flexibility in pay, benefits and recruiting. While the change would be designed to ease hiring and firing at the agency, the panel said the new system should maintain due process appeal rights and merit system principles. It suggested, however, removing the Office of Personnel Management's oversight of the new system.
When Rep. Mike Coffman, R-Colo., suggested it "literally takes an act of God to fire somebody" at VA, Schlichting said he was off base, and the process simply required strong leadership.
The American Federation of Government Employees, which represents 270,000 VA employees, rejected all the commission's proposals. J. David Cox, AFGE's national president, who submitted written testimony for the hearing, condemned the report "in the strongest possible terms," calling it "horrendous" and "anti-veteran."
Lawmakers on both sides of the aisle noted the magnitude of the task in front of them.
 "This is the most important conversation" the committee could have, said Rep. Julia Brownley, D-Calif.
While the committee members said the reforms were significant, they will likely not happen quickly. Schlichting said even if implemented immediately, the full slate of proposals, including the increased reliance on private sector care, would take five to 10 years to put into place. And Miller, who will retire after this year, did not expect any legislation to that effect during his tenure.
"Whoever sits in this chair after me will be responsible for and I'm sure will be more than capable of moving the ball forward," Miller said.