Data trust and connectivity challenge Army network innovators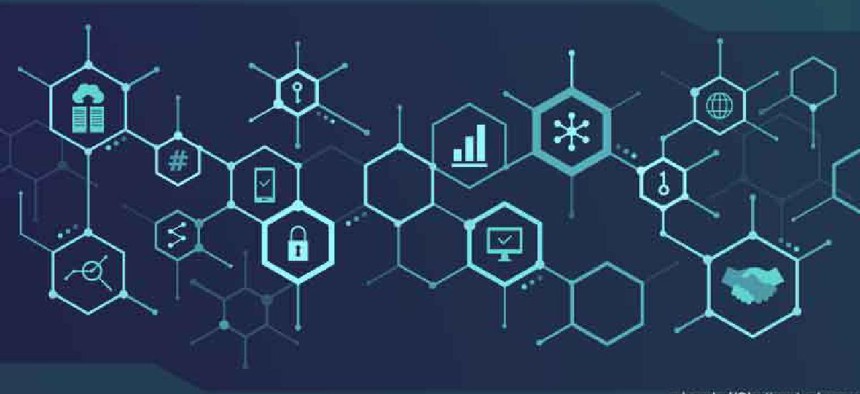 The Army is taking cues from blockchain to help make battlefield data more trustworthy for commanding officers.
The Army is taking cues from blockchain technology to help make battlefield data more trustworthy for commanding officers.
Researchers have been testing technology that uses some of the properties of blockchain to make the data commanding officers' receive "immutable" as part of a nearly three month experiment called the Network Modernization Experiment (NetModX) at Joint Base McGuire-Dix-Lakehurst in New Jersey.
"Our primary focus on this effort is to allow the warfighters to trust their information better...really give them a mathematical, verifiable way of vetting their data from sensor to shooter, from the producer to consumer," said Humza Shahid, a computer engineer with the Army's Command, Control, Communications, Computers, Cyber, Intelligence, Surveillance and Reconnaissance (C5ISR) Center, which is part of Army Future Command's Combat Capabilities Development Command and, based in Aberdeen, Md.
Shahid, who was joined by fellow engineers Sanae Benchaaboun and Joseph Chen, told reporters July 16 that the information trust program, which was also a part of last year's NetModX, tested three areas, including user authentication service to verify a user is who they say they are beyond login credentials; data provenance, especially with limited connectivity conditions; and data integrity using machine learning to detect network anomalies.
Data provenance means being able to track data origination and flow, including messages, GPS location information, such as needed for a call for fire or medic, by minimizing or eliminating the risk of insider threat and man-in-the-middle attacks where information could be changed in transit, Shahid said.
That's where blockchain comes in.
"Our data provenance piece is actually looking to leverage blockchain technology to provide that immutability and traceability," Shahid said, calling the experiment's version "blockchain light" because traditional blockchain, like what's used for cryptocurrency, requires a lot of power and bandwidth.
"We did test some of those technologies last year at NetModX, commercial ones. This year our vendor actually worked with us to develop a customized solution -- I call it blockchain light because it's not a traditional blockchain. It uses other techniques that avoid having to do that high-compute usage in order to make a consensus and allow data to be added to the chain," Shahid said.
Connectivity, minimizing bandwidth and compute usage without losing data provenance are the challenge when using this technology, so the researchers are looking at testing different options that maintain the data.
"This is a space that isn't really a concern for industry because they don't have the same requirements for the most part. They're always online, always connected. They have data centers-worth of computing power, [which is] a lot more conducive to the technology. So looking to leverage some of the goodness without necessarily having to pay the same resource tax."
NetModX is running from May 17 through July 30.