DOD Concludes Review of First CMMC Certification Organization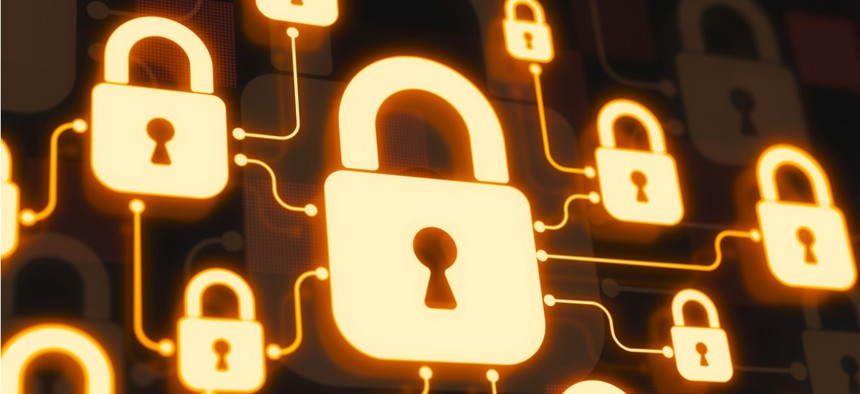 The Accreditation Body in charge of the department's developing certification program also has a notable new leader as others take their leave.
The Defense Department's Cybersecurity Maturity Model Certification program marked a milestone with the Defense Contract Management Agency finishing its review of the first of a new crop of auditing entities.
A final rule to implement the CMMC, which is already enforceable under an interim rule, is expected any day now. Last fall Katie Arrington, the chief information security officer for the Defense acquisitions and sustainment office who is leading the program's implementation, noted a timeline of January or February 2021 for DOD issuing the final rule.
CMMC arose out of a need to verify the cybersecurity practices of the companies serving the Defense Department, according to the rule. In the past, contractors had only to attest their compliance with standards laid out by the National Institute of Standards and Technology to protect sensitive data valuable to adversaries. 
The program reserves the right for the DCMA to audit suppliers on site and established an outside organization—the CMMC Accreditation Body, or CMMC AB—to license an ecosystem of independent training and auditing entities to certify contractors adherence to a new CMMC model, which is based largely on the NIST standards. The model assigns controls described by NIST along five levels, depending on criticality. The interim rule states that in 2025 all contractors–an estimated 300,000 companies—will need to be certified according to the model in order to work for the department. 
The work of the CMMC AB is to scale the auditing operations beyond what the DCMA's Defense Industrial Base Cybersecurity Assessment Center alone could manage. But the group's implementation of the program has drawn intense scrutiny. Among concerns the industry raised was that their data wouldn't be safe with the companies licensed to conduct the audits—CMMC Third Party Assessment Organizations, or C3PAOs.
To address this, CMMC requires all C3PAOs to themselves be audited for cybersecurity by the DIBCAC. The process is time-consuming, but CMMC AB officials at a virtual town hall Tuesday said the department is making headway and provided an update of the AB's efforts to conduct initial training and testing of would-be assessors. 
"We are in the process right now just starting to see our C3PAO licensees be assessed by the DCMA DIBCAC and they've already had a few assessments started and one completed so that's starting to get rolling now, and we're starting to see some action there," said Jeff Dalton, a member of the CMMC AB's volunteer board of directors. "So that's an important part of it. CMMC third-party assessment organizations can meet all our prerequisites, but until they've been certified at CMMC level three, they can't conduct assessments."
The CMMC AB has so far reviewed 98 C3PAOs, which are queued up for DIBCAC assessments.
While the AB can't do anything about the pace of which the DIBCAC makes its way through the process of auditing C3PAOs, it is working to train and use assessors under a provisional program before handing training over to licensed training providers. About 140 of those individuals will be ready this month to conduct audits of the contractors DOD chose to pilot the program, Dalton said. 
Those individuals were selected from a pool of applicants and will provide feedback to help the AB shape the program going forward. They'll have six months to come up through the official training program and take the "provisional" off their titles, Dalton said. 
Others interested in becoming certified assessors have to wait for the CMMC AB to work with licensed training providers to formulate exams they'll have to pass at the end of their training course. So far, the AB has approved 24 organizations, including colleges and universities as well as professional trade schools to provide training.
Ben Tchoubineh, chair of the AB's training committee, said those training courses will be delivered in flexible modes and could be completed in as little as a week but it will take longer than expected to prepare the necessary exams, which many applicants have already paid to take.
"Many of you prepurchased off of our website, these bundles, the exam bundles," Tchoubineh said. "At the time when we sold those in the summer and early fall of 2020, you know our plans were to create this much quicker than we did."
Exams to act as an assessor for organizations seeking level 3 CMMC certifications—expected to be the most common level DOD will require—are listed on the CMMC AB's website at $450. The bundles for taking exams at multiple levels were promoted at discounted rates but level 3 exams aren't expected to be ready until toward the end of this year, Tchoubineh said.
"You were very courageous, and you wanted to get in and we very much appreciate your early excitement about this, and we have not forgotten about you," he said during the town hall. "We will make sure that you get your vouchers in time for your exams."
Tchoubineh is set to leave the CMMC AB at the end of April. He and another former board member—Accenture Chief Information Security Officer Nicole Dean—are stepping down to focus on their full-time careers, the AB Chairman Karlton Johnson said in a press statement.
But as the AB loses board members, it is gaining its first chief executive officer. Matt Travis, who served as deputy director of the Cybersecurity and Infrastructure Security Agency, has signed on to lead the group's day-to-day operations.
"I really wanted this position for two reasons," Travis said during the town hall. "One, this is really the first opportunity I've really stopped talking about cybersecurity and starting to do something about it. I hope you all appreciate how trailblazing and what a new frontier this is with CMMC and what the department is doing here."
Travis said much more effort is currently expended reacting to breaches rather than proactively implementing defenses, which is what the CMMC is about. The second reason the job was attractive, he said, is because weaknesses in the defense industry represent the greatest risk to national security.
"We know that our nation-state adversaries are targeting this sector and we know that there are vulnerabilities," he said, "so when you think about just the classic risk equation, this is where the risk is."