FCC Estimates Replacing Chinese Telecom Equipment Will Cost at Least $1.6 Billion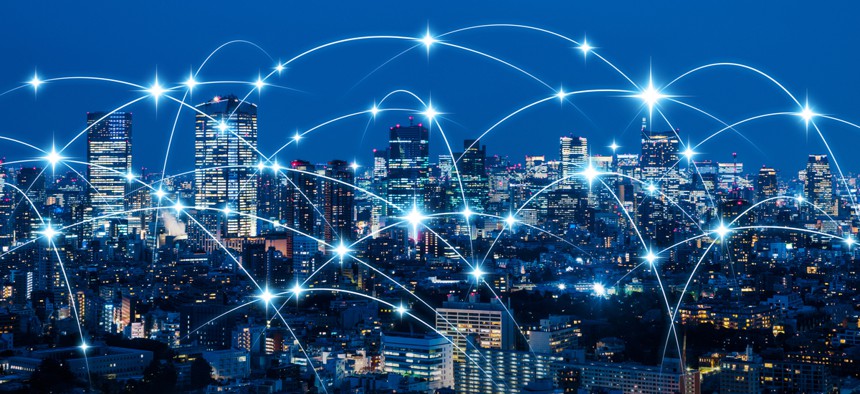 A key lawmaker echoed calls from the agency's chairman for Congress to appropriate the money.
The Federal Communications Commission estimates it would cost smaller telecommunications providers $1.6 billion to replace certain Chinese equipment in their systems and called for Congress to appropriate funds to reimburse companies.
Policymakers are all generally on board when it comes to getting companies to strip out any equipment in their networks from Huawei and ZTE, which the FCC has officially designated national security threats due to their Chinese jurisdiction. But who is going to foot the bill to replace the equipment remains unclear. 
Last November, FCC commissioners unanimously voted that any company using equipment from the two companies would be banned from receiving Universal Service Funds—money to expand broadband in hard-to-reach places that is collected from fees on customers' phone bills. 
The USF is crucial for smaller businesses that provide services in rural areas. Larger companies have generally said they don't use equipment from the Chinese providers, but a list of entities the FCC released Friday noting where such equipment is present includes CenturyLink, and Verizon. In all, it would cost over $1.8 billion to remove any equipment from private telecom providers, the FCC said.  
Under the Secure and Trusted Communications Network Act, which became law in March, the FCC must establish a reimbursement fund to help companies with under 2 million subscribers replace the banned equipment. The fund would cost at least $1.6 billion, the FCC said, noting the amount could increase since the initial estimate is based on companies voluntarily putting themselves down as currently using equipment from Huawei and ZTE.
"Based on data Commission staff collected through the information collection, all filers report it could cost an estimated $1.837 billion to remove and replace Huawei and ZTE equipment in their networks," the FCC said in a press release. "Of that total, filers that appear to initially qualify for reimbursement under the Secure and Trusted Communications Network Act of 2019 report it could require approximately $1.618 billion to remove and replace such equipment."
In May, the FCC issued a request for comment on its rulemaking process regarding the reimbursement fund that noted the law "appears to require an express appropriation from Congress." 
"Today's announcement marks a critical milestone in our ongoing commitment to secure our networks," FCC Chairman Ajit Pai said in the release. "By identifying the presence of insecure equipment and services in our networks, we can now work to ensure that these networks—especially those of small and rural carriers—rely on infrastructure from trusted vendors.  I once again strongly urge Congress to appropriate funding to reimburse carriers for replacing any equipment or services determined to be a national security threat so that we can protect our networks and the myriad parts of our economy and society that rely upon them."
Some lawmakers have suggested money to fund the replacement of the banned equipment should come from the proceeds of spectrum auctions the FCC conducts, which typically yield billions of dollars. The FCC declined to comment on that approach. 
Rep. Frank Pallone, D-N.J., who introduced the Secure and Trusted Communications Network Act, reacted to the FCC's release by also calling on Congress to act.
"Suspect equipment introduces vulnerabilities into our communications networks, allowing hostile foreign governments to engage in espionage or to disrupt our communications at the push of a button," Pallone said. "The risks are real and cannot be ignored, which is why Congress must step up and fund this reimbursement program."