CISA Official Sidesteps Controversy over Trump's Voting Fraud Claims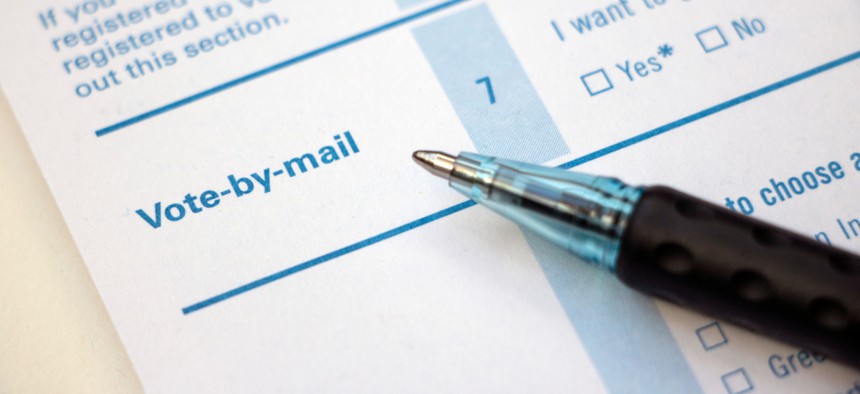 The official said the agency is focused on protecting the voting infrastructure, not the president's claims about mail-in voting fraud. 
As lawmakers and election security experts try to counter President Trump's assertion that voting by mail invites fraud, a senior official of the Cybersecurity and Infrastructure Security Agency dismissed the controversy as a "process" issue.
"I mean, you got to keep in mind what our goal here is," the senior CISA official said on a call with reporters today regarding the primary contests happening in eight states. "We're supporting state and local officials as they implement their electoral, you know as they administer elections. We're focused on the infrastructure, providing cybersecurity services to the infrastructure, back-end systems, on voting machines, those are all the things. The president's concern is on the process side."
The official was answering a question about whether CISA was doing anything to publicly fact check May 26 tweets the president made claiming the use of mail-in ballots means "this will be a rigged election." In an unprecedented move, Twitter labeled the tweets "misleading," and noted their potential to sow confusion.   
On Monday, representatives from the Brennan Center and the Leadership Conference spoke during a forum hosted by Rep. Jim Langevin, D- R.I., co-chair of the Congressional Cybersecurity Caucus, on "Election Security and Integrity During a Pandemic." 
Many cybersecurity advocates have been stressing the importance of voting by mail as a way to facilitate the electoral process without putting public health at risk. They also note that with processes in flux—today's primaries are being held after being postponed from earlier—the voting public is more susceptible to disinformation attempts from adversarial nation-states.
But, "we also have a disinformation threat from within our country, a campaign to undermine confidence in America's absentee and mail-in ballot systems," the Brennan Center for Justice's Wendy Weiser told Langevin. "Claims that these systems are rife with fraud are just plain false. They are also damaging to our democracy, causing vulnerable Americans to avoid absentee ballots, risking their lives."
Following the 2016 election and leading into the 2018 midterms, CISA made tackling disinformation a core part of its election security mission, promoting efforts to enlist the social media platforms in flagging and alerting officials to content that could affect the integrity of the system.
Today, in response to the reporter question, the senior CISA official downplayed those responsibilities.
"Again, we're focused on security, we're focused on the infrastructure," the official said. "So if states do elect to go the vote by mail route, we're providing security services. We don't have an option that they can't do that. I've got to be there to provide a security solution for them if they need it. But that's our focus right now and we're going to continue providing security services and technical assistance to our partners."
But CISA has weighed in with state elections officials on the issue of mail-in voting.   
During a May 11 webinar hosted by members of the information technology industry, Bob Kolasky, director of CISA's National Risk Management Center, noted "for official use only" classified guidance the agency shared with state officials on the merits of mail-in voting over online voting systems. 
In a May 9 statement, Langevin applauded CISA's action but asked that the guidance be made public. 
"I'm pleased to see the Cybersecurity and Infrastructure Security Agency's risk assessment and guidance on electronic voting methods, which can help states implement secure voting practices," Langevin said. "However, as I told the Acting Secretary last evening, I urge CISA to make the guidance public so that voters around the country have a better understanding of what is at risk. As experts have stated unequivocally over the years, Internet voting is not secure. The guidance echoes this assessment, making clear that electronic ballot return, as opposed to mailing returns, risks compromising the integrity of our voting process."
CISA has not responded to Nextgov's request for comment on why the guidance has not been made public or whether it has any plans to change that.