A look at how the IC is getting back to work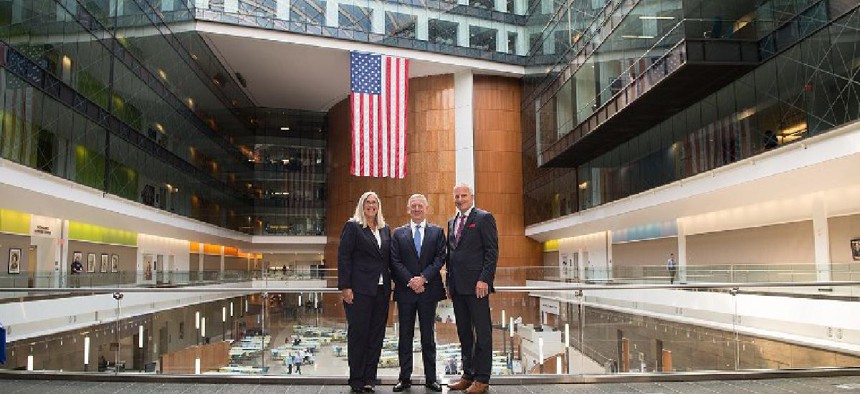 The coronavirus pandemic has pushed workers who are used to top-secret networks home. But as intel agencies begin bringing more personnel back, they'll have to contend with lingering anxieties.
Top leaders of the National Geospatial-Intelligence Agency flank then-Defense Secretary Jim Mattis on an Aug. 2017 visit to the agency's Springfield, Va. headquarters. (DOD photo by U.S. Army Sgt. Amber I. Smith)
The intelligence community never stopped working during the coronavirus pandemic, but plans are in motion to bring the majority of the workforce back into the office, and agencies have to contend with anxieties, flexible work schedules and culture shifts.
The National Geospatial-Intelligence Agency has 25% of its workforce on premises with plans to increase to 50% June 29 as part of its phased approach to returning to a new normal said Randy Fofi, the director of installation operations at NGA, during an Intelligence and National Security Alliance virtual event June 16.
"We were able to continue a lot of our work through telework," Fofi said, with those who couldn't stay in the building. "I think telework has been very successful. We've actually had more complaints that telework was more stressful for employees because they're never really off the clock; they feel obligated to always be at their computer."
To facilitate the telework need, Fofi said NGA issued a CAC reader to every employee in the agency, created a method to get into an unclassified network and migrated all the non-classified work materials. Fofi said 90% of NGA's work occurs on top-secret networks, even if it's not classified.
NGA will keep telework capabilities to reduce strains on parking and office space and accommodate social distancing, he said, but there will be a limit, particularly for employees who may refuse to return to work until there's a vaccine.
"The supervisor should, as much as possible, provide telework for the employee. But when we get to a point where it's safe to come in and we direct employees to come in and they refuse … they'll have to take annual leave to stay home if they don't feel safe coming in," Fofi said.
Fofi said employees can now use weather and safety leave if they have "the sniffles or a little bit of a fever."
The State Department, which entered phase 1 of its plan June 15 and plans to scale its in-person workforce to 40% before moving to the next phase, is pushing alternate work schedules and staying home, said John McDermott, an emergency management specialist for the State Department's Bureau of Intelligence and Research.
"Strep is going around, it could be anything. But just because you have the sniffles, everyone is going to assume [COVID-19], and it's going to put people in an awkward position. So we encourage that if you're not feeling well at all to please stay home," McDermott said, adding that State Department employees are not screened but are encouraged to take their temperature before coming into work.
The State Department did a survey and learned that two-thirds of projects could be shifted to telework-only. Directors are also embracing alternate hours and days to minimize exposure of vulnerable persons and address needs of people who need flexibility for child or elder care, McDermott said.
But travel remains sticky, especially for NGA which has largely grounded work-related travel.
"If anyone flies, they have to self-quarantine for two weeks, and that is not necessarily in line with other agencies," Fofi said, citing NGA's dual headquarters in St. Louis and in the Washington, D.C., region.
One mission-critical employee was instructed to drive from St. Louis to the East Coast to avoid the two-week quarantine period, Fofi said.
"I don't think we've really come to grips with how we'll address travel as we go forward, and we'll try to stay in sync with the rest of the government and how they do it," Fofi said.
However, the need for schedule flexibility persists, even as more of the workforce comes into the office.
Fofi said for NGA that means shifting some workers who have been coming in during the pandemic to telework when the number of personnel on the premises hits 50%. "They're not vulnerable now because nobody is at work, but as people come in, they're going to stay home" because they're part of a population that COVID-19 could hit hardest.
Fofi said the experience has provided keen insight into people's personal lives and the challenges they face outside of work. The agency is drawing up plans to accommodate child care, schedules and maximizing telework.
The idea, he said, is to "lean forward as far as possible to make things flexible for people."