Bill Advances to Create Vulnerability Disclosure for Federal Internet of Things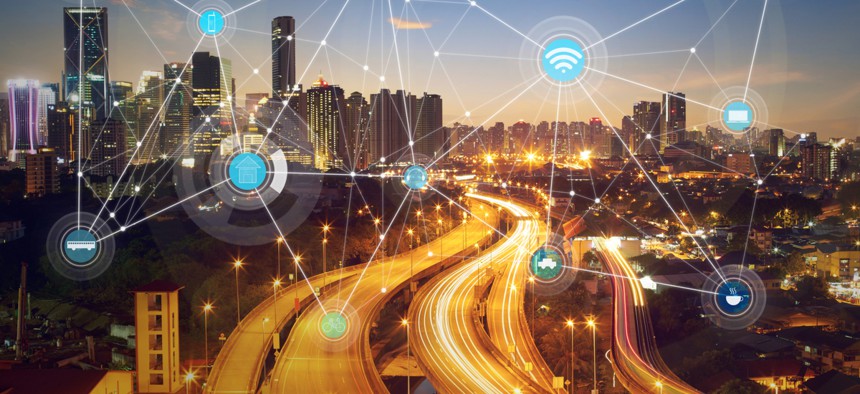 Once established, federal agencies would have to make sure vendors were participating and in compliance before purchasing IoT-capable devices.
Federal agencies will have to do some extra due diligence before buying smart devices that can connect to the internet under legislation now before the full House and Senate for consideration.
The Internet of Things Cybersecurity Improvement Act—introduced by Reps. Robin Kelly, D-Ill., and Will Hurd, R-Texas, and Sens. Cory Gardner, R-Colo., and Mark Warner, D-Va.—would establish a vulnerability disclosure process for internet-connected devices and prohibit agencies from buying such devices from vendors that don't participate. Both the House and Senate versions of the bill have passed their respective committees and await votes of the full chambers.
The legislation only covers internet of things devices, which it defines as those able to connect to the internet and collect, send or receive data, but "not a general-purpose computing device," such as computers, smartphones and mainframes.
Under the proposal, the National Institute of Standards and Technology will be required to establish a vulnerability disclosure process for devices used by federal agencies, which those agencies will be required to report through. NIST will have 180 days to build the program and, subsequently, the Office of Management and Budget and General Services Administration will have 180 days to issue guidance on how agencies should report weaknesses they discover.
Once this process is established, agencies will be prohibited from buying devices from vendors that are not reporting to and in compliance with the disclosure program.
"This is an essential and bipartisan step toward improving our cybersecurity. We simply cannot allow IoT devices to become a backdoor for hackers and cybercriminals," Kelly said in a statement. "With the House and Senate taking action, Congress is signaling that it's past time to address the issue of unsecure devices on federal networks."
Warner agreed, citing the federal government's purchasing power as a major market driver.
"While I'm excited about their life-changing potential, many IoT devices are being sold without appropriate safeguards and protections in place, with the device market prioritizing convenience and price over security," he said. "The committee took an important step forward to proactively address the risks posed by improperly secured IoT devices, by using the purchasing power of the federal government to establish some minimum security standards for IoT devices."
The bill sets two hard dates for the National Institute of Standards and Technology: a Sept. 30 deadline to issue general guidance for managing the cybersecurity risk of IoT devices and a March 2020 deadline to develop specific guidance for federal agencies on how to use and manage such devices.
Once the latter report is complete, the Office of Management and Budget will have 180 days to release its policy based on NIST's recommendations. That policy will have to be reviewed every five years, per the legislation.
If the bill passes, it will also give NIST Director Walter Copan 180 days to "publish a draft report related to the increasing convergence of traditional information technology devices, networks, and systems with internet of things devices, networks and systems and operational technology devices, networks and systems, including considerations for managing cybersecurity risks associated with such trends."
"Every single minute of every single day, hackers are trying to steal Americans' information. From credit card numbers, to Social Security numbers, our personal information is targeted by bad actors around the globe," Hurd said. "Internet of things devices will improve and enhance nearly every aspect of our society, economy and everyday lives—and are growing rapidly. We must act now to ensure these devices are built with security in mind, not as an afterthought."
"I was pleased to see further action in the Senate on this important bill and I look forward to it being swiftly signed into law," Gardner said. "As these devices continue to transform our society and add countless new entry points into our networks, we need to make sure they are secure, particularly when they are integrated into the federal government's networks."