The Private Sector is Trying to Bring More Cyber Experts to Government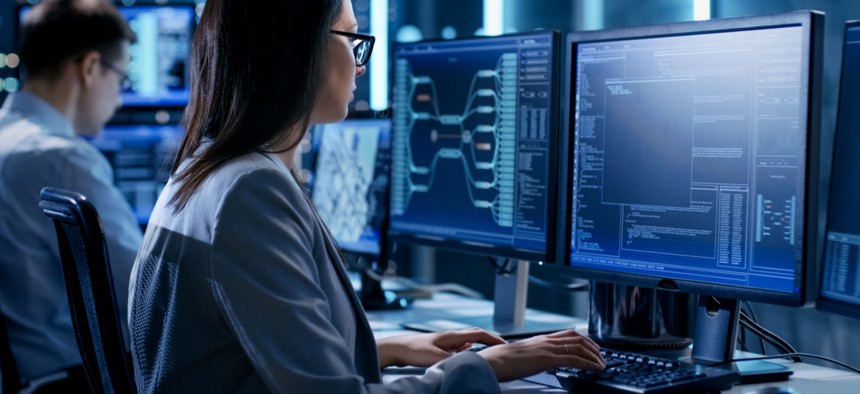 The Partnership for Public Service is teaming with a trio of private companies to funnel more young cybersecurity specialists into the federal government.
The group on Tuesday launched the Cybersecurity Talent Initiative, a private-public partnership that would place recent college graduates in cyber jobs across civilian, defense and intelligence agencies. The program aims to address the growing shortage of cyber expertise at agencies across government.
"It is critical for our government to attract and hire highly skilled workers capable of securing federal computer networks and building defenses against the thousands of cyberattacks that occur every year," said Max Stier, president and CEO of the Partnership for Public Service, in a statement. "The federal government has fallen more and more behind in the race for cyber talent, and this program will help get it back on track."
Those accepted into the program will serve a two-year stint at one of 11 federal agencies, including:
CIA
FBI
Office of Naval Intelligence
Defense Department
Energy Department
Health and Human Services Department
Veterans Affairs Department
Environmental Protection Agency
Federal Election Commission
National Oceanic and Atmospheric Administration
Small Business Administration
At the close of their term, participants would be eligible for full-time job offers at one of the program's three corporate sponsors: Mastercard, Microsoft and Workday. If they accept, participants would receive up to $75,000 in student loan assistance.
Those who decide to stay in government would not be eligible for loan forgiveness.
Cyber specialists are in short supply across the entire U.S. job market, but lower salaries and longer hiring times make it particularly difficult for the government to attract tech expertise, especially people early in their careers. Only about 3.3% of the federal tech workforce is less than 30 years old, and the age disparity varies widely across different agencies.
Applications are due Oct. 18 and roughly 50 job offers will be made the following spring, according to the Partnership for Public Service. Selected participants will begin their government service in the summer or fall of 2020.