DOJ Indicts Former Intel Officer For Helping Iran Hack Her Colleagues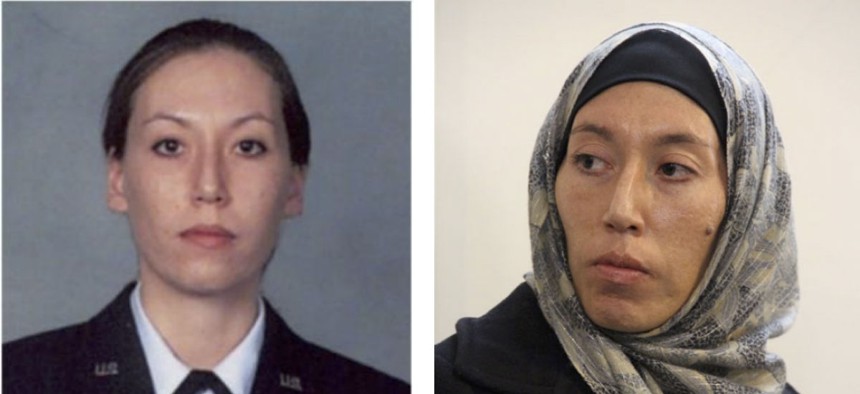 Monica Witt, a former Air Force officer and intelligence community contractor, also allegedly disclosed information about a sensitive Pentagon program, according to Justice Department officials.
The Justice Department on Wednesday charged a former U.S. counterintelligence official with espionage on behalf of Iran and indicted four Iranian hackers for launching cyberattacks against her former government colleagues.
Federal prosecutors alleged Monica Witt, a former Air Force officer and intelligence community contractor, disclosed classified national security information to the Iranian government. According to the indictment, that information included the details of a Defense Department Special Access Program, an elevated security protocol meant to keep the government's highly sensitive projects under wraps.
Witt, who defected to Iran in 2013, is also charged with helping four members of the Islamic Revolutionary Guard Corps launch spearphishing and social media impersonation attacks against eight government employees who had some personal connection to Witt.
The Treasury Department issued sanctions against IRGC and another group, the New Horizons Organization, that helped recruit Witt as a spy.
"This indictment demonstrates the horror that can result when former trusted U.S. government agents accept invitations … from a hostile foreign power," U.S. Attorney for the District of Columbia Jessie Liu said on a call with reporters. "It also reflects our firm resolve in the U.S. government to hold accountable anyone who betrays the public trust by disclosing our nation's secrets and who threatens U.S. security through state-sponsored hacking campaigns."
According to the indictment, Witt held a top secret security clearance from 1997 to 2010, which granted her broad access to some of the intelligence and defense communities' most sensitive information.
After quitting her job as a federal contractor in 2010, prosecutors said, she traveled to Iran with the intention of defecting to the country. She was eventually recruited as a spy and fed the Iranian government national defense information between January 2012 and May 2015, they said.
Given the breadth and seriousness of the information Witt disclosed, "it is possible there still remains … an intelligence threat," Jay Tabb, the FBI's executive assistant director for national security, told reporters.
In addition to disclosing classified information, Witt also constructed profiles on eight of her former government colleagues that enabled Iranian hackers to target them with cyberattacks. Through email and social media communications, hackers allegedly infiltrated employees' computers and deployed malware that captured their keystrokes, web cameras and other online activity.
All eight employees were told about the incident, Tabb said, and the FBI is working to make sure more feds are clued into the possibility of such attacks.
The indictment outlines in great detail Witt's communications with an unnamed recruiter for the IRGC. According to the messages, she considered defecting to Russia in the summer of 2013 and contacting WikiLeaks. At another point, Witt reportedly told the recruiter, "if all else fails, I just may go public with a program and do like [Edward] Snowden."
Insider threats remain a persistent problem for national security agencies. Programs to mitigate such risks typically focus on limiting access to certain systems and data to the people who really need to use them and continuously monitoring employees and contractors web activity for anomalies.
Some intelligence and military divisions have also launched programs to continuously evaluate public records, such as arrest reports and property sales, to spot employees who might be behaving abnormally or suffering from extra stress or strain.
"The alleged actions of Monica Witt in assisting a foreign nation are a betrayal of our nation's security, our military and the American people," Terry Phillips, a special agent with the Air Force Office of Special Investigations, said on the call. "The millions who have served in the U.S. military, including Monica Witt, took an oath to protect our country's most closely held secrets. If true, her actions are an affront to all who have served our great nation."