CISA Makes Tech and Cyber Centerpieces of National Emergency Comms Plan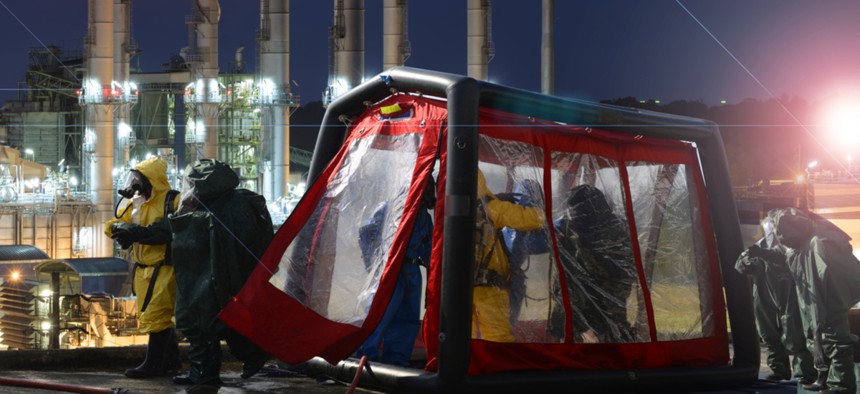 The Homeland Security Department wants citizens to weigh in on its updated strategy for improving the country's emergency communications network, which is chock-full of tech and cyber measures.
The latest National Emergency Communications Plan places a strong emphasis on bolstering public safety infrastructure against emerging digital threats and making it easier for organizations to share information across their disparate networks. The Cybersecurity and Infrastructure Security Agency released the strategy for public comment on Friday.
The strategy, which serves as a blueprint for coordinating nationwide emergency response efforts, was last updated in 2014. While previous versions highlighted the need to explore new disaster response technologies, the most recent iteration greatly expands on the role of tech and cyber in emergency operations.
"The National Emergency Communications Plan is the foundational document for nationwide interoperability," Ronald Hewitt, CISA's assistant director for emergency communications, told Nextgov. "It is critical for CISA to receive input from the public on the 2019 draft as we continue to lead this mission space."
The public can submit comments on the plan through March 22.
In a 2018 survey of the country's emergency communications, the department found a rise in cyberattacks against public safety organizations, but the vast majority lack sufficient funding to bolster their digital defenses. Many groups also lack concrete strategies for detecting and combating threats, leaving their digital infrastructure unnecessarily exposed.
"As cyber threats grow in complexity and sophistication, attacks could become more numerous and severe against emergency communications systems," officials wrote. "It is critical that public safety organizations take proactive measures to carefully manage their cybersecurity risks."
The plan calls for the National Institute of Standards and Technology to issue a cyber framework specifically for public safety infrastructure and for federal organizations to make it easier for groups to access threat information and grants for bolstering cyber defenses.
CISA also urged organizations adopt consistent data and infrastructure standards to enable more information sharing between different jurisdictions. By cleaning up their IT infrastructure, groups would also have an easier time adopting cloud, analytics and other data-heavy technologies.
The agency also charged federal groups with exploring technological gaps within the country's emergency response ecosystem and promote efforts to equip first responders with the latest tools. Homeland Security's Science and Technology Directorate already funds a number of research projects aimed at upgrading first responder capabilities.