Huawei Pushes Back Again on FCC Proposal That Would Hurt Its Business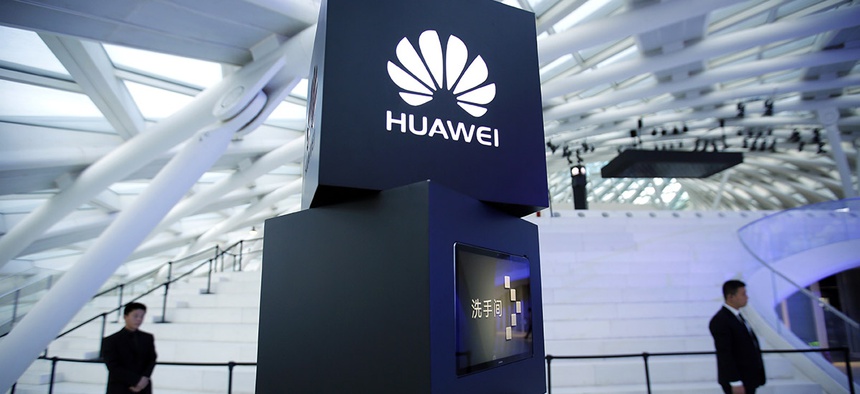 FCC officials say the Chinese telecom poses a national security threat to U.S. networks.
The Chinese tech giant Huawei is making a two-pronged argument as it tries to knock back a Federal Communications Commission proposal that would block federal money for U.S. phone and internet companies that use Huawei's tech in their supply chains.
First, according to Huawei, the FCC rule exceeds the commission's authority, is "arbitrary and capricious" and is unfair because the Chinese company has not been given a genuine chance to defend itself.
Second, the rule doesn't make economic sense and would end up raising costs for rural phone and internet providers and their customers, Huawei said.
This is the second round of comments on the proposed rule, which would deny money from FCC's $8.5 billion Universal Service Fund to suppliers that contract with "any company posing a national security threat to the integrity of communications networks or the communications supply chain."
The Universal Service Fund provides money to lower the cost of telephone and internet service in high-cost areas and to expand services to rural and low-income areas.
Two of the first targets of the order, officials have said, will be Huawei and another Chinese telecom ZTE, both of which U.S. intelligence officials say could be used as spying tools by the Chinese government.
In its reply comments, which total 118 pages, Huawei argues that U.S. intelligence agencies have fundamentally misunderstood its relationship with the Chinese government. "The reality is that [Huawei] is an independent, privately-owned business that is no more subject to the control of the Chinese government than American companies are controlled by the U.S. government," the comments state.
Commenters who've written approvingly of the proposed rule, Huawei notes, are mainly the company's competitors and associations that support them and would gain financially if the market was more restricted.
The restriction would also unfairly hurt some smaller broadband suppliers who can't afford to transition all their infrastructure away from Huawei and so will have to forego receiving Universal Service Fund support, the company argues, further limiting competition and raising costs.
"These high costs, which would particularly harm Americans in remote and low-income areas, cannot be justified by the supposed national security benefits of the proposed rule," Huawei states.
The FCC posted reply comments from Huawei and other commenters throughout this week. Comments supporting the proposed rule came from the Telecommunications Industry Association. Critical comments came from the Rural Wireless Association.
The FCC proposal comes as Congress and the executive branch are shifting to a much harder line on companies from cyber adversary nations that may pose a threat to U.S. networks. Congress banned the Moscow-based Kaspersky Lab anti-virus from federal networks last year and is likely to do the same to Huawei and ZTE in an annual defense bill that's now in conference.
Kaspersky challenged that ban in court and lost at the federal district court level where it made some arguments similar to Huawei's in the reply comments. The company is appealing that loss with arguments scheduled for September.
The Homeland Security Department and General Services Administration are also working to help agencies deal with supply chain cybersecurity concerns earlier in the federal acquisition process.
The FCC proposal, however, would have a much broader economic impact than any of those government-specific efforts.