Microsoft Vet to Lead DHS Cyber and Infrastructure Division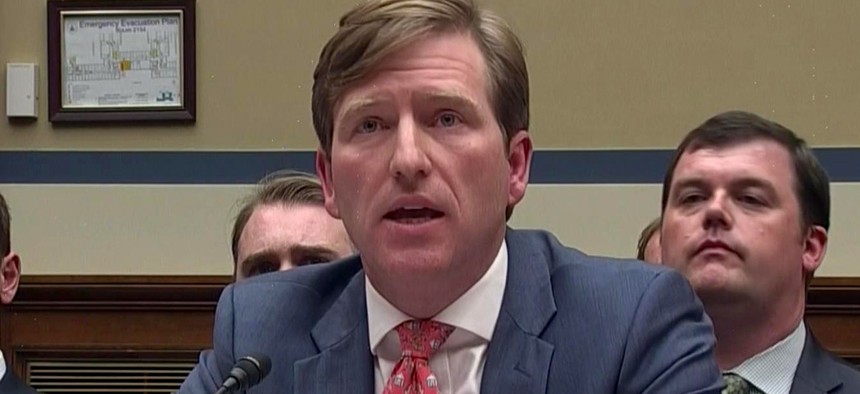 Christopher Krebs has been acting chief of the cyber and infrastructure protection division since August.
President Donald Trump tapped Microsoft's former government cybersecurity policy chief to lead the Homeland Security Department's cyber and infrastructure protection division Wednesday.
Krebs has been filling the top job on an interim basis since August when he was named assistant secretary of the directorate's infrastructure protection division. Because the division's undersecretary job was vacant, Krebs also become the "senior official performing the duties of" that post.
Since taking that post, Krebs has been the most prominent face of Homeland Security's efforts to help state and local governments secure their election infrastructure against hackers.
Those efforts include vetting state election systems for cyber vulnerabilities and arranging security clearances for top state election officials so Homeland Security can share classified cyber threat information with them.
Krebs has also urged congressional passage of a bill that would elevate and rename his division, currently called the National Protection and Programs Directorate, to the Cybersecurity and Infrastructure Security Agency.
That bill passed the House in December. Top senators on the Homeland Security Committee have expressed support for similar legislation, which might pass as part of a broader reauthorization for the Homeland Security Department
Krebs' elevation will leave his former post vacant or filled on an acting basis. The Trump administration has struggled to fill top cybersecurity and technology posts across government.
The nomination won plaudits from Rep. Jim Langevin, D-R.I., co-founder of the Congressional Cybersecurity Caucus, who praised Krebs' "steadfast commitment" to advancing cyber policies, especially regarding election security. Langevin complained, however, that, in general, "the Trump Administration has moved far too slowly to fill vital cybersecurity roles across government."
The industry organization USTelecom called the nomination "a clear signal of the determination and focus that our government assigns to this vital mission."