Kaspersky Sues to Reverse Congressional Ban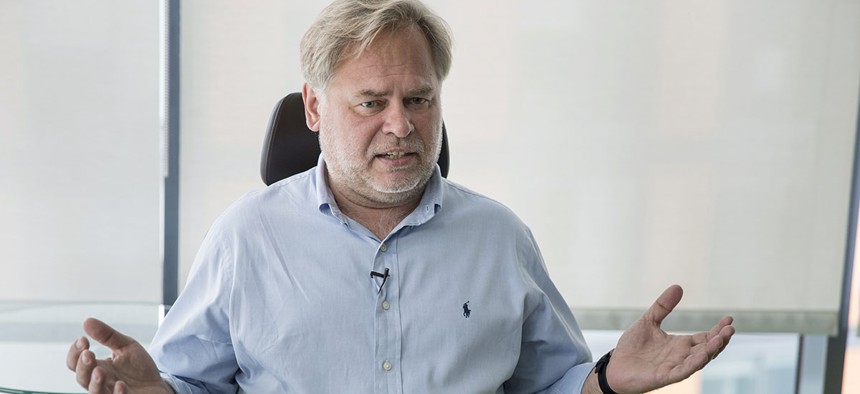 The Russian antivirus maker Kaspersky Lab filed a lawsuit Monday challenging a December law that banned it from government networks.
This lawsuit marks a second legal front for Kaspersky, which was already challenging a Homeland Security Department imposed ban from September.
Both the law and the Homeland Security ban were sparked by concerns that Russian intelligence agencies could use Kaspersky to spy on the U.S. government—possibly without the software maker's knowledge.
One of the government's arguments in the initial case was that reversing the agency ban would have no substantial effect because it would only be lifted for a matter of months before the law containing the second ban took effect.
That law was included in last year's version of the National Defense Authorization Act, a must-pass defense policy bill that is often a vehicle for non-defense legislation.
The government also argued that Kaspersky lacked legal standing to challenge the first ban.
Kaspersky's legal argument in the second case is essentially that the government violated the constitution by using its power to punish a private entity—an action known as a "bill of attainder."
According to Kaspersky, the legislative ban was far too broad, not based on evidence of actual wrongdoing and designed to "inflict profound reputational injury."
That argument is unlikely to prevail in a courtroom, according to Edward McAndrew, a former federal cyber crime prosecutor in the Eastern District of Virginia, which has been home to numerous major cyber and intelligence cases.
That's because it will be relatively easy for the government to prove that its goal was not simply to punish Kaspersky but to protect government networks from Russian spies, said McAndrew, who's a co-leader of the Ballard Spahr law firm's privacy and data security group.
The judge in the agency ban case delayed a Kaspersky motion requesting an immediate halt to that ban Tuesday while issues in the congressional ban case are resolved.
While Kaspersky may not prevail in the courtroom, the legal challenge gives the company an opportunity to air its case in the court of public opinion, McAndrew said. That, in turn, may help Kaspersky retain some commercial clients in the U.S. who might otherwise be scared off by the government ban.
Intelligence and Homeland Security officials have said they've warned some industry leaders against Kaspersky in private discussions.
Also Tuesday, lawmakers and intelligence officials expressed concern about access by the Chinese telecoms Huawei and ZTE to government networks. Sens. Marco Rubio, R-Fla., and Tom Cotton, R-Ark., have sponsored legislation that would ban those companies and their affiliates from government contracts.
If the government defeats Kaspersky's challenge, that might ease the path for future government contracting bans out of Congress, McAndrew said.
On the other hand, if Kaspersky prevails—either in temporarily halting the ban or reversing it—that could have a "chilling effect" on future congressional bans, he said.