The Internet of Things Means Hospitals Are More Hackable Than Ever. The VA is Prepared.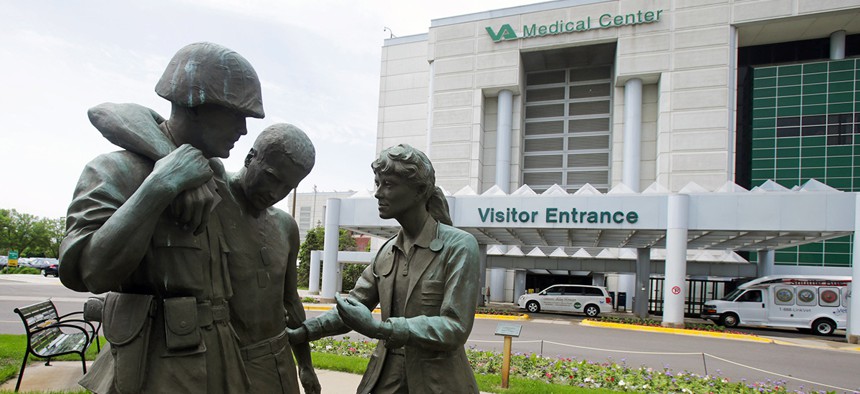 With construction manuals tailored to smart buildings, the Veterans Affairs Department seems prepared for the day when bugs infect its hospitals.
An ongoing rash of malware attacks holding medical records hostage at hospitals nationwide has only corrupted traditional IT systems -- as far as we know.
But that may change now that medical devices, narcotics vaults and alarm systems are networked and capable of succumbing to the same types of worms.
With construction manuals tailored to smart buildings, the Veterans Affairs Department seems prepared for the day when bugs infect its hospitals.
Right now, Washington, D.C.-area medical center MedStar Health appears to be contending with "ransomware," a malicious encryption program that freezes a victim's data and triggers messages demanding money in exchange for a decryption code.
"You could have the same issues on the control systems side," said Michael Chipley, an industrial cybersecurity consultant for VA and the Pentagon who has contributed to the building guidelines.
"If somebody installed ransomware on your control systems, it'd lock up the facility, HVAC and lighting and physical access control systems."
That is why there are "demilitarized zones" in veterans and military hospitals that separate things from the Internet.
An engineer console running, for instance, Windows 7 that is overtaken by ransomware could suddenly crash and block the user from logging in. While the workstation and the server may be inaccessible and the engineer can't see anything, the facility should continue to operate, if the controls were properly segmented.
The "dumb" industrial system would keep following the last command it was given before the hack, Chipley said.
"One of the design principles we're trying to build back in, is to not go to the smartest of everything," he added.
Too many functions once hand driven are now guided by code.
"All of these building control systems, physical access control systems, fire alarm systems, all need to be on separate standalone networks," Chipley said. "It's the whole idea of putting things into demilitarized zones and segmenting the networks to the maximum degree possible so that people can't get into one and jump over to another."
This design concept has been in practice at VA for years, he said.
In February, the department published an updated telecom design manual for all VA facilities, including surgery rooms, psychiatric wards and drug vaults.
Here's one counterhack measure for VA medical buildings described in the handbook: Each facility's programmable door controller "shall be fully functional in a standalone status" if connection to the security management system is lost.
Looming Digital Threats to Medical Care
The systems running federal buildings are not necessarily seamless.
Despite the potential dangers, the Homeland Security Department, tasked with protecting all such facilities, lacks a strategy for dealing with hacks into automated building and access control systems, according to a 2014 Government Accountability Office audit.
Medical buildings erected a decade ago are sometimes more secure because their controls predate the "Internet of Things" craze.
In modern facilities, there are now many doors through which hackers can break into a health care facility.
The actual doors, known as physical access controls, can be manipulated, for example.
In 2011, Jesse William McGraw, a former contract security guard at Dallas' North Central Medical Plaza, admitted to gaining remote access to 14 of that hospital's computers, including a Windows-operated HVAC computer.
There's the conventional attack pathway: accounting and patient records IT systems.
In addition, medical devices such as pacemakers and infusion pumps can be tampered with remotely. Anyone on a hospital's network -- including a hacker accessing the pumps over the Internet -- can alter the limits of drug doses, potentially allowing the attacker to set the pump to administer too high or too low a dose, Wired reported.
And the newest thruways for hackers are wearables, like fitness bands that monitor your activities.
Fitbit and most other fitness trackers can leak a user's data to other people's Bluetooth devices, sometimes allowing others to rig the information, as The Daily Dot reported. (Read "Every Step You Fake: A Comparative Analysis of Fitness Tracker Privacy and Security," by Canadian privacy watchdog Open Effect and the University of Toronto's Citizen Lab.)
A common security recommendation is to frequently and regularly dispatch hired white hat hackers to find vulnerabilities in these systems before the bad guys do.
Attackers Offer MedStar a Deal
The computer failure at MedStar began early Monday morning, according to a hospital official who described the intrusion as "computer malware." An IT team made the call to unplug all information systems, including medical records and patient scheduling applications, in hopes of preventing further network damage.
Nurses and doctors resorted to a backup system known as pen and paper.  
The IT staff "have been gradually, very methodically working to bring systems back online -- focusing on clinical information systems, patient-care related systems first  -- because that's the highest priority and then everything else will follow," MedStar spokeswoman Ann Nickels told Nextgov on Wednesday night.
In February, attackers who scrambled emails and patient records at Hollywood Presbyterian Hospital allegedly demanded a bounty of $3.6 million worth of bitcoins, the preferred digital currency of computer hostage-takers. After being forced offline for two weeks, the hospital reportedly settled for $17,000.
Ransomware in a building's control systems would be unlikely to net hackers a dime, Chipley said.
Staff could simply wipe out the infected machines and reboot. Typically, only system performance data is stored, not vast amounts of sensitive or personal information.
"Restarting that building could take half a day to a day," Chipley said. "But it could take several more days to get all of the medical devices and equipment back on line, calibrated and operational."