Congress Faces Government Funding That Runs Out Friday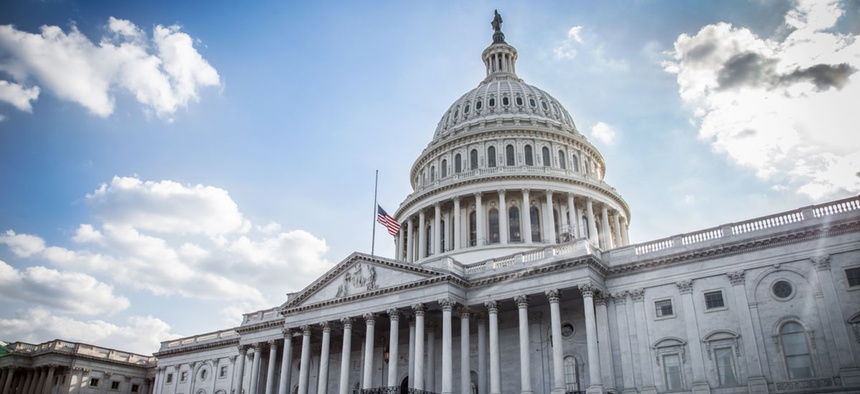 Lawmakers have been working on an omnibus spending bill but it has yet to be introduced.
Congress is staring down another expiring continuing resolution this week.
Lawmakers have been working on an omnibus spending bill but familiar political fights are getting in the way: border wall funding, Planned Parenthood funding and unique to this CR, funding for a rail tunnel project in New Jersey and New York called the Gateway Project.  
House Majority Leader Kevin McCarthy, R-Calif., on March 8 said he expected to bring the bill to the floor last week. That timeline didn't work out.  
This CR, the fifth of the fiscal year, expires Friday.
House Panel Advances CX, Transparency and Records Bills
The House Oversight and Reform Committee advanced a handful of bills of interest, including an amended Federal Agency Customer Experience Act. The bill would cut some of the red tape that prevents agencies from getting voluntary and timely feedback from citizens about their services. The Senate passed the legislation in November.
The committee also passed the Guidance Out Of Darkness, or  GOOD, Act, a bill introduced by Rep. Mark Walker, R-N.C., that would require agencies publicly post regulatory guidance documents on one central website, Regulations.gov.
Another bill that advanced codifies that the federal archivist must issue regulations to agencies about preserving digital records. The Electronic Message Preservation Act, introduced by Rep. Elijah Cummings, D-Md., would also require agencies submit a report on how they're complying and make it publicly available on agency websites.
Praise, Exasperation Greet Russian Cyber Sanctions
Lawmakers universally praised the Trump administration's long-delayed move to sanction Russian intelligence agencies and individuals for meddling in the 2016 election and other bad acts Thursday. For some Democrats, however, that praise was mixed with a heavy dose of exasperation.
"While these sanctions represent an acknowledgment that something needs to be done, they are woefully inadequate," Rep. Jim Langevin, D-R.I., co-founder of the Congressional Cybersecurity Caucus said. "Sanctioning individuals already under indictment thanks to Special Counsel Robert Mueller is not going to change Russia's behavior."
Rep. Adam Schiff, D-Calif., ranking member of the House Intelligence Committee, called the sanctions "a grievous disappointment" and said they "fall far short of what is needed to respond to that attack on our democracy let alone deter Russia's escalating aggression."
Show Us the Money
Three top cyber-focused lawmakers are urging House Appropriations Committee leaders to fully fund the Trump administration's $237 million budget request for the Homeland Security Department's Continuous Diagnostics and Mitigation program. CDM is essentially a suite of cybersecurity tools and dashboards Homeland Security provides to federal agencies.
The program "is of paramount importance because of its ability to provide the federal enterprise with the ability to monitor and assess the vulnerabilities and threats to its networks and systems in an ever-changing cyber threat landscape," Reps. John Ratcliffe, R-Texas, Will Hurd, R-Texas, and Jim Langevin, D-R.I., wrote.
Cyber Assistance for Small Businesses
The House Small Business Committee forwarded two cybersecurity-focused bills Wednesday.
The Small Business Advanced Cybersecurity Enhancements Act would create a cybersecurity assistance unit that's collocated with the Homeland Security Department's main cyber operations center.  
The Small Business Development Center Cyber Training Act would provide a certification for cyber trainers at small business development centers. It would also direct the Small Business Administration to reimburse trainers for the cost of that certification, if practicable, up to $350,000 per year.
Neither bill includes any new appropriations to run the center or reimburse cyber trainers.
Cummings Bemoans Interior's Cyber Failures
House Oversight Ranking Member Elijah Cummings, D-Md., reacted with dismay Thursday to a watchdog report that found Interior Department tech staff didn't detect simulated cyber intrusions and weren't prepared to respond to them.
"These failures are symptomatic of a much broader problem—President Trump just proposed slashing funding for agency IT programs from about $51 billion in 2016 to about $46 billion for 2019," Cummings said. "Our country faces an increasing number of sophisticated cyberattacks, so it is critical that the federal government increase the funding and investments we need to secure our IT systems."
Warner: Fix Security Clearances Now
Senate Intelligence ranking member Mark Warner, D-Va., urged the White House to prioritize reforming the security clearance process in a Wednesday letter, citing surging backlogs, rising costs and uneven rates of one agency accepting another's clearances.  
"These inefficiencies cost the taxpayer millions of dollars, sap morale and productivity, and harm our nation's security," Warner wrote to White House Chief of Staff John Kelly.
House Energy Pushes for a Cyber-Secure Grid
The House Energy Committee considered two bills aimed at improving the cybersecurity of the electric grid Wednesday.
The Cyber Sense Act would create a voluntary program to vet and promote cyber-secure products for use in bulk power systems. The Enhancing Grid Security through Public-Private Partnerships Act would offer additional training and technical assistance to electrical utilities to find and address cyber vulnerabilities.
Both bills were sponsored by Jerry McNerney, D-Calif., and Bob Latta, R-Ohio.
Coming Up  
The big cyber event this week will come Thursday morning when the House Intelligence Committee will meet to consider adopting the Republican majority's report on Russian interference in the 2016 election. Only a draft overview of the report has been released so far. Committee Democrats dispute many of the report's conclusions and argue the majority failed to pursue numerous leads.
The House Homeland Security and Oversight committees will hold a joint hearing at 2 p.m. Tuesday focused on the Homeland Security Department's Continuous Diagnostics and Mitigation program.
On Wednesday, the Senate Intelligence Committee will hold a 10 a.m. hearing on election security. That afternoon a House Science, Space and Technology subcommittee will look at how technology can empower veterans.