Congress Cooks Up Ideas to Secure Elections, Then Came the Mueller Indictments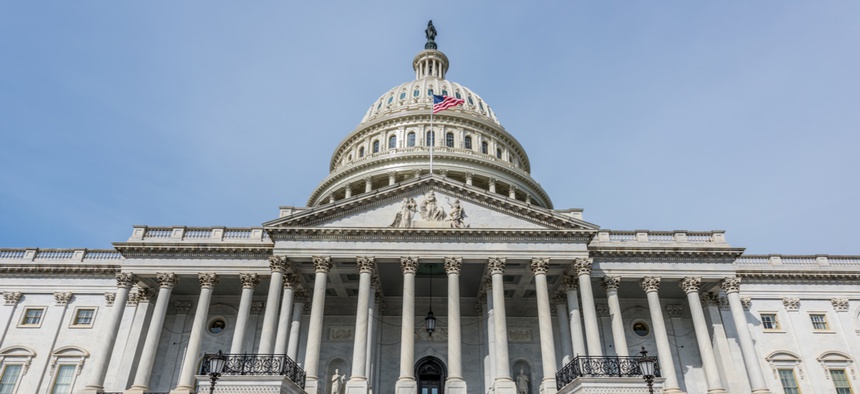 Congressional Democrats are pushing for a hearing to discuss election security improvements while demanding further action in the wake of indictments leveled by Special Counsel Robert Mueller.
The intelligence community would conduct threat assessments to share with states 180 days before elections, if lawmakers take up recommendations from the Congressional Task Force on Election Security.
The commission, made up of House Democrats, released a final report on how to avoid election tampering in the future. A key takeaway is that states will need federal money to upgrade aging voting machines, particularly those that don't leave an audible paper trail. It suggests a lump sum of $300 million in unappropriated funds from the 2002 Help America Vote Act and additional long-term funding.
The report also recommends the Homeland Security Department keep elections designated as critical infrastructure so it can continue offering states cybersecurity support. The Election Assistance Commission, which in past years lawmakers attempted to eliminate, would play a prominent role in certifying voting machines and offering other best practices to states and localities.
"States cannot fight sophisticated adversaries like Russia alone. It is time for Congress to act to institute reforms and provide substantial assistance. With the next federal election less than nine months away, we cannot afford to waste any more time," Commission Co-Chairman Bennie Thompson, D-Miss., said in a statement.
Thompson in a letter pressed House Homeland Security Chairman Michael McCaul, R-Texas, to hold a hearing on Russian election interference and to discuss the Election Security Act he introduced with commission Co-Chair Robert Brady, D-Penn.
Dems Demand Indictment Follow Up
Democratic lawmakers were quick to praise Special Counsel Robert Mueller's indictment Friday against 13 Russians who spread misinformation online aimed at sowing chaos during the 2016 presidential election.
Senate Minority Leader Chuck Schumer, D-N.Y., said the indictments should compel President Trump to impose new sanctions on Russia that Congress has approved but the White House has, so far, declined to impose.
According to Thompson, also the ranking member of the House Homeland Security Committee, the indictments show the importance of a Democratic plan to invest $1 billion in election security. Sen. Mark Warner, D-Va., ranking member of the Senate Intelligence Committee, said the indictments "vindicated" his committee's work investigating Russian election meddling.
House Intelligence Chairman Devin Nunes, R-Calif., said, "it's gratifying to see that Russian agents involved in these operations have now been identified and indicted."
It's a Threatening World Out There
Last week was chock full of hot congressional hearings, beginning with the Senate Intelligence Committee's worldwide threats hearing Tuesday. During that hearing, lawmakers signaled they might be eager to use the precedent of the Homeland Security Department banning Kaspersky from government networks to also oust a couple of Chinese telecoms.
Intelligence officials also reiterated during the hearing that Russia is likely to try to meddle in the 2018 midterm elections and Chairman Richard Burr, R-N.C., said the committee is likely to release a report on election security prior to the midterms.
Later that day, a Senate Armed Services panel examined the Defense Department's role in safeguarding free elections from digital interference. Sen. Kirsten Gillibrand suggested the National Guard should play a role in protecting U.S. election systems, according to FCW.
The Birthplace of Kurt Vonnegut, Steve McQueen and, Just Maybe, One Sweet Cyber Battalion
The Indiana congressional delegation penned a letter to the Army National Guard director supporting the Indiana National Guard's request to station a cyber battalion in Indianapolis.
The city's "distinctive combination of cyber-related assets," including a large facility for classified information, make it an ideal location for the battalion, the lawmakers write.
Nomination Watch
The Senate on Wednesday confirmed Margaret Weichert as the Office of Management and Budget's deputy director. And things went smoothly for the four nominees for Federal Trade Commissioners—Joseph Simmons, Noah Joshua Phillips, Christine Wilson, and Rohit Chopra. Lawmakers pressed the nominees to be tough on data breaches, like last year's Equifax breach that exposed more than 143 million Americans' personal information.
A House Digitally Divided
Do rural areas get the same kind of mobile and broadband service as urban areas? Sens. Maggie Hassan, D-N.H., and Shelley Moore Capito, R-W.Va., introduced a bill mandating the Federal Communications Commission create a national standard for comparing access.
"While progress has been made, too many rural areas continue to fall behind. The Rural Reasonable and Comparable Wireless Act will help bridge this digital divide by helping to ensure that rural areas—like those in West Virginia—have the access to high-speed internet that many of our urban communities do. By providing greater access to rural broadband, we can help more communities and businesses compete, grow, and succeed," Capito said in a statement.
Earlier this year FCC Chairman Ajit Pai was discussing lowering the threshold for internet connections to be considered broadband, but Wired reported the commission has abandoned that plan.