State plans to lead by example in tech diplomacy politics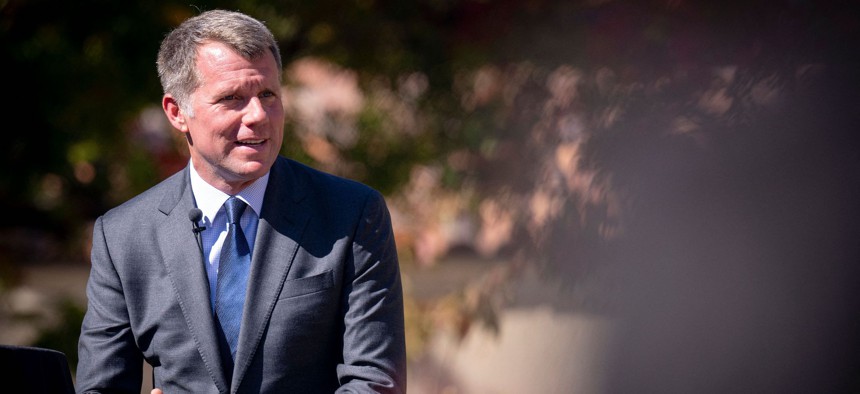 Leading by example plays a key role in the State Department's diplomatic posture for critical technologies, particularly as the race to adopt artificial intelligence intersects with geopolitical tensions, agency officials told lawmakers at a Senate Foreign Affairs hearing Wednesday.
Citing AI and other emerging technologies as matters of national security, Nathaniel Fick, the State Department's Ambassador At-Large for the Bureau for Cyberspace and Digital Policy, singled out the capacity to outpace other countries in these emerging fields as critical to maintaining a strong U.S. security.
"Innovation is increasingly a foundational source of our geopolitical power," Fick said. "Put simply in geopolitical competition terms: tech is increasingly the game. It's revolutionary, it's accelerating, and the United States must lead, engaging boldly on behalf of our values and our interests."
Fick specifically cited three pillars that are informing State's diplomatic efforts regarding the usage and development of AI. They include having the U.S. lead with a values-first approach, fortifying support with ally nations and constraining authoritarian efforts to shape the foundation of critical technology applications.
Underpinning all of these is continued innovation in research and development. 
"Sometimes it's important to simply run faster than your competitor," Fick said. He also noted that while State has spent the year engaging in dialogue with international partners on crafting "tangible" commitments for responsible development and deployment of AI systems, the private sector will still play a big role in shaping global standards. 
"The private sector has been front and center in these discussions," he said. "The bulk of the innovative horsepower in our economy sits in the private sector, the bulk of our talents in the private sector, the bulk of the attack surface we care about protecting is in the private sector."
Matthew Graviss, State's chief data and artificial intelligence officer, said that this vision is further amplified by internal operational changes to reflect the agency's technocratic outlooks. Graviss said that his office is eyeing an AI and data fluent workforce to introduce more quantitative changes to agency missions.
He cited an example where new data analytics capabilities offered government officials "real-time monitoring" of other nations' potential policy decisions, which aided the U.S. in negotiations. 
"Secretary [of State Antony] Blinken believes that our workforce is more equipped to lead globally when provided with timely, relevant data," Graviss said. "AI enhances the status power unlocking our workforces of most potential. We are committed to harnessing AI's potential and we're committed to doing it in a manner that is safe, secure and trustworthy."