3 Updates: Hackers Eye ChatGPT, Virtual Military Training Gets Photorealistic and NASA Picks its Simulation Winners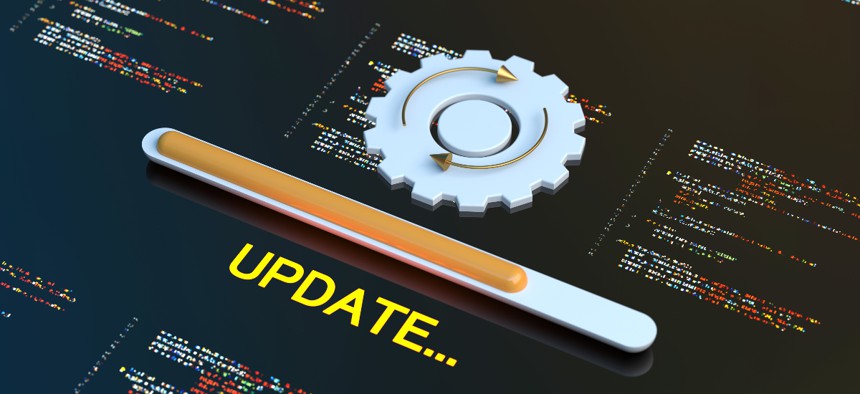 There have been some pretty important developments in a short time.
One of the most exciting things about cutting edge technology is that it's constantly evolving. Over the past several weeks Nextgov has covered some really interesting stories about critical updates in artificial intelligence, how NASA is using virtual reality for space mission training, and how smart drones are changing the battlefields and even the combat simulators of the future. And in just the short time since those stories were published, there have been some pretty important updates.
Threat actors now studying how to break ChatGPT
Given how much ChatGPT has been in the news lately, it's hard to remember that the revolutionary new generative artificial intelligence model only debuted to the public last December when the company that developed it, OpenAI, launched a website that let anyone experiment with the cutting edge technology. Since then, the free service has seen millions of users every day asking the AI to do everything from telling them how to properly make Crêpes Suzette to coming up with a good bedtime story to tell their children. 
The AI has also proven that it's skilled at advanced tasks, like programming in almost any computer language, while its visual engine, DALL-E, can create everything from works of art in the style of the great masters to modern infographics. It's even getting pretty good at generating photographs that are indistinguishable from the real thing.
And in March, OpenAI upgraded ChatGPT even further, launching ChatGPT-4 as an improvement over the previous 3.5 engine. The new engine is capable of ingesting up to 25,000 words, making it much better at analyzing documents and providing insights and intelligence that might be hidden from humans. It can also output larger results as well, basically enabling it to take on bigger and more complex projects. The new version can comprehend and process visual information, so users can feed it photographs, charts and even hand-written notes for analysis.
All of those new capabilities have various government officials considering how ChatGPT could be used at agencies. It may one day find a home anywhere from the Air Force to state and local governments. However, it has recently been reported that it's not just the good guys who are looking to use or even exploit ChatGPT.
NordVPN recently commissioned a deep study of dark web forums that are mostly used by criminals and hackers to communicate. While the study provides a lot of interesting information about cryptocurrency scams, identity theft and ransomware trends, one interesting part also talks about how potential attackers are ramping up their abilities and sharing information about how to use and abuse AI, and specifically ChatGPT.
According to the study, the number of posts dedicated to questions about ChatGPT on the dark web rose by 625% from January to February. And where there were only 37 forums dedicated to AI at the beginning of the year, there are now 91. The topics being discussed on the forums are also telling in terms of the potential attacker's intentions. Many threat actors are sharing information about how to use ChatGPT to create phishing campaigns, something that the AI is apparently very good at. But other forums are looking to the future, when ChatGPT might be integrated into, for example, a government call center. Those forums are discussing topics like "how to jailbreak ChatGPT" or "how to break and take over ChatGPT."
Just because those forums are discussing the topic of breaking ChatGPT does not mean that hackers have found out how to do it, but it's certainly something they are thinking about. As such, any agency looking to implement ChatGPT or any other form of generative AI in the future should likely also consider new security methods to keep their data safe and their AI functioning properly even when challenged by malicious users.
Military simulations becoming picture perfect
In April, Nextgov sat down with Bohemia Interactive Simulations Chief Product Officer Pete Morrison, whose company makes one of the most realistic military training simulations in the world. He talked about how the war in Ukraine—and specifically the use of both piloted and autonomous smart drones—was rapidly changing military tactics. Those changes were being reflected in the Virtual Battle Space 4 simulation, which is being used by militaries around the world to provide realistic training in a safe environment.
The reason for the addition of drones as a frontline weapon in the simulation is because the BISim product is being used for military training by 60 NATO and NATO-friendly countries, plus more than 300 integrators and prime contractors. Users include the U.S. Army, U.S. Marine Corps, Canadian Armed Forces, French Army, Bundeswehr, Swedish Armed Forces, Australian Defense Force and the New Zealand Defense Force. And all of them demand realism in their training.
If you look at a screenshot or a video of the current version of VBS4, everything is pretty realistic, more than enough for a soldier to get a good feel for whatever battlefield they will be facing. However, it's not like anyone could mistake the simulation for reality. It still pretty much looks like a video game, although a highly detailed one.
Now however, it's about to get one step closer to reality thanks to a new partnership with an AI company. BISim announced that it has partnered with blackshark.ai, a company making technology that creates digital twins of real world cities, countries and landscapes. How it works is that satellite and other data is fed into the AI, which renders the terrain in 3D and then adds elements that make it photorealistic. The result is a living city or battle space that includes realistic terrain, buildings, vegetation, weather and more.
By combining blackshark.ai with VBS4, both companies say that they will be able to offer the next level of realistic military simulation training, where soldiers can train in real world environments that are mirror images of the actual places where they will be deployed.
"With this partnership, any real-world location becomes available as a current and photorealistic 3D training environment. Blackshark.ai and BISim are the perfect combinations for everyone looking for country-scale real-world mission planning and mission rehearsal environments," said Michael Putz, CEO of blackshark.ai.
NASA picks its Mars simulation phase one winners
Back in March, Nextgov talked with NASA Human Performance Engineer Patrick Estep about the second MarsXR Challenge, which invited the public to contribute to the development of a virtual reality Mars simulation. Unlike the previous MarsXR challenge, this time there was no programming experience required for the first phase of the competition. Instead, contestants were asked to storyboard out a scenario that programmers would later add to the simulation.
There were hundreds of entries, and NASA took a very long time to grade everything and pick the winners. Because there were so many great efforts, the agency ultimately awarded 10 top prizes to the teams with the most interesting and useful scenarios. And the scenarios were all extremely diverse, challenging future Mars astronauts to do everything from digging sewer lines to rescuing stuck rover vehicles. My personal favorite from the winner list involved using an AI-assisted glider to look for signs of life on Mars.
Full disclosure, I kind of got into the spirit of the competition myself, and the prospect of helping out future space exploration activities was too much to resist. So, I actually entered the competition myself, using my vast video game experience to try and design a scenario that would be educational, challenging and maybe even fun for participants. The result was the Stormy Collection Scenario. 
In my scenario, a flying Mars helicopter has located an interesting rock sample that could contain evidence of life. But a massive dust storm is quickly approaching that could rebury the evidence for good. Astronauts need to race to the scene in a rover vehicle, but can't get close to the rock itself using the vehicle, due to dangerous terrain filled with sharp rocks and deep sand. So, they need to dismount from the vehicle and plot a course through the hazards on foot, dropping electronic waypoint devices to denote the safe path. Once they reach the rock and collect the sample, the dust storm hits. To get back to their vehicle safely in very limited visibility, they will need to follow the previously dropped waypoints on their heads up display. 
While my Stormy Collection Scenario did not win, it did make the honorable mention list, and I'm pretty happy about that. If you want to check out all of the amazing entries, there is a new page that contains all of the winners and honorable mentions. You can even vote for your favorite, with the scenario receiving the most votes earning a special "community favorite" prize. Give it a look, and check out all of the ways that future astronauts might be challenged by some clever VR scenarios.
John Breeden II is an award-winning journalist and reviewer with over 20 years of experience covering technology. He is the CEO of the Tech Writers Bureau, a group that creates technological thought leadership content for organizations of all sizes. Twitter: @LabGuys