Don't Expect Navy Robots In South China Sea Anytime Soon, CNO Says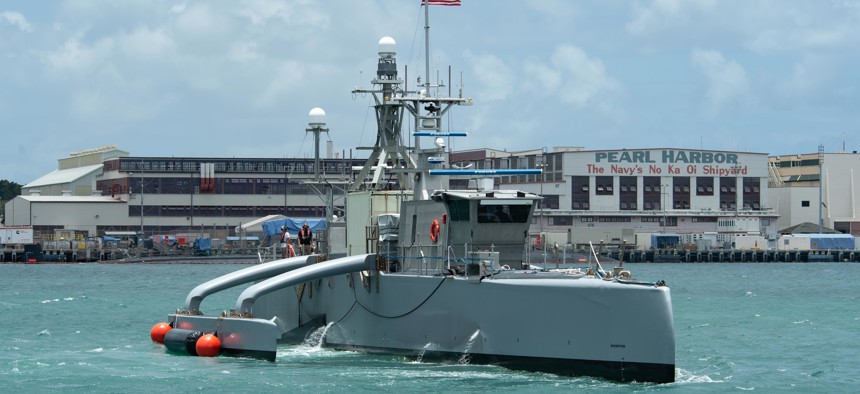 Navy pursues big AI ambitions with gradual approach.
Unmanned craft should account for 40 percent of the U.S. Navy's surface force and 60 percent of its aircraft by 2040, the chief of naval operations said Wednesday. But although the Navy may be the service branch that's leaning hardest into autonomy, Adm. Michael Gilday said his service still has "more work to do in terms of learning how we bring those technologies together" before it launches big human-machine teaming experiments in the South China Sea.
The Navy has long been a leader in artificial intelligence and autonomy, driven by the high costs of manning ships. In 2014, when other branches were still grappling with remotely-piloted vehicles, a Navy experiment on the James River in Virginia saw 13 autonomous boats develop swarm tactics to thwart an attack on a larger vessel. The following year, a joint Navy- DARPA program showed that a 132-foot robotic ship could autonomously navigate long distances while obeying the rules of the sea. 
In 2023, Gilday said at the annual McAleese conference, "we're leveraging what we've learned…as we work manned-unmanned teaming with the MQ-25 [aerial refueling drone]...The same thing with the undersea; one of the vendors here in the crowd delivers our [Extra Large Unmanned Underwater Vehicle] this year, four more next year, and we deploy those forward."
Fifth Fleet's Task Force 59 is doing continual experiments with manned-unmanned teams. In February, the Navy undertook an experiment in the Middle East that drew participants from 50 militaries and more than 30 unmanned systems. 
"I will say our approach with unmanned is very deliberate. So we have plenty of lessons learned in the past where we move too quickly. And we made mistakes," said Gilday.
What sort of mistakes? Because the Navy has been a first mover in so many areas of autonomy, it's also been the first to experience some setbacks. The MQ-25 program was born of the much more ambitious X-47B program to deploy a strike fighter drone from an aircraft carrier. While the X-47B prototypes performed well in testing, the Navy ultimately ruled that they were too expensive and not stealthy enough. And that large unmanned underwater vehicle program is $242 million over budget and three years late, according to a September report from the Government Accountabulity Office. 
Gilday is balancing the push to incorporate unmanned platforms alongside efforts to bridge operations between the air, sea, and land through Project Overmatch, the Navy's answer to the broader Pentagon-push for joint, all-domain command and control. Said Gilday, "We have scaled Overmatch to a carrier strike group that's operating off the coast of California now. And then we're looking to scale that fleet wide after that into scale even further across the Navy." 
He painted the two efforts as linked, so more data coming from and to unmanned systems will play a key role in faster and more effective operations across both the land and sea. 
"We're learning a ton but the next place I scale that is not going to be to the South China Sea. We have more work to do in terms of learning how we bring those technologies together," he said.