AI Research Task Force Votes to Send Final Report to Congress, President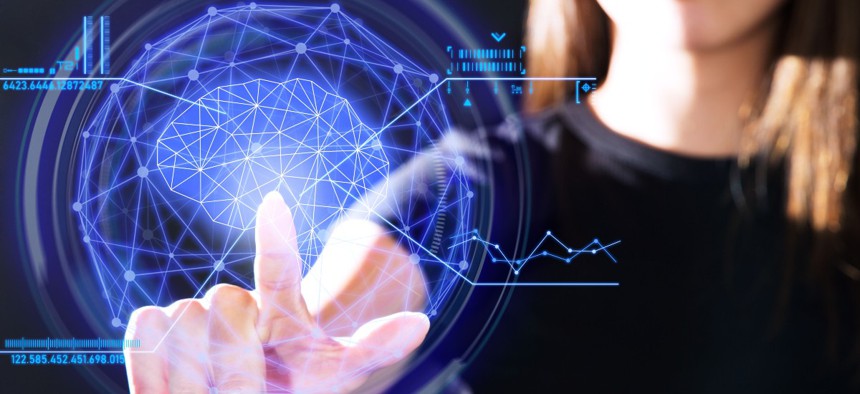 The task force's report details a plan for the AI research resource initiative, including governance, funding, security and ethics on issues like AI bias.
A majority of the National Artificial Intelligence Research Resource Task Force voted on Friday to approve the group's report—an implementation plan and roadmap for a resource infrastructure supporting AI research—that will be sent to Congress and President Joe Biden in the next couple of weeks.
The task force—launched in July 2021—is a result of the National AI Initiative Act of 2020, which asked the National Science Foundation, in conjunction with the White House's Office of Science and Technology Policy, to examine the possibility of creating that resource—dubbed the  National AI Research Resource, or NAIRR—and to produce a plan outlining how this "could be established and sustained." The task force is composed of government, academic and private sector members. 
"The roadmap and implementation plan outlined in the final report are instrumental to the nation's leadership in AI research and development," National Science Foundation Director Sethuraman Panchanathan said at the meeting. "Adhering to the recommendations of this report will help us propel the advancement of AI-related research, workforce development and infrastructure for decades to come. The federal government, working together with academia, industry and organizations will catalyze innovation ecosystems for future breakthroughs in this field. NSF is proud to support NAIRR as part of our commitment to lead the federal government in AI related research and development." 
At the meeting, the task force provided an overview of the report, which outlined a framework for the NAIRR. The goal is to "strengthen and democratize the U.S. AI innovation ecosystem in a way that protects privacy, civil rights and civil liberties," according to the task force.
"While there are certainly elements that could be further fleshed out and perhaps even some items that we missed, we are confident that the results that we have today—a detailed implementation plan—provides a strong framework for further action," NAIRR Task Force Co- Chair Tess DeBlanc-Knowles said at the meeting.
According to the task force, the National Science Foundation should be the administrative home agency for the NAIRR, but other agencies can help by serving on the steering committee, providing funding to NAIRR resource providers and helping staff the program management office. The report also detailed governance for a NAIRR operating entity, which would have three advisory boards: science, technology and ethics. In addition, a user committee consisting of research, community, private sector and large-scale infrastructure representatives would advise the NAIRR operating entity. This would help that entity manage its resource procurement and operations, allocate resources to users, support users and help AI innovation.
The task force anticipates that the AI resource would be used by researchers, educators and students at academic institutions; non-profits; government—including federal, state, local and tribal—agencies and federally funded research and development centers; and small businesses or startups with federal grants. 
"Essentially, the NAIRR should reduce barriers to participation in AI R&D and education and make it easier and less costly for researchers, especially those who have not historically been engaged and have been underrepresented in AI R&D, to access key AI research tools,"  DeBlanc-Knowles said.
The task force noted that NAIRR would be made up of new and current resources; be mainly owned by third-party providers; have integrated user support and training, along with an integrated access portal; provide data set, test bed and educational resource catalogs; include transparent specifications, policies and practices; and be secure, robust, accessible and sustainable. 
NAIRR resources should be allocated to those requesting them in two main ways, according to the task force. The first is determined by an agency, which can award a share of allocated resource quota. The second is through a peer review track, managed by the operating entity. This track is divided by project startup—which are smaller in size projects—and larger-scale AI research projects. 
NAIRR should have a $2.6 billion budget over the course of six years to cover costs relating to resource providers, the operating entity and evaluations, according to the task force. 
The task force also discussed NAIRR security and access controls, which it separated into three areas: system design, management and governance. The group outlined specifics in each category, such as the five-safes framework, authentication requirements, using a tiered security zone model, routine monitoring and updates and required trainings, among other things. 
According to the task force, "NAIRR should be an exemplar for transparent, ethical and responsible AI R&D." Specifically, the group calls for transparency and oversight on all matters, with guidance from its ethics advisory board and user committee, as well as diverse decision makers and staff, with each having specific areas of expertise. The NAIRR operating entity should pull from the White House's AI Bill of Rights as well as the National Institute of Standards and Technology's AI Risk Management Framework. Additionally, the task force stated that the operating entity should develop and publish resource acceptance criteria and controls as well as ethics review criteria and mechanisms. It should also offer data for R&D on bias implications and provide user and staff trainings. 
The task force envisions a four phase buildout of NAIRR occurring over the course of three years, including appropriations in phase one and establishing the boards and committees in phase two. There is the option for a pilot program for existing cyberinfrastructure for AI researchers. NAIRR is expected to be fully operational by year two. 
The group also outlined the release of the final report and work to be done afterwards, such as congressional briefings and stakeholder engagements. 
The task force will have 90 more days of operations once the final report is sent.
The task force previously released an interim report to the president and Congress in May 2022, which provided a general outline of the initiative.