White House Launches 'Central Hub' for Artificial Intelligence Research and Policymaking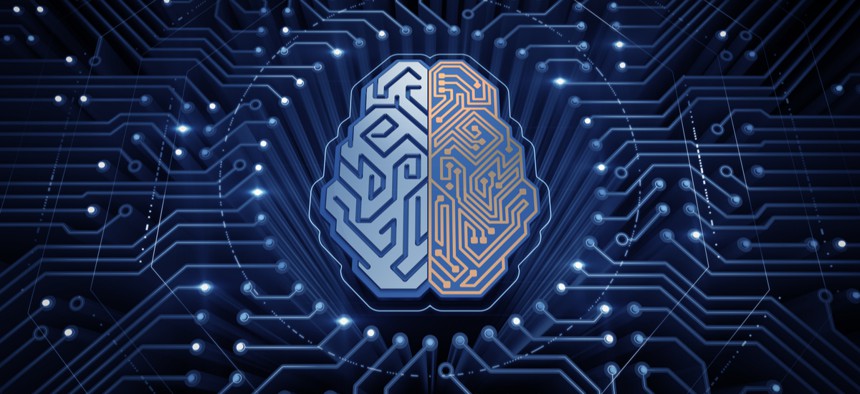 The establishment of the new office is in accordance with the recently passed defense authorization act.
The White House Office of Science and Technology Policy on Tuesday announced its formation of a new federal nucleus to centrally drive cooperation between the government's diverse internal and external partners advancing artificial intelligence-rooted policies and research: the National AI Initiative Office.
Established in the final days of President Donald Trump's term, this AI move is the latest of multiple others set in motion by his administration. As the office's name suggests, it also sprung from the National AI Initiative Act, which was recently enacted as a provision in the National Defense Authorization Act for fiscal 2021.
"The [office] will be integral to the federal government's AI efforts for many years to come, serving as a central hub for national AI research and policy for the entire U.S. innovation ecosystem," U.S. Chief Technology Officer Michael Kratsios said in a statement to Nextgov.
On top of being that central coordination hub, the office is also "charged with overseeing and implementing" the years-old U.S. national AI strategy, according to the White House's announcement. It's essentially a streamlined point of contact for federal AI pursuits. Further, it builds on previous investments, guidance, international alliances and more, the release notes, all of which this administration was explicit about steering during its tenure. 
The new unit's creation was also called for by the National AI Initiative Act of 2020, legislation that was incorporated within this fiscal year's NDAA. Though Trump in late December initially blocked the passage of the defense authorization bill worth more than $700 billion, Congress responded with its first veto override of his presidency and ultimately greenlit the law. 
That 2020 bill the NDAA includes ensuring the AI Initiative Office additionally codifies and extends other AI-pushing programs the White House previously introduced including, among others, the Select Committee on AI stood up in 2018 and the American AI Initiative that first emerged via an executive order in 2019. National institutes unveiled in 2020 by the National Science Foundation in partnership with OSTP that'll hone in on AI research and development activities incorporating synthetic manufacturing, precision agriculture, extreme weather prediction—and beyond—are also codified through it.
The White House's press release also presents an image and explanation of the National AI Initiative Office Seal that's meant to represent "key drivers" of the novel hub's mission. 
The emblem encompasses an American bald eagle emerging from a neural network "to represent the power and potential of AI to translate data into knowledge, technological breakthroughs, and new capabilities," the announcement said. 
Experts anticipate AI will likely remain in vogue and as a federal priority under the incoming Biden/Harris administration.