Pentagon Seeks TurboTax-Like Tool for Artificial Intelligence Purchases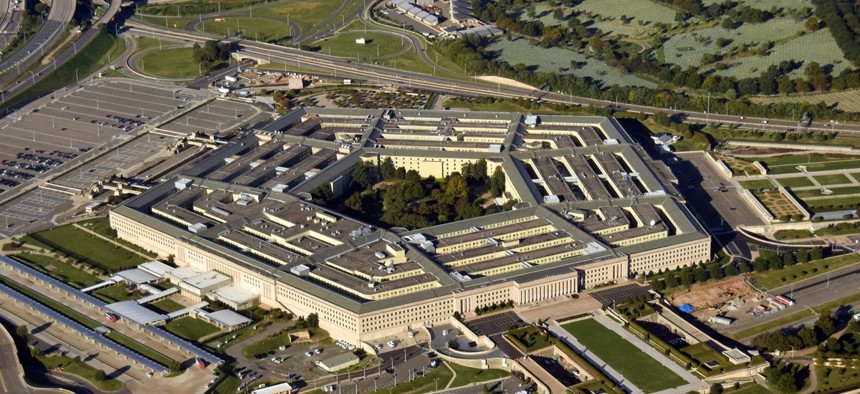 It's part of a new acquisition model that would explore the potential of pursuing contracts outside the Federal Acquisition Regulation, mixed with traditional contracts.
The Pentagon's Joint Artificial Intelligence Center set sights on producing a new-and-improved business model for purchasing artificial intelligence tools in hopes of driving quicker procurement from both typical and non-traditional companies through a means that's scalable across the Defense Department.
Together with Army Contracting Command Rock Island, the AI-strategizing center is considering launching a competition for a 501(c) or non-profit manager of the prototype model and would like to engage potential partners, according to a request for information published Friday. 
The to-be-created model would incorporate a TurboTax-like automated system to streamline buying information.
The JAIC is also interested in hearing from organizations that would want to participate in a consortium-like body that could deliver AI capabilities for defense-driven missions under the model. Through the new approach, the center would leverage other transaction authorities, a contracting method that bypasses traditional federal procurement rules in an effort to attract new, innovative vendors and solutions.
"Government procurement of AI solutions is complicated, fraught with risk, and demands that the government adopt innovative, flexible, and emergent approaches to acquisition commensurate with the complexity of the solutions being procured," officials noted.
The model would adopt and incentivize agile acquisition processes "through the implementation of an automated system," according to the document, which also adds that "this system would serve as a recommender of acquisition information and processes and operate in a fashion similar to how tools such as TurboTax assist in the preparation of taxes." 
Formed in 2018, the JAIC pinpoints relevant AI use cases and seeks to quickly pilot, scale and synchronize capabilities across the Pentagon's enterprise. Its current acquisition strategy involves using "a myriad" of traditional Federal Acquisition Regulation, or FAR-based, contracts and Governmentwide Acquisition Contracts, or GWACs—but "to scale this strategy to other [defense] service requirements or respond to emergent requirements such as COVID-19 is challenging and may not be the most efficient use of acquisition tools," officials wrote. So, they aim to prototype a new AI acquisition business model to explore the potential of pursuing non-FAR-based contracts mixed with FAR-based contracts to embrace the best overall buying approach to meet the center's needs. 
At a high-level, the JAIC's intent is to create a new procurement model to be leveraged across the services and defense agencies that ultimately maximizes the inclusion of non-traditional partners. The center also wants to facilitate integrating and moving to acquisition programs of record while employing DevSecOps, promote the use of the JAIC's Joint Common Foundation AI Development Platform and more.  
The JAIC's model would also rely on a partnership between the government and a consortium-like body—commercial associations that bring together vendors across a sector to pool resources and collectively work on some of the hardest challenges facing the U.S. military and government. 
"We do not intend to create (but have not ruled out creating) a new consortium; instead we are interested in finding ways to leverage existing capabilities under a single umbrella," officials wrote. "As a part of this intent we are interested in creating an automated process that notifies consortia of events and requirements and allows for competitive awards in accordance with their by-laws/charter."
On top of weighing in on the center's overall approach, JAIC insiders ask responders to share whether they'd be interested in participating in the group that engages with the model or in the overall management of the model, to define their organizations' approach to "responsible AI," how they've utilized automated tools, and a range of other questions.
The RFI's deadline for responses is set for Sept. 16.