Figuring Out School Bus Routes Is More Complicated Than Ever. Districts Are Turning to Technology for Help.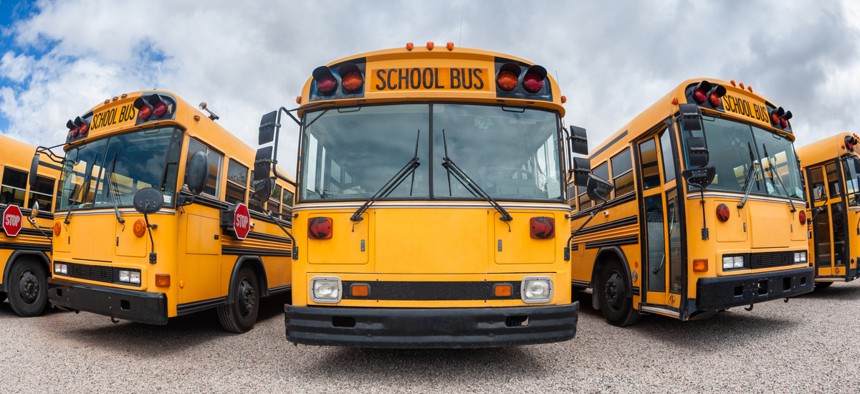 In places where kids go to in-person school, buses will look different this year as systems deal with the challenges of transporting kids during a pandemic.
A standard school bus usually shuttles around 70 children between their homes and school building each morning—or at least that was the standard before the coronavirus pandemic. Social distancing requirements will make carrying that many students impossible this year in places like Arlington, Virginia, where school officials figure that keeping kids six feet apart means that buses can only accommodate 11 students.
"We transport a little over 11,000 students every day. How do we make that work?" asked Kristin Haldeman, the director of multimodal transportation planning for Arlington Public Schools.
Arlington, like many other systems across the country, is turning to technological solutions in the face of staggering transportation challenges brought on by the pandemic. The district is used to deploying software to determine how its roughly 200 buses navigate 154 daily routes, but this year has brought a unique set of circumstances. The plan for the school year is "a moving target," with all students starting the fall semester remotely, Haldeman said. But, eventually, some kids could be headed back to the classroom, with the district likely using A/B scheduling that means students would be coming to school buildings in shifts two times a week. The busing puzzle this situation presents is too complicated for the system's current routing software, which isn't able to accommodate the ever-shifting scenarios that schools now have to plan for.
"The more efficient we can be with routing the better off we are given all the other challenges," Haldeman said.
Instead, Haldeman turned to Dynamic Ideas Routing, a company founded by MIT researchers who worked with Boston Public Schools to route buses with an algorithm that saved the school system $5 million. Dynamic Ideas is helping districts around the country plan for all the different scenarios schools might encounter this year by using algorithms that can show tradeoffs between policies like those that prioritize in-person learning for students learning the English language and those with disabilities, along with the consequences of tiered start times and staggered scheduling for different classrooms. 
"Most school districts are having these conversations without numbers," said Diogo Lousa, the company's co-founder. "We're giving them the ability to test millions of 'what if' scenarios so they can make a data-driven, feasible decision. The worst case scenario for a district would be passing a policy they can't fulfill or would cost them a ton of money they don't have."
Even though the number of children taking school buses is likely to be down this year as some families choose all-virtual schooling, the severe limitations on bus capacity mean that districts may be forced to consider expanding their bus fleets—an expensive proposition in a year filled with additional costs for school systems. In Arlington's case, even if the system had the money, Haldeman said there isn't the necessary available space to park new buses or the capacity to recruit new drivers, a notoriously difficult position to fill. Without increasing the bus fleet, buses will need to make multiple runs, which will impact school start times, pickup locations, and more.
Arlington has a contract "not to exceed $75,000" for the new routing assistance. The company said the cost of the software varies based on the number of students in a district and number of scenarios they want to simulate.
John Hanlon, the former chief of operations for Boston Public Schools who is now working with Dynamic Ideas Routing, said that new limitations on how many students can ride a bus "sets dominoes in motion."
"Suddenly districts are faced with a number of decisions unlike anything they've had to deal with before," he said. "And the scenario that works for August may not work in October because things are changing in this pandemic. Districts are just now coming to grips with how difficult this problem will be to solve."
The delayed start of in-person school will give Arlington more time to figure out how to handle the needs of its 28,000 students spread over 39 schools. But in other districts, the transportation challenges will need to be solved more quickly. Rensselaer Central Schools in rural Indiana are expecting the system's 1,500 students to head back into classrooms as scheduled on August 13. With their 28 buses running at full capacity, the district needs seating charts, additional aides to enforce safety measures like the required wearing of masks, and, most importantly, a way to contact trace should anyone at their four schools get sick.
Contact tracing on buses isn't as easy as it might seem. A student might stay for a club after school one day and be picked up by a parent, for example, making it difficult to pinpoint who is on the bus.
"As far as knowing who is on and off the buses every day, we didn't have a clue," said Angie Tomlinson, the schools' transportation secretary. 
To contact trace, the district needs a way to know which students, aides, and bus drivers are in contact with one another on a given day, so they recruited the help of Tyler Technologies, one of the largest providers of bus routing software in the country. The company recently debuted an app that allows aides to check students on and off the bus, giving administrators a better picture of exactly which people were on which bus at a particular time. 
"Some students ride the bus one day but not another … that changes all the time in a normal year," said Ted Thien, the vice president for Tyler Technology's student transportation group. "We need to know the whole ecosystem of who is riding with who this year."
Tomlinson said she wasn't sure what the cost of the app will be to the district, as they are still working out the contract, but that the new technology will be "huge" for helping the district plan out its transportation response to the pandemic throughout the year.
In Arlington, Haldeman agreed that officials would have been flying blind without the help of new technological tools. "Technology is saving the day," she said.