Congress Inches Closer to Creating a National Cloud for AI Research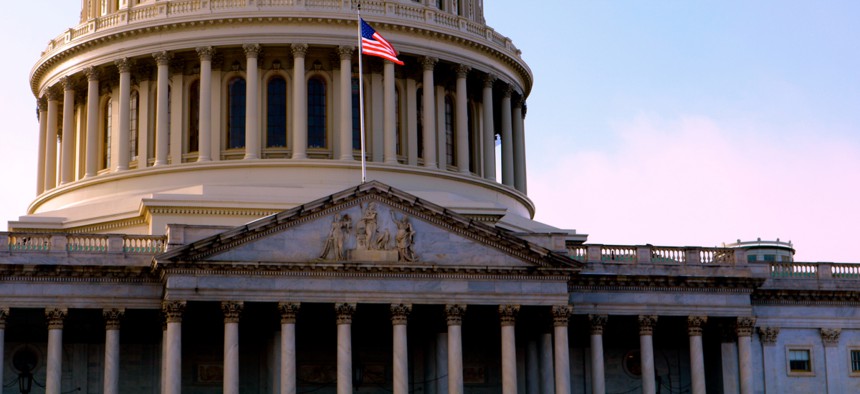 Legislation launched in early June received new attention and support this week.
Legislation promoting the creation of a national computing capability and cloud infrastructure specifically for artificial intelligence research garnered new praise—and possibly a new path to passage—this week. 
More than 20 major tech companies and universities on Monday voiced support for the National AI Research Resource Task Force Act, which aims to spur and democratize AI-centered studies and applications by developing a national asset for scientists and students to use. On Wednesday, the bill was introduced as part of an amendment within the version of National Defense Authorization Act that the House Armed Services Committee adopted during its markup.
"There is not a national cloud right now for any specific type of research so this would be the first," Sen. Rob Portman, R-Ohio, told Nextgov Wednesday. "It would not be the first in the world however, Japan is already building a national cloud of their own."
Portman, alongside Sen. Martin Heinrich, D-N.M., proposed the legislation in their chamber June 4, and on the same day, Reps. Anna G. Eshoo, D-Calif., Anthony Gonzales R-Ohio, and Mikie Sherrill, N.J., introduced a version of the bill in the House. On July 1, the act was filed during the HASC markup of the NDAA, as part of Democratic Rep. Kendra Horn's amendment to establish a national AI initiative, which the committee subsequently approved. 
The original impetus for the bill can partially be traced back to recommendations the National Security Commission on AI submitted to Congress in March. The commission outlined momentum China is steadily gaining across the global research and development landscape and recommended Congress authorize and appropriate millions to launch and sustain a "national AI research resource infrastructure" for researchers and students to leverage. 
After referencing the recommendations from the report, Portman also highlighted three sparks behind the concept and creation of this legislation.  
"China and their advancements, we must maintain our AI leadership. Two, my work with the Senate AI Caucus—the gap in American leadership here is something we're concerned about. And three, I heard from constituents and stakeholders about how vital this is for cutting edge AI research that will benefit the entire country," the senator said. 
If passed, the bill would require the National Science Foundation and Office of Science and Technology Policy to establish a task force of experts from government, academia, and industry to pursue a "coordinated roadmap and implementation plan" for forming and sustaining the AI-focused research resource. Lawmakers define the asset as "a system that provides researchers and students across scientific fields and disciplines with access to compute resources, co-located with publicly-available, artificial intelligence-ready government and non-government datasets and a research environment with appropriate educational tools and user support." The to-be-established task force would need to clarify the governance structure for such an asset, evaluate privacy and civil liberties requirements relevant to the effort and more. 
The resource and policymakers ultimately intend to pave the way for would lower the barrier to entry researchers across the nation, and particularly those outside of major tech companies and elite universities, face in advancing AI and deep learning applications by opening up compute power, time and datasets. The United States' position as a global innovation hub would also likely see an organic boost in the process.
"For the U.S. to maintain its global leadership in AI, researchers must be enabled to access high-power computing, large datasets, and educational resources that are required for AI research and development," Eshoo told Nextgov Tuesday. "This effort is critical for our economy and national security."
The bill saw support beyond the government this week, as well. Leaders from multiple tech companies including Google, Amazon Web Services, Microsoft, IBM, NVIDIA and more, joined those from major academic institutions such as Stanford, Princeton and Duke universities, and others, backing the legislation.  
"United States investments in research and development have enabled remarkable innovations, including the microchip, internet, supercomputers, and the Human Genome Project," Google Research Senior Vice President Jeff Dean said in the announcement of collective support. "A National AI Research Resource will help accelerate US progress in artificial intelligence and advanced technologies by providing academic researchers access to the cloud computing resources necessary for experiments at scale."
Denning Co-Director of the Stanford Institute for Human-Centered Artificial Intelligence and Provost Emeritus at Stanford University, John Etchemendy, added that "a national research cloud will give academic researchers the tools needed to advance artificial intelligence far into the future," and "will also elevate the ability of all colleges and universities to provide the research and teaching needed to maintain our competitiveness in AI."