Pentagon's AI Center is Developing Tech that Could Revolutionize Disaster Response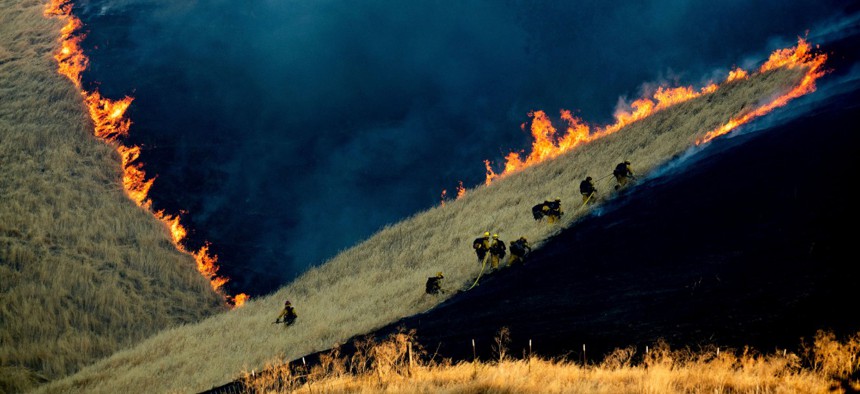 The Defense Department's Joint Artificial Intelligence Center is implementing automation and AI practices that could speed up the nation's ability to rapidly respond to wildfires, the center's Chief of Strategy and Communications Greg Allen said Wednesday. 
"If you've ever experienced wildfires or heard about them, you know they move quite fast over the course of several days," Allen said at Nextgov's Emerging Technology Summit in Washington. "And keeping track of where they are and where they are headed is a real challenge for first responders in disaster situations."
Defense has troves of sensor data, digital video data, digital infrared data and sonar data—all of which are attractive environments for machine-learning algorithms. Through this disaster-relief initiative, the agency plans to fly airborne sensors over wildfires in California and collect full-motion video data of the activity. At the same time, they are going to be automatically using a computer vision algorithm to detect which frames of the video have active wildfire. 
Typically, the Federal Emergency Management Agency and other disaster-relief entities try to disseminate maps of the fire to all relevant organizations involved in the efforts once per day. 
"We believe we will be able to cut that to about once per hour distributed over an app," Allen said. "By switching to this airborne sensor, applying an AI computer vision algorithm and converting that to geolocation data that is useful for a map application we are also developing, we'll really be able to make an impact for our users in a short time frame."  
Allen added that this is an area where his team feels like they can make an important impact. Sensor data environments generally collect "an extraordinary amount of data" and usually require humans to follow them around and support the work. In the case of airborne video imagery, he said the agency has been hiring at a rapid pace to try to match the volume of video imagery data they are collecting, but it's quite challenging to keep up. 
"If we did not have access to this automation path, we would never keep up with the data daily that we are doing this with," he said. 
JAIC plans to begin testing the new technology in the field and with the National Guard within a matter of months, which Allen noted is excitingly uncommon when it comes to federal efforts—and especially for an organization that had "no money and no people" as recent as January. 
"I realize that if we were Google or Facebook testing with operational users and making an impact in 8 months sounds like an eternity," Allen said. "But at the [Defense Department] that's lightspeed and we are really excited about this opportunity."
After the panel, Allen told Nextgov that JAIC will share further details and "exciting announcements" about the project in the very near future.