Father of the Internet: 'AI Stands for Artificial Idiot'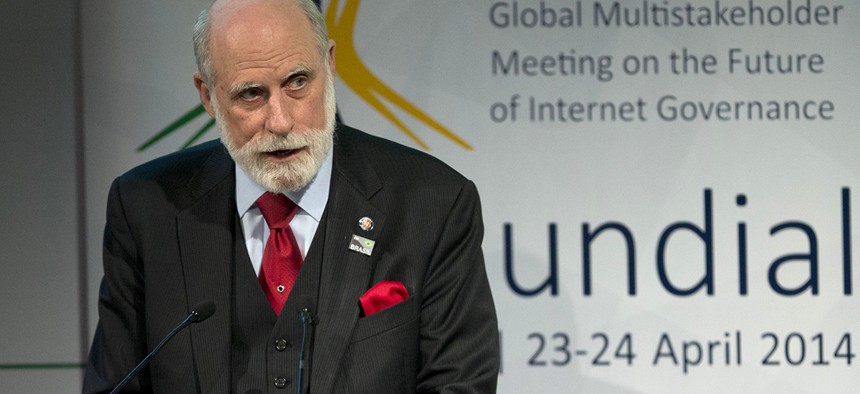 Vint Cerf has serious concerns about the military's use of the internet of things.
Vint Cerf is often called the "father of the internet" and he frequently speaks about technology to large groups of people as Google's chief internet evangelist.
He isn't a big fan of artificial intelligence though. At least not yet.
"AI stands for artificial idiot," he said Tuesday, speaking before a largely federal audience at AFCEA's Internet of Things Tech Summit in Washington, D.C.
» Get the best federal technology news and ideas delivered right to your inbox. Sign up here.
Cerf used the tweet-fueled corruption of Microsoft's AI chatbot to make the point that AI systems today are only as smart as the people who interact with it. Twitter trolls, it turns out, aren't the type you want educating young, impressionable AI.
"It's a good example of how an AI system can learn the wrong ways," Cerf said.
Cerf also opined about the dangers the IoT presents to the general public and—in a stronger sense—to the U.S. military.
"My theme is, 'It's the software, stupid,'" Cerf said. "The reason we're so worried about this stuff is that there are bugs in the software. The real question is, who is going to fix the bugs and for how long will they agree to fix them?"
Gartner estimates some 20 billion internet-connected devices by 2020, millions or more of which will be used by the military for various purposes. Security is already a consumer issue—odds are your internet-connected refrigerator won't patch itself—but those risks are magnified in military settings. Obvious things like automated patching aren't so obvious in battlefield situations, Cerf said, without strong authentication tools so systems know what devices to update and what's been done.
Without constant security, hackers and bad actors could siphon seemingly innocuous sensor information, such as temperature data. That might not be of concern to the average homeowner, but Cerf said temperature data could be used to determine how many individuals are housed within a military facility.
Cerf said he won't even sit in the programmable massage chair at his California home because he's worried a glitch might have him squeezed like a Florida orange.
"In the military, once again we have this big challenge for limiting potential risks introduced by these programmable and often communicated devices," Cerf said.
Sensors will cause a lot of headaches when bolted on to existing things, particularly military equipment, Cerf said.
Phones are challenging enough. Imagine the really large devices, like satellites, tanks, planes and ships, which each could conceivably hold hundreds or thousands of sensors.
"Some devices last for decades, who is going to maintain that software 30 or 40 years?" Cerf said. "If the company that built it goes out of business, who has access to the source code?"
That's a tough question for civilian consumers, but,Cerf said, "The situation is worse for the military."