DIU director: Look beyond reform to keep the technological edge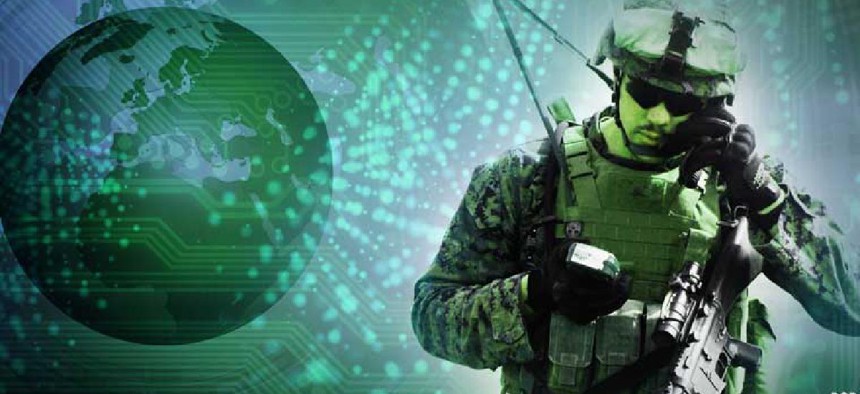 Mike Brown, the director of the Defense Innovation Unit, said the acquisition reform is needed for the requirements, budgeting processes.
More than acquisition reform is required if the U.S. wants to regain its technological edge, according to a top defense tech official.
"We're losing that edge and we're losing it at a rapid rate. And I think if we look at what is required to keep that edge, it's going to be a recommitment to science and technology in this country," Mike Brown, the director of the Defense Innovation Unit, said Nov. 4 during the Aspen Security Forum.
"We continue to have an erosion of federally funded R&D as a percentage of GDP that's gone down from 2%, now in national security oriented investments, to 0.35%. That does not sound like a leader who wants to maintain a technological edge."
Brown, who previously requested his nomination to be the Defense Department's acquisition chief in July be withdrawn following an investigation of a complaint of favoritism in hiring practices, noted that increasing STEM talent was part of the solution but that taking a critical look at the requirements and budgeting processes were also needed.
"We have to reimagine these roadblocks in our way, these obstacles. You're not going to be able to do that if you maintain requirements. Think about the narcissism of [what] requirements means: we're omniscient; we know exactly what the market should build. Well, that doesn't work in the world," Brown said. "It's about modularity, open interoperability, open standards...that requires a rethink."
Brown's comments come as Congress and defense officials have openly pondered about possible reforms to the budgeting process so that DOD can buy and develop technology especially software, at a more rapid tempo.
Brown noted that acquisition reform has been the focus for decades, while the requirements process has gotten a pass, relatively speaking.
"We need to go back to that risk-taking spirit where fewer people can make a decision," Brown said, "maybe we don't assume we know everything with requirements, let's let some of our defense primes tell us what's possible. And let's use some more flexible methods of acquisition....we only go as fast as the slowest cog in that system."
"We focused so much on acquisition over the past 20 or 30 years. And there are solutions there, like other transaction authorities. We haven't worked on requirements or budgeting. So we've got to have the same zeal for going after those," Brown said.
Chris Lynch, the former director of the Defense Digital Service who helped shape DOD's $10 billion Joint Enterprise Defense Infrastructure cloud acquisition, said that he wanted to see software inspire the same excitement as weapons systems.
"When we think of the military, we think of an aircraft carrier or a tank or a jet or a satellite floating around in outer space. Now those things aren't going to go away. That's very clear. But we're entering into what I think of as the software era of defense. And that's going to be driven by the flawless execution of software to do the mission of defense and national security," said Lynch who is now co-founder of and CEO of Rebellion Defense, who also spoke on the panel.
"It's cool to build big, heavy things. I get it. It's super awesome. We should think that those are great. But if you don't get just as excited about rolling out unlimited compute and unlimited storage, and continuous integration and continuous deployment, and the ability to have people use APIs, I can tell you right now, none of it changes. It will not change. And you know what, it doesn't sound that exciting, but you got to get excited about it. You should be like, hell yeah. I love APIs."
Brown said another challenge to the U.S. having a technological advantage is being able to develop solutions alongside allies on a large scale.
"We have to find a way to work more easily and quickly with allies," Brown said, noting the Biden administration announcing a new working group to share advanced technologies, including submarines, with Australia and the United Kingdom, "getting after it in terms of what [we can] work on as a project together to bring that technology to our militaries, requires some of the things that we talked about. We've got to change the process because we have no process or system that's easy or agile to incorporate our allies. I fully believe that needs to change for the competition with China."