The growing importance of GWACs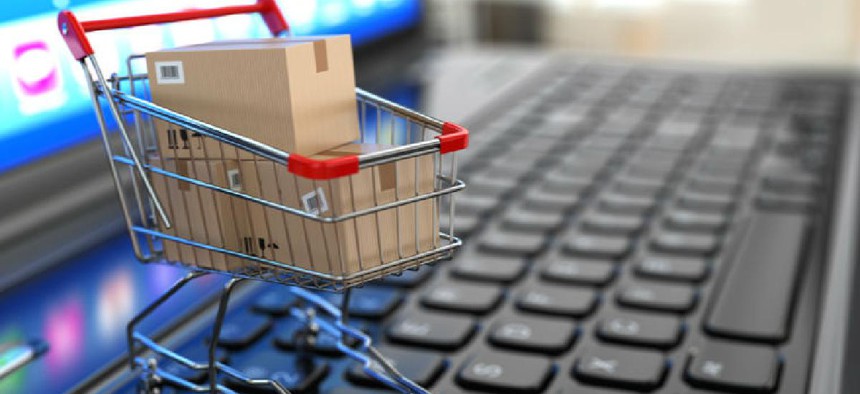 Optional caption goes here. Optional caption goes here. Optional caption goes here. Optional caption goes here.
Thirty years ago, scientists at NASA's Goddard Space Flight Center found themselves at the heart of a consequential race against time — albeit one far less publicized than that of their astronaut companions.
Leaders from the technical, policy and procurement worlds convened at the center in 1992 to explore new, faster ways for NASA scientists to get their hands on the latest computers. The goal was to create a procurement method that would allow NASA to make critical purchases in a matter of months by reducing the red tape that delayed the acquisition of emerging technologies.
NASA leaders eventually requested procurement authorities from the General Services Administration so that they could establish pre-competed indefinite-delivery, indefinite-quantity (IDIQ) contracts, which allowed them to negotiate their own prices and pre-qualify sellers. The program became known as NASA's Solutions for Enterprise-Wide Procurement (SEWP), and it served as the pilot project for an experimental approach at the time: the governmentwide acquisition contract (GWAC).
Joanne Woytek, who launched SEWP a year after those meetings were held at Goddard and continues to manage day-to-day operations as the GWAC's program manager, said its purpose remains largely unchanged despite nearly three decades and five distinct iterations.
"While almost 30 years have gone by, much of the basics of SEWP I remain," Woytek told FCW. "With each iteration of SEWP, we have reviewed technology trends and customer requirements and expanded the scope of the contracts to be inclusive of all IT, AV and communication products, and with SEWP IV and V, all related services."
Although its foundation is intact, SEWP continues to evolve and to serve as both a precedent and a trailblazer for other GWACs. Changes include switching from time-consuming paper-based updates of technology offerings to electronic updates that are typically executed in less than an hour and emphasizing support for agencywide initiatives rather than focusing on individual procurement actions.
A streamlined process and IT expertise
GWACs quickly grew in popularity after Congress passed the Clinger-Cohen Act in 1996. The law cemented the procurement method into law and designated the Office of Management and Budget to monitor the effectiveness of agencies' IT investments. As GWACs evolved, more agencies began using them, said Andrew Endicott, a principal research analyst at Deltek.
For example, the Department of Homeland Security has expanded its use of GWACs and moved away from its own pre-established, multiple-award contracts such as the Technical, Acquisition and Business Support Services and the Enterprise Acquisition Gateway for Leading-Edge Solutions.
Perhaps the biggest selling point is that GWACs have focused on cost savings since their inception while becoming more innovative and streamlined. For example, there is a new emphasis on category management and a Best-in-Class designation for specific vehicles. GWACs also offer increasingly competitive rates on fees. NASA's SEWP has always had the lowest fee of any GWAC, starting at 2.6% in 1993 and dropping to the current rate of 0.34%, according to Woytek.
Furthermore, these large pre-competed contract vehicles reduce the amount of effort and time other agencies need to expend on procurement. "The ability to utilize already established vehicles is a real cost savings for them as opposed to running these massive procurements that could take several years from inception to award and conclusion of any protests that will almost inevitably follow," Endicott said.
On the industry side, GWACs have the potential to provide government contractors with a simplified process and access to federal IT acquisition specialists, said Linda Cureton, CEO of Muse Technologies and former CIO at NASA.
"I've seen from both the government and industry side that, except for the NASA SEWP and [GSA's] 8(a) STARS III contracts, the government contracting personnel at the IDIQ level do not generally know a lot about IT," Cureton said. "Sometimes that's a hindrance but not necessarily a roadblock. This deficiency is overcome with contracting professionals who are more IT savvy, with a commitment to stay that way with depth better than the buzzword level of knowledge."
She added that she believes "GWACs are making tremendous progress in that space."
A level playing field for small businesses?
Each iteration of a GWAC comes with significant growth. SEWP IV brought in more than $16 billion over its lifespan, but SEWP V has already hit $31.7 billion. The National Institutes of Health's CIO-SP2i brought in $4.1 billion, while the currently active CIO-SP3 has already seen $18.6 billion in awards.
However, the expanding popularity of GWACs has some experts concerned that there could be an exclusionary ripple effect across the public marketplace. They say that although GWACs have the ability to bring a diverse coalition of new entrants into the federal marketplace, there are challenges.
"While GWACs are difficult for startups to navigate, the model does help lead to federal work, can serve as a stamp of approval and opens door to make the procurement process more efficient in the long term," said Alec Longarzo, director of federal business development at technology services firm Dcode. "GWACs require a large resource investment and, in many instances, help from external consultants and partners. Small businesses can't always throw large teams at these vehicles and impact other aspects of their business as a result."
Similarly, Endicott said that "some small businesses have expressed concern about the increased utilization of GWACs. Smaller contractors may not have the time, resources or experience to go after these larger GWACs, and these companies worry they may be excluded from a sizable amount of work if those requirements are completed through vehicles."
Vendor protests against contract awards have played a critical role in shaping GWACs since 1994, when Congress allowed government contractors a limited ability to file protests with the Government Accountability Office. Categories for protests have expanded over the years to encompass a wide range of potential issues, including objections to an order that exceeds the scope or value of the contract. Companies can only file protests against task orders greater than $10 million at civilian agencies and $25 million at the Defense Department.
The number of protests filed in response to new task orders has risen over the years. Those protests serve to ensure that agencies are following procurement rules, but a multitude of protests against specific contract vehicles have the potential to derail procurement goals and deadlines for agencies working to achieve critical IT milestones.
CIO-SP4, NIH's $50 billion health IT vehicle, has faced nearly two dozen complaints since the request for proposals was released in May. Reports indicate that the protests focus on a self-evaluation system used to identify eligible contractors. NIH officials declined to comment on CIO-SP4 for this article because it is an active procurement.
Under the self-scoring evaluation system, contractors can be assessed for eligibility for certain contracts based on the information they provide about their products and services. The system can also help agencies determine whether a company has the expertise or products they need to fulfill mission objectives. Although the system is meant to reduce time and increase efficiency throughout the procurement process, it could hinder new entrants into the public marketplace.
Nevertheless, GSA continues to use self-scoring methods for GWACs to alleviate administrative burdens.
"With the movement toward scoring sheets, many small businesses have an uphill battle to achieve enough points to be in contention," said Riya Patel, senior program manager for government at Dcode. "GWACs would benefit from finding a way to include startups in the requirements or lowering the barrier to entry to promote innovation."
Experts have also noted the CIO-SP4's self-scoring evaluation system may exclude small companies that participate in the Small Business Administration's Mentor-Protégé Program, which connects small firms with established government contractors that can provide resources and guidance on building their federal business. The purpose of SBA's program is to help small businesses make deals with the federal government, but those opportunities will be all but impossible to find if firms are excluded from major procurement vehicles such as CIO-SP4.
Alan Chvotkin, former executive vice president and counsel at the Professional Services Council, describes the challenges facing the GWAC as "a number of self-inflicted wounds [that] really gave CIO-SP4 a black eye." The concept of self-scoring is "emblematic of a trend taking place among GWACs generally," he added. "It's really at the heart of the problems CIO-SP has had and others have had as well."
An essential tool for fast, effective procurement
GSA has attempted to raise the value for civilian agency protests to $25 million to match that of DOD. Analysts warn that the move could wipe out nearly all protests against civilian agency task orders because the majority fall below $25 million.
Some experts also point to growing competition within GSA, noting that the agency oversees a suite of GWACs and its own $45 billionconsolidated Multiple Award Schedule Contract that is the largest of its kind.
Still, GWACs continue to find new success each year, and GSA officials see GWACs as key facilitators in achieving the Biden administration's priorities, particularly those focused on increasing investments in small woman- and veteran-owned companies and those located in disadvantaged communities.
Laura Stanton, assistant commissioner for the Office of IT Category at GSA's Federal Acquisition Service, said the agency was "rocketing" toward its milestones for the Polaris GWAC, a vehicle that supplies IT services and solutions with a focus on emerging technologies and small companies owned by women or located in Historically Underutilized Business Zones.
During an FCW Agency Spotlight webcast in September, Stanton described Polaris as a small-business set-aside with multiple pools that will initially focus on those distinct categories. A final request for proposals was set to be released by the end of the calendar year, she added, and GSA officials plan to host multiple events with small companies to help them prepare for submitting bids.
"We want to make sure small businesses are both aware of and prepared for the solicitation," she said, adding that her team has taken lessons from previous campaigns and the launch of vehicles such as STARS III, another small-business set-aside. During that rollout, Stanton's office provided templates for new entrants to use when applying for contract orders, along with resources to help them compete and then sustain operations after they received contracts.
Despite the difficulties, GWACs remain a largely uncontroversial procurement method. Most analysts agree that they are an effective means of procuring IT products and services under critical deadline pressure.
"Agencies no longer have to start at square one," Chvotkin said about the benefits of using GWACs. "Most of the work has been done. All they need to do is describe what they want, how much they're willing to pay, then run a fair competition as a task order against that contract."
This year, some GWACs are on track to set new records. Woytek told FCW she is projecting a nearly 10% increase in funding for new orders and for modifications to existing orders under SEWP compared to last year. That would allow the contract vehicle to reach a milestone of over $10 billion in such funding for the fiscal year.
The increased reliance on GWACs may be due in part to the unprecedented investments agencies made with the private sector during the COVID-19 pandemic, including the use of the Defense Production Act to ramp up manufacturing in industries that make personal protective equipment and other critical supplies for first responders. However, the exact connection between the pandemic and the continued growth of GWACs remains unclear.
Regardless, one thing is certain: GWACs and contract vehicles like them are essential for agencies to achieve dramatic digital transformations and cybersecurity milestones under tight deadlines.