Author Archive
Aaron Boyd
Senior Editor, Nextgov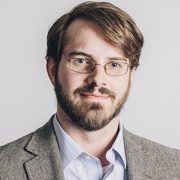 Aaron Boyd is an award-winning journalist currently serving as senior editor for technology and events at Nextgov. He primarily covers federal government IT contracting and cybersecurity issues affecting both civilian and defense agencies. As a lifelong nerd and policy wonk, he feels right at home covering the intersection of technology and policy in the nation's capital.
IT Modernization
The agency rescinded awards on the Alliant 2 Small Business last year, then canceled the solicitation altogether.
CIO Briefing
Law enforcement should be careful using facial recognition in public spaces. But with the right applications, authorities and transparency, federal programs could serve a lot of good.
CIO Briefing
Mass teleworking due to the COVID-19 pandemic has highlighted the importance of digital government, including a lack of communication options for interagency collaboration.
---
IT Modernization
GSA also confirmed reports that the Technology Transformation Services is losing another program leader next month, as well.
Cybersecurity
While the program still has a ways to go, the team says it now has a way to automate mobile app security testing.
IT Modernization
The announcement comes after two more agencies completed their marketplace implementation plans.
IT Modernization
The answers can help staff direct individuals to the appropriate parts of the facility or if needed, additional screening.
Emerging Tech
If passed, federal agencies would not be able to run, fund, purchase or otherwise use data from facial biometric systems without congressional authorization.
CIO Briefing
The government's top IT leader is leaving government in July.
CIO Briefing
Global government spending data shows worldwide decline in IT spending this year, though the numbers tell a unique story for the U.S. government.
Emerging Tech
While technology was not a distinct focus area for the agency, it permeates every aspect of the administrator's vision.
CIO Briefing
Sethuraman "Panch" Panchanathan officially became the 15th director of the government's lead scientific research outreach and funding arm.
Cybersecurity
The Homeland Security Department will begin tracking all personnel—federal employees and contractors, with or without a security clearance—in the hunt for insider threats.
CIO Briefing
A new report shows similar issues with bandwidth, cybersecurity and aging IT systems across government, exacerbated by the coronavirus pandemic.
IT Modernization
The Navy's massive NGEN IT management contract is full steam ahead four months after being awarded.
Cybersecurity
The Comply-to-Connect program ensures devices connecting to military networks have baseline security without needing to install endpoint management apps.
Cybersecurity
The agency is considering overhauling its identity credential and access management, or ICAM, system to manage secure access for all users.
IT Modernization
After 20 months of analysis under Phase I, Housing and Urban Development announced the first two awards to begin improving the agency's cloud adoption and customer experience.
Emerging Tech
Leaders in and around government debate whether technologists or subject matter experts are better suited to lead the ethical development of artificial intelligence.
CIO Briefing
Old hiring methods and assumptions won't hold up in the future, according to a new report from the Federal CIO Council.