Leaders in both parties agree to pursue a stopgap to avoid shutdown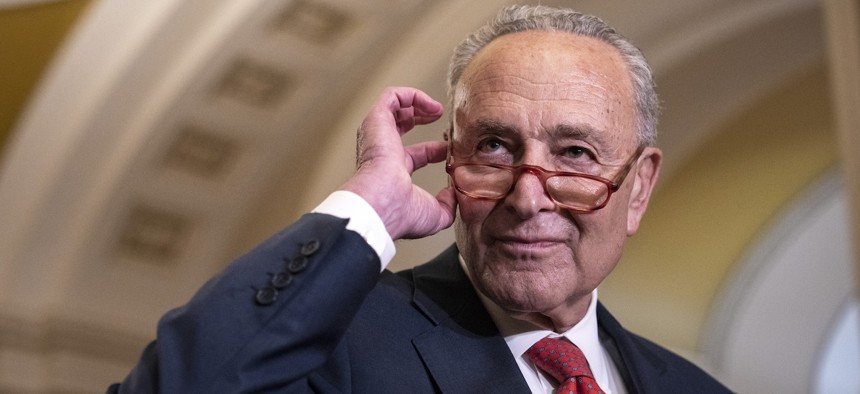 The House and Senate appeared headed for a short-term spending deal when lawmakers return to Washington following the August recess, with leaders from both chambers suggesting they are pursuing that path to avoid a shutdown in October. 
The continuing resolution would keep agencies funded at their current levels through early December, House Speaker Kevin McCarthy, R-Calif., told his caucus this week. Senate Majority Leader Chuck Schumer, D-N.Y., said on Wednesday he met with McCarthy a few weeks ago and the two leaders agreed to pass a stopgap that would last "a few months." 
"I thought that was a good sign," Schumer told MSNBC. 
Separately on Tuesday, Schumer said the short-term measure would allow lawmakers to come together on full-year appropriations. 
"A CR until early December provides time for consideration of these bipartisan bills. We urge our House colleagues to emulate the Senate," Schumer told reporters. "The only way we're going to avoid a government shutdown is by bipartisan support in both Houses."
McCarthy confirmed the plan on a call with House Republicans this week, according to reports, saying he would not allow the measure to expire just before the holidays. Such a timeline would surrender Republicans' leverage to push for lower spending levels, he said, highlighting a key goal for his caucus. 
Absent congressional action, current funding will expire when the current fiscal year ends Sept. 30 and agencies would shut down when fiscal 2024 begins Oct. 1. 
So far, the two chambers of Congress are moving along very different tracks. The Senate Appropriations Committee has now approved all 12 annual must-pass spending measures, all with broad bipartisan support. Its House counterpart, meanwhile, has approved bills solely along partisan lines after it used spending levels set below those to which Republican leadership and President Biden agreed as part of the Fiscal Responsibility Act.
The full House approved one spending bill—funding the Veterans Affairs Department—without any Democratic support before the August recess but scuttled a second funding measure due to conservative complaints that the appropriation for the Agriculture Department was still too high. McCarthy told members the House would take up more of its spending bills next month. 
Not all House Republicans were sold on the plan. 
"I just got off a member call," Rep. Tony Gonzales, R-Texas, said on Monday. "It's clear President Biden and Speaker McCarthy want a government shutdown, so that's what Congress will do after we return in September. Everyone should plan accordingly." 
While Schumer voiced more optimism, he cautioned that Republicans' go-it-alone strategy would doom the appropriations process. 
"You cannot keep the government open if you just want to do it with one party, it just won't work the way our government is structured," the majority leader said. "And so we hope that our House Republicans will realize that any funding resolution has to be bipartisan or they will risk shutting down the government."
Complicating the matter is Biden's push to include $40 billion in emergency funding in any stopgap bill, which the White House has said is necessary to tide over Ukraine aid efforts, the disaster relief fund and border security and migrant processing accounts. Some conservative lawmakers have objected to bypassing the caps agreed to as part of the debt ceiling deal, though such supplementals are routine. 
If Congress has not passed line-by-line appropriations for each agency by Jan. 1, an automatic, across-the-board 1% cut from current levels will take effect.