Senate Dems call on ICE to halt facial recognition and buying from data brokers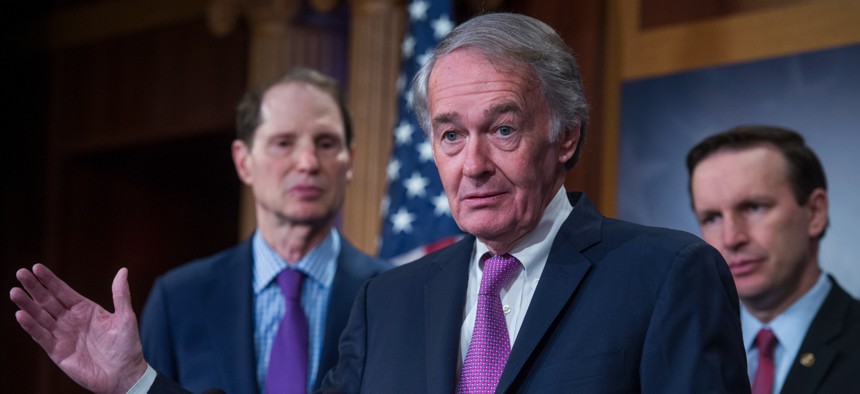 Sens. Ed Markey (D-Mass.) and Ron Wyden (D-Ore.) are also pressing the immigration enforcement agency to detail their use of surveillance technologies.
Sens. Ed Markey (D-Mass.) and Ron Wyden (D-Ore.) are calling on the U.S. Immigration and Customs Enforcement to stop using  "technologies and surveillance tactics" including facial recognition software and data broker services that they say are threatening privacy rights in the United States. 
Their Sept. 12 letter to acting ICE director Tae Johnson comes in response to a May report from Georgetown Law's Center on Privacy and Technology that concluded that the agency has assembled a "surveillance dragnet" using information from private data brokers and state and local bureaucracies.
"ICE should immediately shut down its Orwellian data-gathering efforts that indiscriminately collect far too much data on far too many individuals," the lawmakers wrote. "This surveillance network has exploited privacy-protection gaps and has enormous civil rights implications."
According to the Georgetown report, ICE has used facial recognition to scan the driver's license photos of one in three U.S. adults, the report states. ICE also leverages data handed over to state and local agencies and other institutions to get essential services like utilities, a point that Markey and Wyden called "especially troubling" in their letter. The report also details the use of information from private data brokers.
Much of this work at ICE has been happening without oversight from the courts, Congress or the public, the report states, despite the vast implications for privacy and the "chilling effect" the agency's actions have had already on immigrants interacting with government systems and services.
The report calls out the lack of oversight from lawmakers thus far, pointing out that there haven't been hearings or investigations from the Government Accountability Office on ICE surveillance. 
The report recommends that Congress pass laws prohibiting the use of data gathered for benefits and services for deportations and limiting the use of DMV data for law enforcement immigration purposes.
For now, Markey and Wyden are asking for detailed information from ICE about facial recognition, including how the agency accesses driver's license photos from state agencies and how it uses facial recognition in immigration proceedings. The lawmakers also want to know about the agency's use of information from data brokers and cell location data. 
Previously, Markey and Wyden have introduced a bill that would ban the use of biometrics in federal agencies and condition federal grants to state and local entities on that ban. Wyden has also introduced a bill, co-sponsored by Markey, to require the government to get a court order to obtain information from data brokers.